In attempt to save the rarest marine mammal, court orders a ban on Mexican seafood imports
To protect one of the most endangered species in the world, an international trade court judge ordered the Trump administration Thursday to ban all seafood harvested with gill nets in Mexico's northern Gulf of California — a bold move with significant political and economic consequences.
The order to save the vaquita porpoise, nicknamed "panda of the sea" for its chubby frame and black-ringed eyes, comes despite arguments from the U.S. government that a ban could negatively affect ongoing negotiations with Mexico. Earlier this week, the U.S. attorney general's office tried to get the court to delay its decision for 30 days.
The ban, which affects an estimated $16 million worth of fish and shrimp, was a victory for conservationists who brought this issue to court in March after a decade of rescue efforts failed to prevent vaquita from getting fatally entangled in gill nets in Mexico's waters.
Scientists say the vaquita population has dwindled from 567 in 1997 to fewer than 20 today. Its population drops by about half each year. The species' range is about 1,500 square miles — the smallest of any marine mammal. Its territory overlaps with commercial fisheries that catch shrimp, curvina, chano and sierra, as well as illegal fishing operations that target the endangered totoaba.
Conservationists hope the embargo will put pressure on the Mexican government to ban the use of gill nets — vertical walls of mesh that snag fish by their gills when they try to escape — and indiscriminately capture vaquita as well.
"For 20 years, the Mexican government has promised to save the vaquita but failed to take meaningful action. That has to change or we'll lose these animals forever," said Sarah Uhlemann, international program director at the Center for Biological Diversity. "With vaquitas on the brink of extinction, these economic sanctions are painful but necessary to push Mexican officials to finally protect these little porpoises."
Trade experts said this ban, while addressing a serious environmental problem that both governments have failed to resolve, does not help the many other issues currently challenging U.S.-Mexico relations.
"With a difficult renegotiation of NAFTA pending, a trade skirmish over U.S. steel and aluminum tariffs underway and potential auto tariffs on the horizon, the timing of this import ban is pretty awful in terms of bilateral relations," said Christopher Wilson, deputy director of the Mexico Institute at the Wilson Center. "But with the vaquita population dipping ... perhaps nearing the single-digits, the timing is clearly much worse for the porpoise."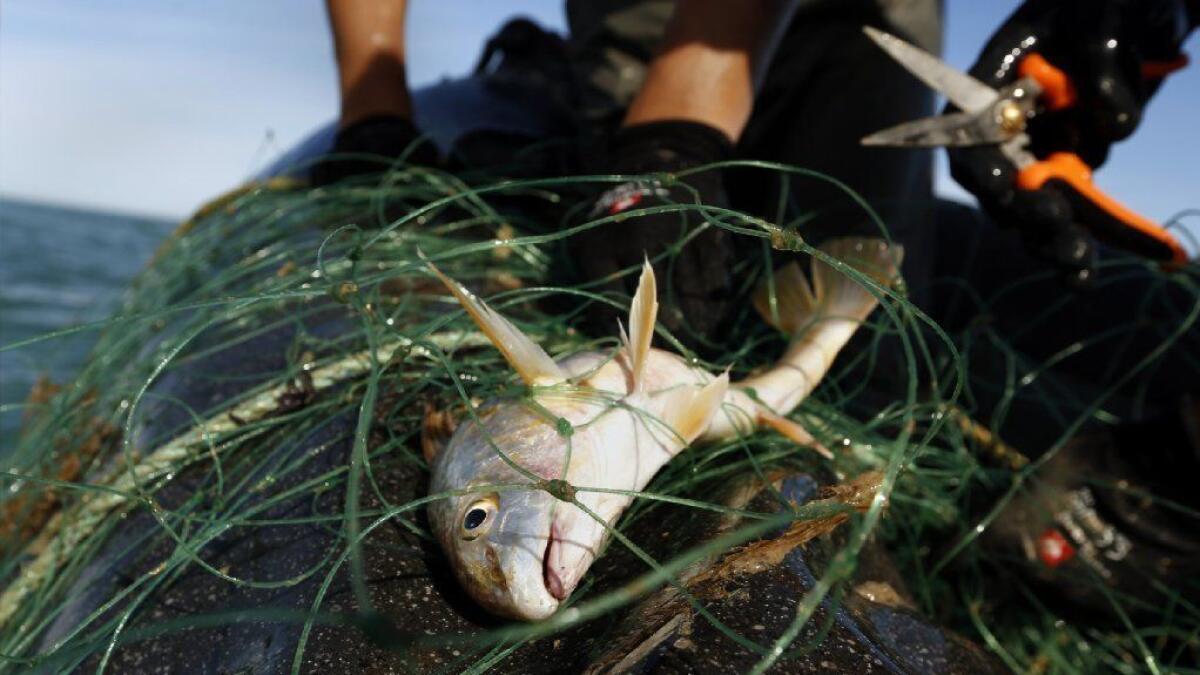 U.S. Court of International Trade Judge Gary Katzmann, in his call for a preliminary injunction, found that the cost of the vaquita's disappearance was greater than the cost of implementing a ban to save the species.
"What cannot be disputed is that the vaquita's plight is desperate, and that even one more bycatch death in the gill nets of fisheries in its range threatens the very existence of the species," Katzmann wrote.
The ban will be in effect until the case is fully argued on its merits. To lift the ban, Mexico must meet U.S. standards, which conservationists say entail improving regulations and enforcement to ensure vaquita are not being killed in gill nets. Failure of the Trump administration to implement the ban would be illegal and a direct violation of a federal judge's order.
Katzmann issued the order after hearing arguments presented by the Natural Resources Defense Council and Agatha Koprowski, a Department of Justice attorney representing defendants such as Commerce Secretary Wilbur Ross, Treasury Secretary Steven T. Mnuchin, Secretary of Homeland Security Kirstjen Nielsen, and Chris Oliver, assistant administrator of the National Marine Fisheries Service.
Koprowski argued that a judicially imposed import ban could threaten high-level negotiations between the United States and Mexico regarding the fate of the vaquita and undermine Mexico's trust in the U.S. as a negotiating partner.
"As a result, Mexico might refuse to implement measures it would have otherwise considered," Koprowski said in court documents. The Department of Justice on Thursday declined to comment on the court injunction.
Conservationists' argument hinged on the U.S. Marine Mammal Protection Act, a landmark 1972 law mandating the United States to protect not just domestic marine mammals, but also foreign whales, dolphins and porpoises. This includes requiring bans on seafood imports from foreign fisheries that kill marine mammals at a rate that would violate U.S. standards for domestic fishers.
"At a time where we're seeing so many of our environmental laws under attack, it's really great to see one being utilized by the court to do exactly what it was meant to do," said Natural Resources Defense Council attorney Giulia Good Stefani. "We hope that this will catalyze the U.S. and Mexico negotiations and speed up Mexico's willingness to enact the regulations necessary to protect the vaquita."
Embargoes, she said, catalyzed a similar transition to dolphin-safe tuna and turtle-safe shrimp trawling.
In documents filed with the court in a related lawsuit, Mexico's National Chamber of Fisheries and Aquaculture Industries argued the protection act lacks the authority to impose an emergency ban on foreign fish products. A dismissal, it added, would provide Mexico's regulatory authorities with more time to improve vaquita protection measures.
Read more: To save the world's rarest marine mammal, conservationists seek ban on Mexican seafood imports »
Tighter control of the fishing industry may also help reduce the number of vaquitas killed in gill nets that poachers use to snare a large endangered fish known as the totoaba, whose swim bladder is prized on the black market in China. Authorities say the illegal totoaba trade is more lucrative than cocaine trafficking.
Tensions have been escalating among conservationists, Mexican fishermen, whose livelihoods are threatened by tighter fishing controls, and totoaba poachers.
"There's no doubt that this embargo will have an impact on local fisherman, and we recognize that totoaba fishing is a big part of the problem," said Good Stefani, the Natural Resources Defense Council attorney. "But we hope that a ban on gill nets, limited to this particular region, will also help enforcement of the totoaba fishery, because right now enforcement is complicated by the fact that some gill nets remain legal."
Sunshine Rodriguez, who represents fishermen in the small seaside town of San Felipe, said Thursday's decision was unfair. He and other fishermen insist that the gill nets they use to catch shrimp and other small fish are not strong enough to entrap the much larger vaquita.
"The U.S. and these conservationists don't have any evidence whatsoever that our nets have caught a vaquita," he said. "We are not the killers of the vaquita."
Rodriguez said the ruling will hurt his community in the short term, but does not pose an existential threat to the region's fishing industry.
"It's a global market, and we're going to have to find alternative buyers," he said, citing high demand in China. Ultimately, it might be U.S. businesses that feel the brunt of the ban, he said, "because they're not going to have access to white wild shrimp at a decent price."
Times staff writer Kate Linthicum contributed to this report from Mexico City.
Interested in coastal issues? Follow @RosannaXia on Twitter.
Sign up for Essential California for news, features and recommendations from the L.A. Times and beyond in your inbox six days a week.
You may occasionally receive promotional content from the Los Angeles Times.