Zika virus raises more questions than answers for pregnant women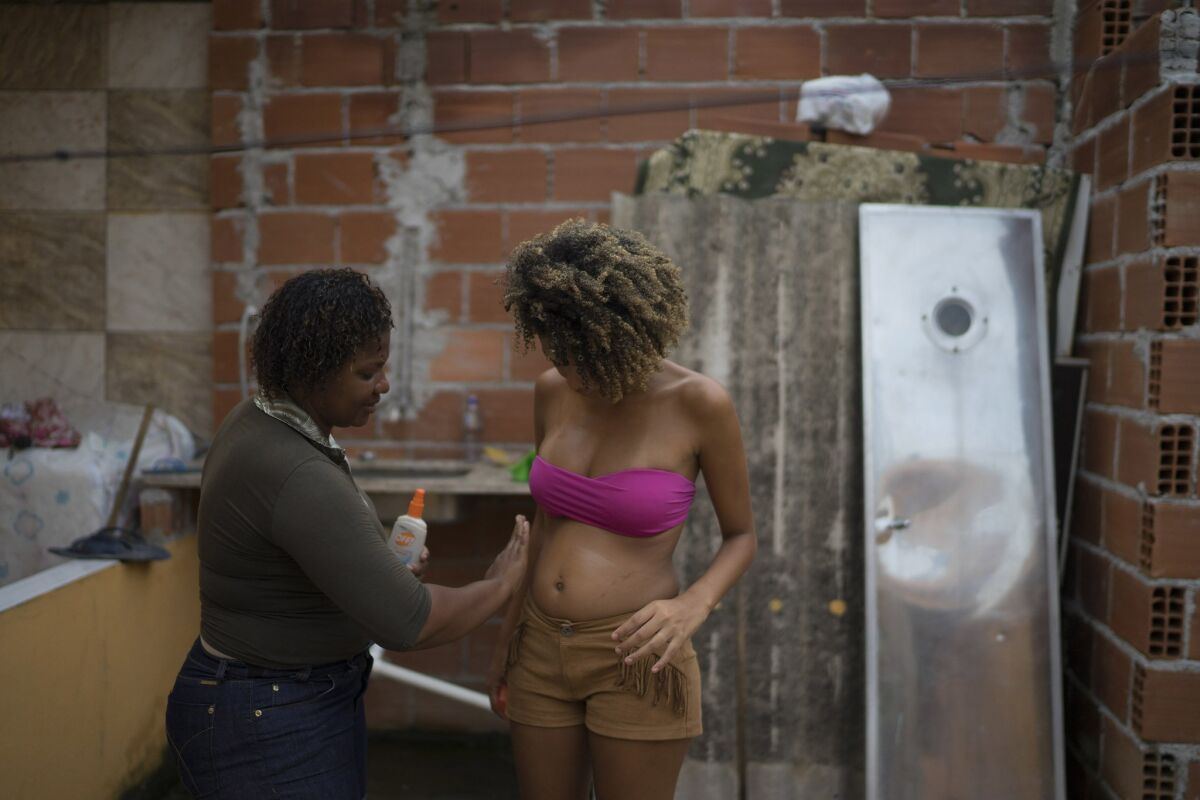 As public health officials and epidemiologists race to understand the Zika virus, doctors in the United States are struggling to counsel patients and ease their fears amid a flood of constantly changing information.
Over the last two weeks, an outbreak of the virus has spread to dozens of countries in the Americas. The illness was once believed to have only mild symptoms, but is now suspected of causing serious birth defects, most notably in Brazil.
Experts say pregnant women in the United States who haven't traveled to countries with outbreaks have no risk of being infected. But with a rapid stream of new information about how the illness is transmitted, new worries keep emerging among pregnant women.
Join the conversation on Facebook >>
"You can't reassure them," said Dr. Kathleen Berkowitz, an obstetrician who practices in Los Angeles and Orange counties.
Last week, officials said that a person living in Dallas had been infected with Zika — originally thought to be only carried by mosquitoes — by having sex with someone who returned from Venezuela.
The news set off concerns not just about sexual transmission, but about spending time with people who've recently visited countries with outbreaks and or places with reported cases. One patient asked Berkowitz if she should reconsider a trip to Dallas.
Berkowitz told her patients that they could safely travel within the United States and that, in general, sexual transmission hasn't been shown to be a major pathway for the illness.
But on Friday, federal officials, who hadn't yet released guidelines regarding the sexual transmission risk, advised men who recently visited countries with outbreaks to abstain or use protection when having sex with pregnant women. They also said that men who are worried about infecting their nonpregnant partners should also consider taking the same precautions.
Though officials say the risk from sexual transmission remains low, the new recommendations heightened alarm among women.
Also on Friday, officials in Brazil said that the Zika virus had been found in the urine and saliva of infected patients, setting off more concerns about catching it through close contact.
As the epidemic evolves, medical providers face the challenge of staying up to date and providing clear advice to patients.
"This isn't behaving like most of the viruses we know about," Berkowitz said. "We don't know the attack rate, we don't know the susceptible period, we don't know how long it's going to take before you'll be able to see the effects of the viral infection, on and off an ultrasound."
The Zika virus was long thought of as a less-threatening mosquito-borne illness, compared with dengue and malaria, but doctors started paying attention after an outbreak last year when thousands of babies in Brazil were born with microcephaly, a condition in which the head is abnormally small.
But even the link between Zika and microcephaly has not been proved.
When a pregnant woman planning to visit Brazil stopped by Dr. Robert Winters' travel clinic in December, he didn't know much about Zika, other than telling people to generally avoid mosquito bites. "It really wasn't on my radar," said Winters, whose clinic is in Santa Monica.
Zika is a relatively new virus — first isolated in humans in the 1950s — but information about it is lacking because it's often a silent illness, infecting people without them ever knowing.
Before last year, there wasn't much interest in studying Zika, which was believed to cause only body aches, fever or rashes. Up to 80% of people who get Zika have no symptoms. The connection to microcephaly probably went unnoticed because it was limited to small populations in Africa and Southeast Asia, experts say.
Now, with the threat of birth defects, Zika's once-subtle symptoms have turned insidious, making it difficult for public health officials to track and control the disease's spread.
After living in Haiti for a year, Rory Felton and his wife returned home to Long Beach last month. They'd had friends in Haiti who were infected with the Zika virus, but they said they became concerned only recently. Last week, the World Health Organization designated the outbreak a global public health emergency.
Then Felton learned that he couldn't get tested, even though his wife is five months pregnant. The U.S. Centers for Disease Control and Prevention is limiting testing to pregnant women, and others wth symptoms.
But Felton has heard about the risk of transmission through sexual contact and wants to know for sure that he isn't infected. And there's no commercial testing available to put his fears to rest.
"Some days we get really freaked out about it, based on whatever's on the news," he said.
Though officials have confirmed cases of sexual transmission, they don't know how long the virus remains in semen. And though Zika was recently detected in the saliva and urine of infected patients, it's unclear whether it can be transmitted through those fluids.
Though the information keeps shifting, Dr. Neil Silverman, an obstetrician in L.A. who specializes in high-risk pregnancy, said as long as women don't visit countries with outbreaks or smaller countries nearby, they needn't panic.
"If you're in an area where there's no native transmission for mosquitoes that has occurred, and the U.S. is still within that category, then pregnant women do not have anything to fear about living in their own areas," he said.
Still, disquiet has spread to pregnant women who aren't traveling abroad. Every day, Silverman sees about five patients who ask about Zika and answers about four phone calls about the infection, he said.
Other doctors say patients showing up for their scheduled ultrasounds have been asking them to double-check that the baby's head size is normal.
Sarah Gottlieb, who is 14 weeks pregnant, called her physician after worries about Zika began to grow in the United States. She'd read about it three weeks ago, but when national health officials began telling women not to travel to countries with outbreaks, "I started getting all these phone calls from parents and my in-laws and everybody freaking out," she said.
Her doctor's advice was simple: Don't go to South America or Africa.
Gottlieb, who lives in Santa Monica, continues to follow Zika virus developments, concerned that public health officials should have told pregnant women to stop traveling sooner.
"I'm just kind of nervous that the warnings have been late," she said.
Disease experts don't know whether there's a correlation between having symptoms of Zika and having a baby with microcephaly, or whether the trimester during which the mother is infected matters.
Interested in the stories shaping California? Sign up for the free Essential California newsletter >>
"There is uncertainty here, and uncertainty, of course, always leads to concern and anxiety," said Dr. Robert Amler, a professor of public health and pediatrics at New York Medical College, who also used to work at the CDC.
Laboratories are scrambling to make a vaccine, scientists are attempting to reengineer the carrier mosquitoes so they won't be able to transmit the virus, and epidemiologists are investigating its effects.
"And until all that's figured out, we'll be forced to live with that uncertainty," Amler said.
soumya.karlamangla@latimes.com
Twitter: @skarlamangla
MORE ON ZIKA VIRUS
Obama asks Congress for emergency funding to combat Zika virus
CDC confirms a case of Zika transmission via sex in Texas
Fighting mosquitoes with mosquitoes: Biological weapons target Zika virus
---
Life is stressful. Our weekly mental wellness newsletter can help.
You may occasionally receive promotional content from the Los Angeles Times.