DUI suspect in fatal Nevada crash is Orange County native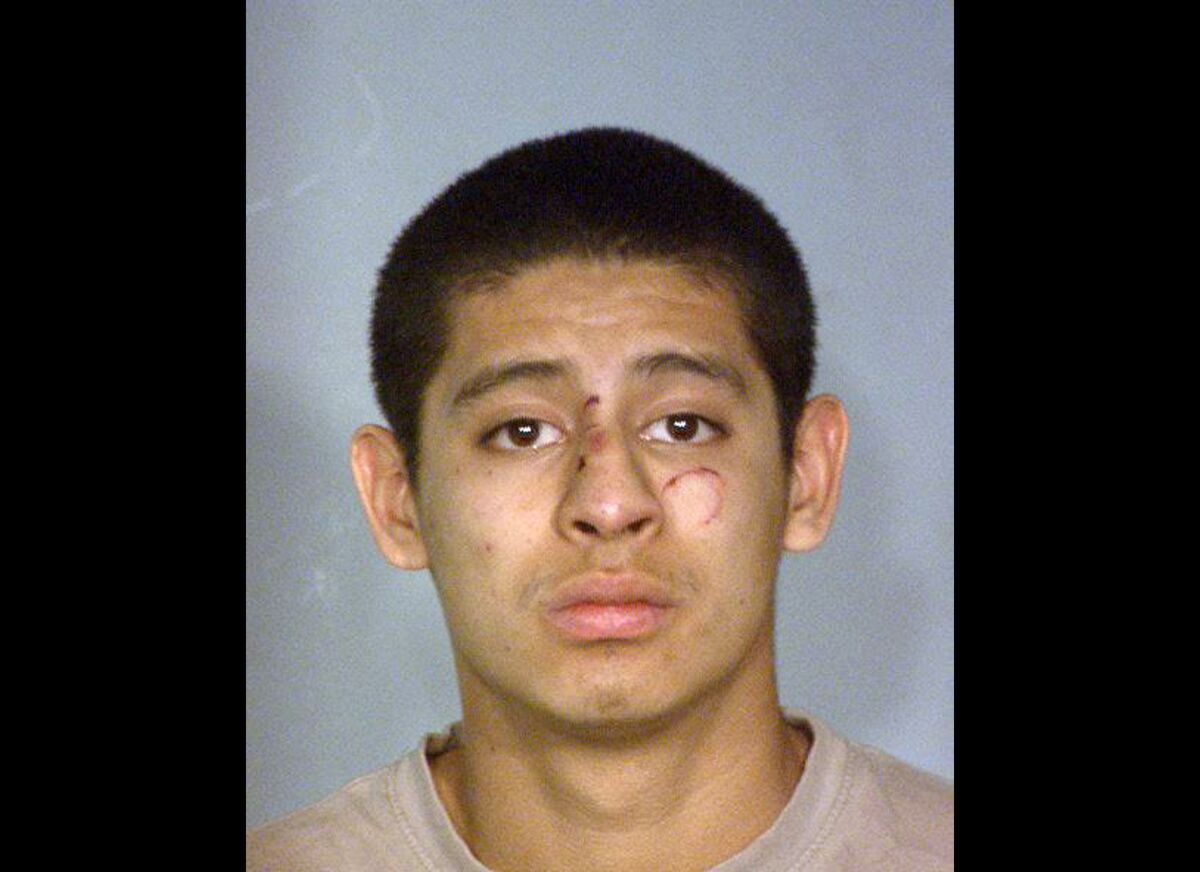 <i>This post has been corrected. See note at the bottom for details.</i>
A suspected drunk driver accused of causing a crash that killed five people outside Las Vegas over the weekend is from Orange County, authorities said Tuesday.
Jean Ervin Soriano, 18, who was being held on $3.5 million bail, was born in Mission Viejo, said officials at the Clark County Detention Center in Las Vegas.
Soriano is accused of being behind the wheel of a Dodge Durango about 3 a.m. Saturday when it rear-ended a Chevy Astro van carrying seven people on Interstate 15 about 30 miles south of Mesquite.
The van spun out and flipped, killing five of its passengers, including three brothers.
Soriano was headed to Las Vegas from Utah, according to an arrest report from the Nevada Highway Patrol.
According to a Facebook page that appeared to belong to Soriano, he lives in San Juan Capistrano. A police citation from 2011 listed his address in Ladera Ranch. A Capistrano Unified School district official said Soriano went to school in the district until 2010.
Once he was released from the hospital, Soriano was booked on seven counts of suspicion of driving drunk and killing five people and seriously injuring two others. He was also cited for driving without a license.
Clark County prosecutors likely won't charge him until his arraignment April 10. Prosecutors are awaiting the results from blood drawn from Soriano after the crash. Nevada Highway Patrol deputies said there were beer bottles inside the Durango at the time of the accident.
The crash devastated several families in Southern California.
Those killed were Genaro Fernandez, 41; his two brothers, Raudel Fernandez-Avila, 49, and Leonardo Fernandez-Avila, 45; Raudel Fernandez-Avila's wife, Belen, 53; and Angela Sandoval, 13.
Leonardo Fernandez-Avila's girlfriend, Maria Cardenas, was injured; she is Angela's mother. Her son Eddie, 15, also was injured.
The entire group was heading home from Colorado, where they were visiting the Fernandez brothers' dying father, Elijio Sr.
[For the Record, 10:42 a.m., April 4: Previous versions of this online post misidentified the school district as San Juan Capistrano Unified and said the van that was rear-ended was Dodge Astro van. It was a Chevy Astro van.]
ALSO:
Search continues for missing hikers in Orange County
Police dog tested for brain damage after being thrown out window
Northridge kidnapping: Search for main suspect widens to San Diego

---
The stories shaping California
Get up to speed with our Essential California newsletter, sent six days a week.
You may occasionally receive promotional content from the Los Angeles Times.