No criminal charges in death of man beaten by Kern County deputies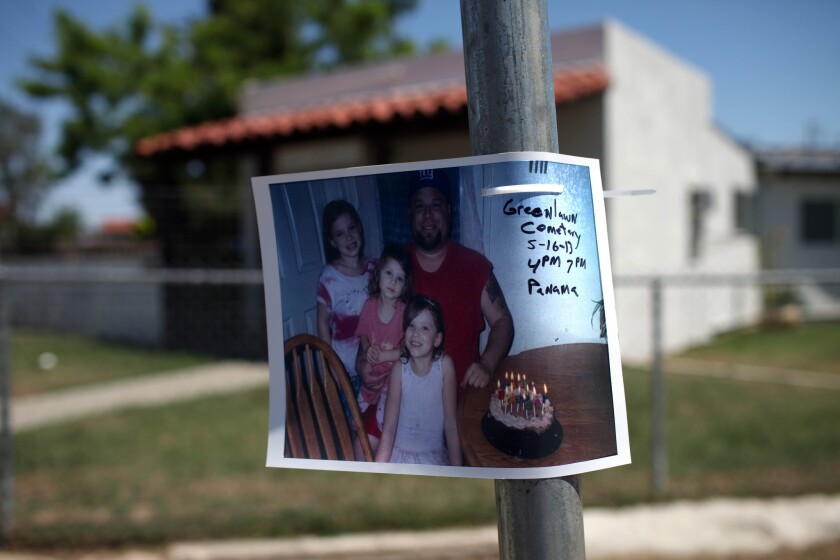 No criminal charges will be filed against Kern County sheriff's deputies and California Highway Patrol officers after a 33-year-old man died last year within an hour of being beaten by authorities.
Kern County Dist. Atty. Lisa Green said Friday that David Sal Silva's death was not a homicide, and law enforcement used reasonable force in subduing him.
Silva's death received national attention because of the number of witnesses who stepped forward claiming police brutality and because officers detained two witnesses until they turned over their cellphones with video recordings.
At Friday's news conference, Green said there had been a "lack of information about the facts surrounding Mr. Silva's death," and she went step-by-step through the scene nearly a year ago in East Bakersfield that involved six deputies, a sergeant, two CHP officers and a police dog.
On the night of May 7, the Sheriff's Department received a 911 call about a man asleep or passed out in public.
Green said that, according to her department's investigation, a deputy arrived, called for back-up, then waited seven minutes before trying to to rouse Silva by touching him. Silva tried to get up and fell two or three times, hitting his face.
The deputy tried to handcuff Silva, but Silva flailed and spoke incoherently. The deputy warned Silva that if he continued to resist arrest, he would be bitten by a police dog.
Silva, who was 6-foot tall and weighed 260 pounds, kept thrashing. The officer released the dog, and the dog bit Silva's leg. Silva tried to strangle the dog with both hands. The deputy struck Silva with a baton, and the dog released Silva and grabbed the deputy's boot, according to the D.A.'s investigation.
A sergeant arrived and hit Silva with a baton. Silva got to his feet and the dog bit his left side above the waist. Silva dropped to his hands and knees. More deputies and two CHP officers arrived.
Silva was now on his back, but officers could not see his hands. They ordered him to roll over, but he didn't follow orders. Deputies struck him again with batons. The canine officer's baton wound up under Silva when the officer returned the dog to his car; the sergeant used his foot to try to kick it away, Green said.
The CHP officers cuffed Silva, but he continued to thrash violently. Deputies placed his legs in a lock. The sergeant hobbled Silva, crossing his ankles, and called an ambulance.
Green said officers put a mask on Silva because there was blood on his face and because officers were afraid Silva would spit on them. Silva vomited. They immediately removed the mask. A deputy took his pulse three times, and on the third time there was no pulse.
The Kern County coroner's office labeled Silva's death accidental, citing the primary cause as hypertensive heart disease. Toxicology tests showed Silva had amphetamines and methamphetamine in his system and a blood-alcohol level of 0.095%.
The D.A.'s office hired an independent pathologist -- Dr. Frank Sheridan, chief medical examiner of San Bernardino County -- who concurred that Silva had died of heart disease, obesity and alcoholism. The coroner found bruises and abrasions, but no hits to the head, broken bones or physical restraints that would have stopped Silva from breathing.
The report said that Silva may have been in a state of "excited delirium."
Neither coroner's report listed the beating as contributing to Silva's death.
"That resolved the issue of whether Mr. Silva's death was a homicide. It was not," Green said.
Green said her office determined that there was no excessive force and that deputies had acted in accordance with Kern County Sheriff's Department guidelines.
She said the criteria considered in determining excessive force is the severity of the crime, resisting arrest, immediate threat by suspect, the number of suspects and officers, the age and the size of the officers and suspect, the duration of the incident, the force involved and whether drugs or alcohol were involved.
Silva's younger brother, Christopher Silva, asked Green why the first deputy had not called for an ambulance immediately when he discovered an unresponsive man. He asked why his brother had been hog-tied.
Green said it is her understanding that if there is enough distance between the arm and leg restraints, it is not hog-tying.
She said that her department was given access to FBI reports and that her department's investigation is more complete than the FBI report, which has not been released.
Silva's family has filed a federal civil lawsuit against Kern County.
ALSO:
Bus crash survivor recounts harrowing escape
California bus crash: 5 students among 10 killed; at least 30 injured
Aspiring TV producer mistakenly killed by deputies in West Hollywood
Twitter: @DianaMarcum
---
The perils of parenting through a pandemic
What's going on with school? What do kids need? Get 8 to 3, a newsletter dedicated to the questions that keep California families up at night.
You may occasionally receive promotional content from the Los Angeles Times.