Elizabeth Warren rouses California Democrats: 'America is ready to stand with us'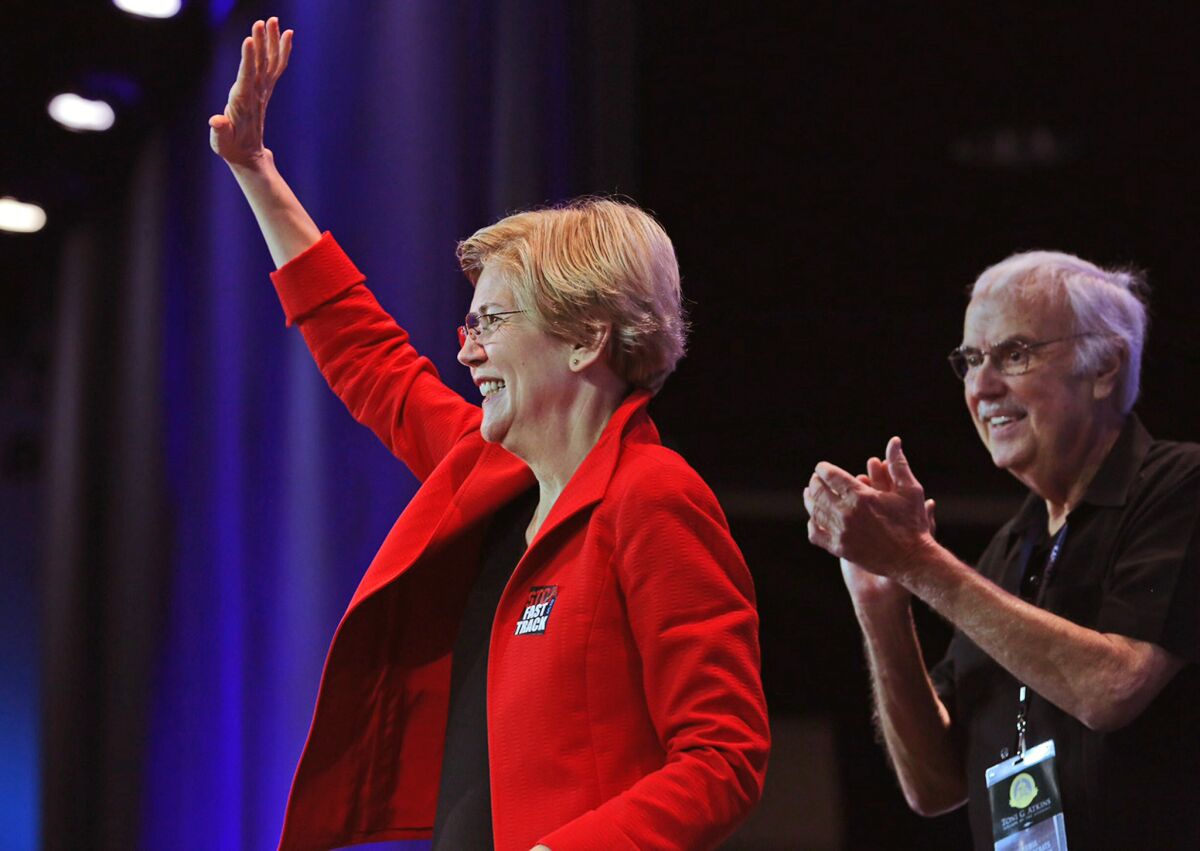 Sen. Elizabeth Warren delivered a tub-thumping speech to delegates at the California Democratic Party convention in Anaheim on Saturday, touching on the policy themes that have made her the increasingly popular champion of her party's liberal wing and bestowing conspicuous praise on state Atty. Gen. and U.S. Senate candidate Kamala Harris.
Anyone hoping for Warren to call out President Obama by name over a controversial trade pact was disappointed. But she did make caustic remarks about the deal, saying it would benefit multinational corporations and "leave American workers in the dirt."
And she made abstract attacks on those who place politics above principle, comments that could be seen as indirect criticism of White House leadership on some core Democratic causes.
"When we stand together, when we make it clear what we believe in, America is ready to stand with us," Warren told the rapt crowd at the Anaheim Convention Center. "This isn't just about politics. It's about values."
Later, she added, "We don't win what we don't fight for."
Warren has been prominently at odds with the White House over the proposed Trans-Pacific Partnership trade deal, which the administration says would boost Pacific Rim commerce by removing barriers to trade with countries such as Japan, Singapore and Vietnam.
This week Obama criticized Warren's opposition to the pact, saying, "The truth of the matter is that Elizabeth is, you know, a politician like everybody else."
In her speech, Warren also sketched the historical narrative that has helped fuel her rise in public life, portraying the U.S. as a country whose middle class, after close to a century of prosperity, has been hollowed by conservative policies from the 1980s on.
She said the governorship of former President Ronald Reagan in the Golden State was "the epicenter of the earthquake that shook the middle class to its core."
"Trickle-down economics was nothing more than political cover for helping the rich and powerful get richer and more powerful," she said.
Today, Warren said, "This country isn't working for working people. It's working only for people at the top. That's not the American dream. That's the American nightmare."
When discussing unjust home foreclosures by banks, Warren made clear where her loyalties lie in the drama that is the convention's unofficial main event: the looming battle between Harris and U.S. Rep. Loretta Sanchez (D-Garden Grove) in the race to succeed Sen. Barbara Boxer.
Sanchez announced recently that she was entering the contest, interrupting what might otherwise have been smooth sailing for Harris toward the Democratic nomination.
"That woman was fearless" in helping combat unscrupulous lending and foreclosure practices in California, Warren said of Harris, whom she endorsed for the Senate seat earlier this year.
Taking advantage of the convention center's proximity to Disneyland, Warren had less kind words for the crop of contenders for the Republican presidential nomination.
"Some of these guys took one spin too many on the teacups ride across the street," she said.
Twitter: @petejamison
The stories shaping California
Get up to speed with our Essential California newsletter, sent six days a week.
You may occasionally receive promotional content from the Los Angeles Times.