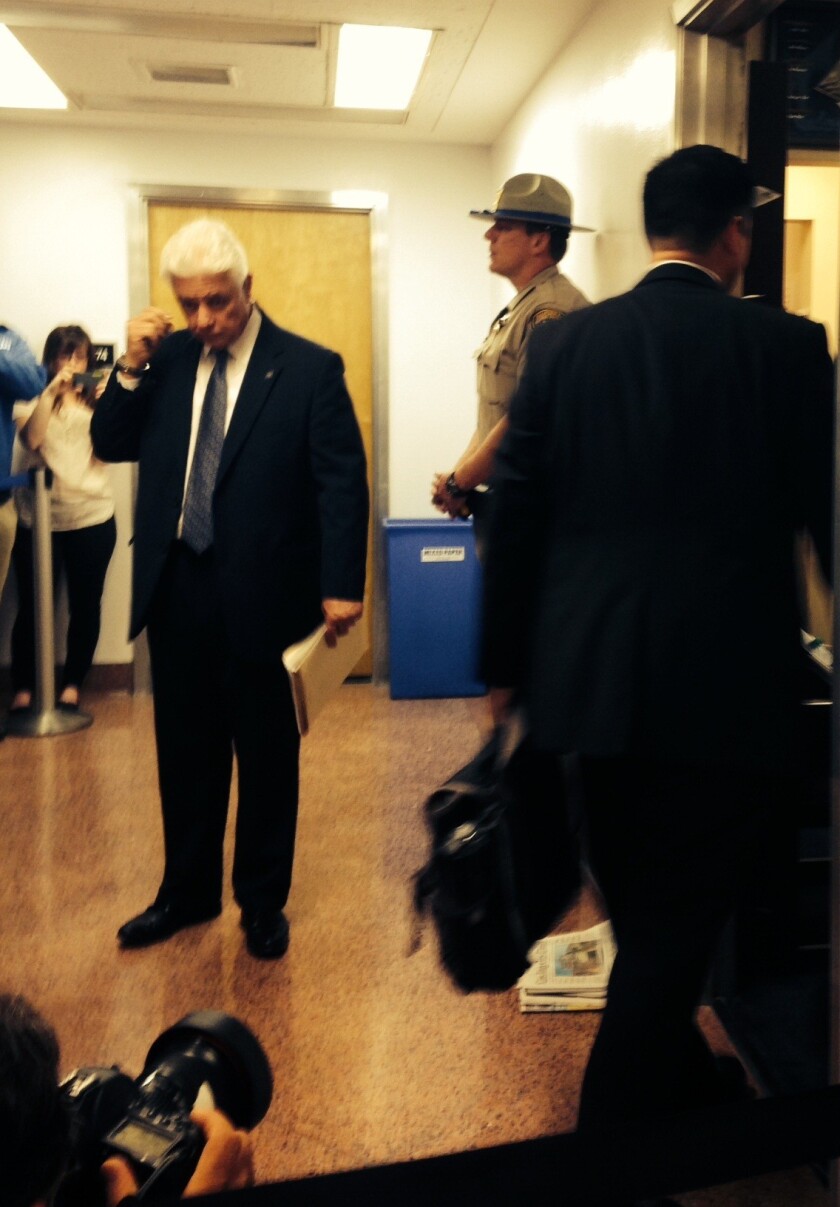 This post has been corrected, as indicated below.
SACRAMENTO -- For the second time in less than a year, agents are searching a Capitol office as part of a federal investigation.
Last year it was Sen. Ron Calderon (D-Montebello) who was targeted in a bribery sting. This time it's Sen. Leland Yee (D-San Francisco), a candidate for California secretary of State, who has been ensnared in a Bay Area federal investigation.
Several law enforcement officials have been walking in and out of Yee's office while at least two dozen journalists stand watch, and late Wednesday morning removed boxes of material.
Tony Beard, the sergeant at arms who handles security for the Senate, declined to answer questions about the search.
Yee was arrested Wednesday morning in San Francisco while law enforcement officials conducted a series of raids in the area. He was scheduled to appear in federal court in the afternoon.
Mark Hedlund, a spokesman for Senate leader Darrell Steinberg (D-Sacramento), said FBI agents showed up at the Capitol at 6:30 a.m. to begin their search.
A spokeswoman for the FBI in Sacramento, Gina Swankee, confirmed federal agents were serving search warrants.
"There were several search warrants executed today not just in my region but outside and also arrests that were conducted," she said.
Yee's arrest comes just weeks after headlines about two other Senate Democrats running afoul of the law. Sen. Ronald S. Calderon was indicted for allegedly accepting nearly $100,000 in bribes, and Sen. Roderick Wright was found guilty of eight felonies, including perjury and voter fraud, for lying about living in his Senate district.
"I'm deeply troubled about the news that Senator Leland Yee was arrested by the FBI in San Francisco on public corruption charges this morning," said Senate Republican leader Bob Huff of Diamond Bar. "Once again, the Senate has been tarnished by another FBI raid of a Senator's capitol office."
Yee, a 65-year-old child psychologist, began his political career in 1988 with his election to the San Francisco Unified School District Board of Education. In 1996, he was elected to the San Francisco Board of Supervisors.
He was elected to the state Assembly in 2002 and then won a seat in the state Senate in 2006.
Yee was prohibited from running for reelection to the Senate this year because of term limits and had launched a candidacy for secretary of State, California's top elections officer.
One of eight candidates for secretary of State, Yee spent more than $600,000 so far this year on his candidacy. As of March 17, his campaign had $135,000 in the bank.
His campaign website says he is "committed to fair elections and expanding access to our democracy" and to transparency in government.
Yee, the first Chinese American elected to the California Senate, came to the United States from China at age 3. He and his wife, Maxine, have four grown children.
He received a bachelor's degree from UC Berkeley, a master's degree from San Francisco State University and a doctorate in child psychology from the University of Hawaii.
In the state Legislature, Lee had 181 bills become law. He specialized in bills involving children, mental health services, open government and election reform.
Last year, Yee won approval of a bill that requires all Internet websites operated by the state to link to the secretary of State's voter registration page and a measure extending the Green Sticker program, giving plug-in hybrid vehicles access to car-pool lanes.
In 2012, Yee made headlines with a successful bill allowing juveniles sentenced to life without parole to petition for a new sentence of 25 years to life.
Another bill approved that year bars public and private universities from asking students and applicants for their social media user names and passwords.
Other bills backed by Yee have included a measure to require children under age 18 to wear helmets while skiing and snowboarding, and a bill intended to further protect minors from sexual predators by changing the requirements for criminal background checks at youth organizations.
A controversial measure that was held in committee last year would lift a ban on providing gambling licenses in California to people or groups with a financial interest in a foreign gambling operation.
The current case is apparently not Yee's first brush with the law.
In 1992, a store security officer at a KTA Superstore in Kona, Hawaii, stopped Yee after he walked out of the shop with an 8-ounce bottle of Tropical Blend Tan Magnifier oil in a pocket of his shorts, according to the San Francisco Chronicle.
Yee told a responding police officer that it was a mistake, but he was booked on suspicion of petty misdemeanor shoplifting, the newspaper reported. After Yee returned to the mainland, authorities dropped the case.
[For the Record, 7:15 p.m. PST, March 26: A previous version of this post stated Yee is one of five candidates for secretary of State. He is one of eight.]
ALSO:
FBI raids Capitol office of California state Sen. Ron Calderon
State Sen. Leland Yee detained amid series of raids in Bay Area
State Sen. Ronald Calderon, brother indicted in corruption scandal
Twitter: @melmason and @chrismegerian and @mcgreevy99
---