California state government, L.A. County emails linked to Ashley Madison site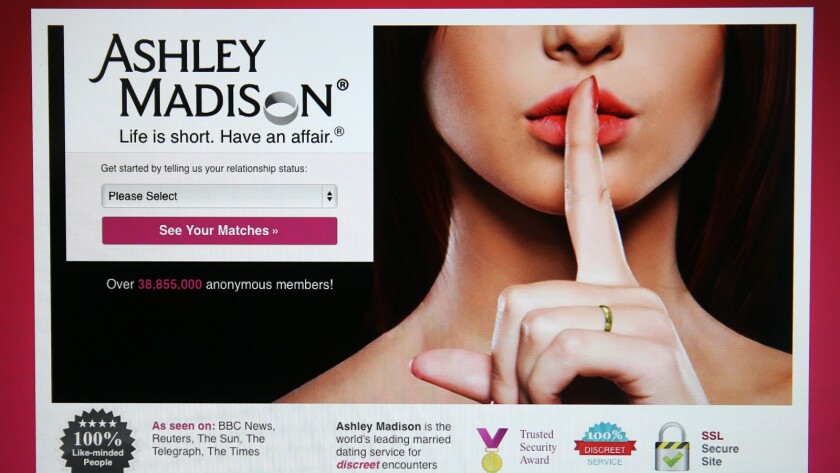 Reporting from Sacramento —
The government email addresses of nearly 50 current and former California state workers and 18 Los Angeles County employees were included in a list made public by hackers of users of Ashley Madison, the online dating site for married people.
Email addresses on the list included those for employees of the state departments of Transportation, General Services, Public Health, Corrections and Rehabilitation, Industrial Relations and Water Resources, as well as the state judiciary. No elected officials were on the list of government emails.
A representative of the Brown administration said tech workers routinely check websites for evidence that state emails are being improperly used and some have been found in the past. But she would not say whether any emails have been linked by the state to Ashley Madison.
"Any misuse of state resources is a concern and is taken seriously and investigated accordingly," said Lynda Gledhill, a spokeswoman for the state Government Operations Agency.
Departments are notified for possible disciplinary action and they have done more than 100 such notifications so far this year, Gledhill said.
One state employee whose email was on the list and who spoke on condition of anonymity because he did not want to jeopardize his job said that he does not recall using the email to sign onto the Ashley Madison site. He said he might have done so just to see what the website was about. He said he has not used the site's services.
"I'm certainly not saying that there is no possibility that I created a profile. I just honestly don't have a recollection of doing so," the employee said.
The reports of government emails linked to a dating site were a hot topic of discussion at the state Capitol on Friday. "It's intriguing why you would use your work email address," one state official said. Others warned that email addresses can be misused by people other than the person assigned the address.
Site users were not asked to verify the email they used to create a free account, so anyone could use another person's email.
Meanwhile, Los Angeles County has begun a review of whether any of its employees used government emails to access the Ashley Madison site, an official said Friday.
The hacked data included 18 government emails assigned to Los Angeles County workers, mostly low-level employees, including in the departments of probation and public defender, as well as maintenance workers.
Los Angeles County spokesman Joel Sappell said Interim Chief Executive Officer Sachi Hamai had referred the matter to the county's auditor-controller for investigation. He declined to comment further.
A group called the Impact Team hacked the personal information of 37 million users of the Ashley Madison website and earlier this week posted the information, including email addresses, on the Internet. Technology websites have since posted the government email addresses that were included on the list.
Staff Writer Anthony Pesce contributed to this report
ALSO:
The human 'superpredator' is unique -- and unsustainable, study says
Jeb Bush defends saying 'anchor babies' as Democrats attack him
---
The stories shaping California
Get up to speed with our Essential California newsletter, sent six days a week.
You may occasionally receive promotional content from the Los Angeles Times.