Latest sign Villaraigosa plans to run for governor: Central Valley 'listening tour'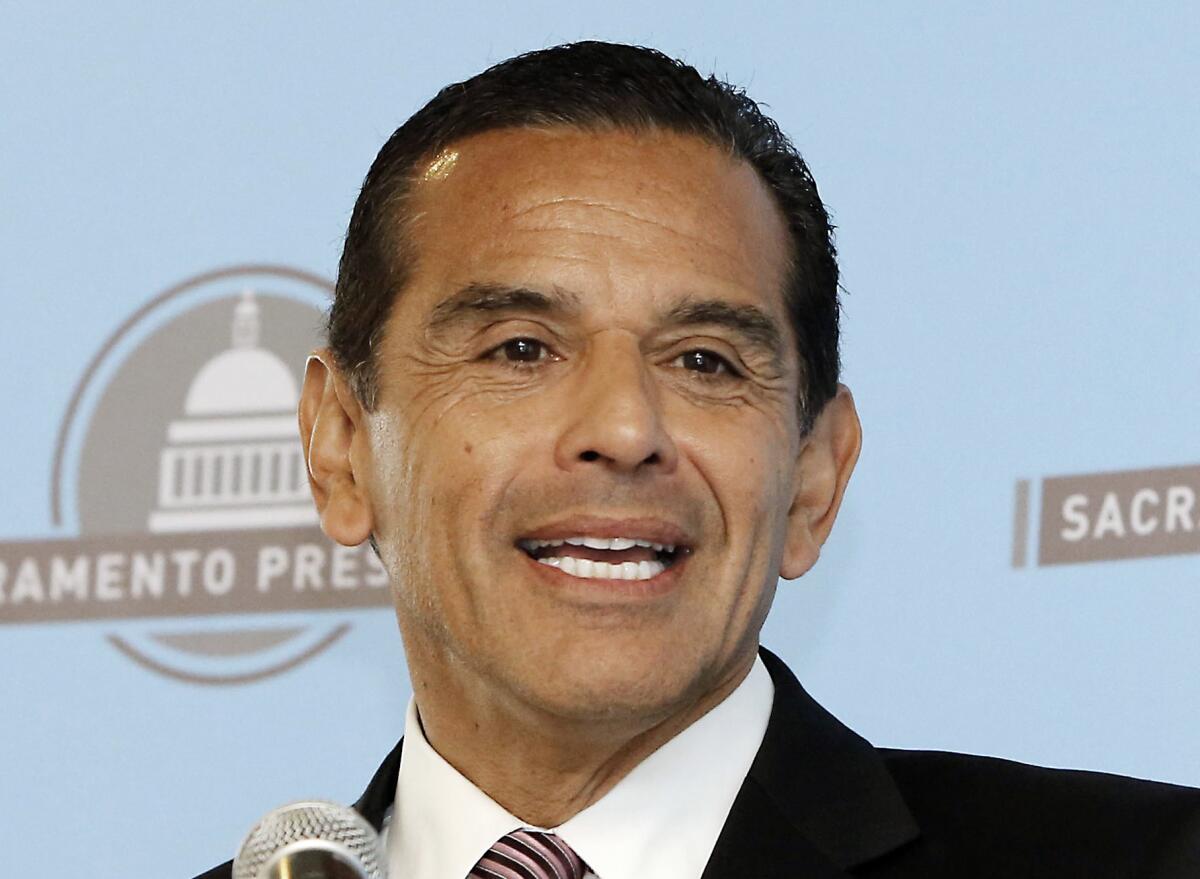 Antonio Villaraigosa has kept out of the news in the six months since he opted to skip the race for U.S. Senate.
But a reception at his Hollywood Hills home on Monday to raise money for Hillary Rodham Clinton was the latest of many signs the former Los Angeles mayor is preparing quietly to run for governor of California in 2018.
On Tuesday, just hours after the crowd of Clinton donors clears out of his house, Villaraigosa plans to travel to Bakersfield and Visalia. He'll visit Fresno on Wednesday.
The stops follow several other trips he has taken to the Central Valley in recent months to meet farmers, field hands, business and labor leaders, environmentalists and prominent Latinos. He has also been to the Salinas and Coachella valleys.
It's a California variation of the "listening tour" that Clinton, then first lady, took in New York state 15 years ago as she launched her first campaign for U.S. Senate – but in Villaraigosa's case, with no media entourage.
Interested in the stories shaping California? Sign up for the free Essential California newsletter >>
The visits familiarize Villaraigosa with agriculture, water and other issues that governors – and would-be governors – need to master. They also give him a chance to expand the statewide political network he began building as state Assembly speaker from 1998 to 2000.
At the same time, Villaraigosa, a Democrat, has been trying to strengthen his presence in social media after all but abandoning Facebook and Twitter when his eight years as mayor came to an end in 2013.
The former mayor's recent Twitter posts feature him at a Napa Valley winery and at Orange County's Peters Canyon Reservoir, where — in an MSNBC interview — he called on urban Californians to show solidarity with Central Valley farmers in the drought.
"They feed us," he said. "They feed the nation, so we're going to have to work together."
Monday evening, Villaraigosa was at home cultivating ties with L.A. donors to Clinton's presidential campaign – a group he would no doubt tap for money in a run for governor.
Roughly 100 people crammed into his $2.5-million hillside house, a contemporary architectural showcase with top-dollar modern art and jetliner views of the city he once governed, from the downtown skyline to the ocean, with the Griffith Observatory and Hollywood sign a few ridges away.
Villaraigosa has long backed Clinton; he was national co-chairman of her 2008 presidential campaign.
His reception was a small one for Clinton, raising only about $10,000 from tickets ranging between $100 and $500. Organizers included L.A. County Supervisor Sheila Kuehl, former City Controller Wendy Greuel and political strategist Bill Burton, a former spokesman for President Obama. City Controller Ron Galperin was among the guests.
The evening's highlight was a presidential polling presentation from Joel Benenson, a top strategist in the Clinton campaign. The former first lady, who plans a Tuesday town hall in Nevada, did not attend.
"You can't always have face time," said Gloria Molina, a Clinton supporter who also did not attend.
Molina, a former L.A. County supervisor and staunch Villaraigosa ally, said the event gave the former mayor a good platform as he looks ahead to a potential governor's race. "He's in a good position to help her out as he explores the future," she said.
In a telephone interview, Villaraigosa declined to discuss the upcoming governor's race, but said: "I'd be honored to serve again if I thought my service could make a difference."
If he runs, Villaraigosa would likely face tough competition among fellow Democrats. Lt. Gov. Gavin Newsom, a former San Francisco mayor and longtime Villaraigosa rival, has already announced his candidacy. Also considering the contest are former state Controller Steve Westly and environmental activist Tom Steyer, a San Francisco hedge-fund billionaire.
Days before he left office as mayor, Villaraigosa, now 62, said he wanted to run for governor. When Sen. Barbara Boxer announced in January she would not seek reelection next year, Villaraigosa spent weeks talking to advisors and potential backers about running for her seat. He finally declined, saying he would "instead continue my efforts to make California a better place to live."
"We have come a long way," he said then, "but our work is not done and neither am I."
ALSO:
State treasurer pondering campaign for California governor
Antonio Villaraigosa run for California governor? 'Future is wide open'
Sign up for Essential California for news, features and recommendations from the L.A. Times and beyond in your inbox six days a week.
You may occasionally receive promotional content from the Los Angeles Times.