As reunification deadline arrives, fear and uncertainty persist for many migrant families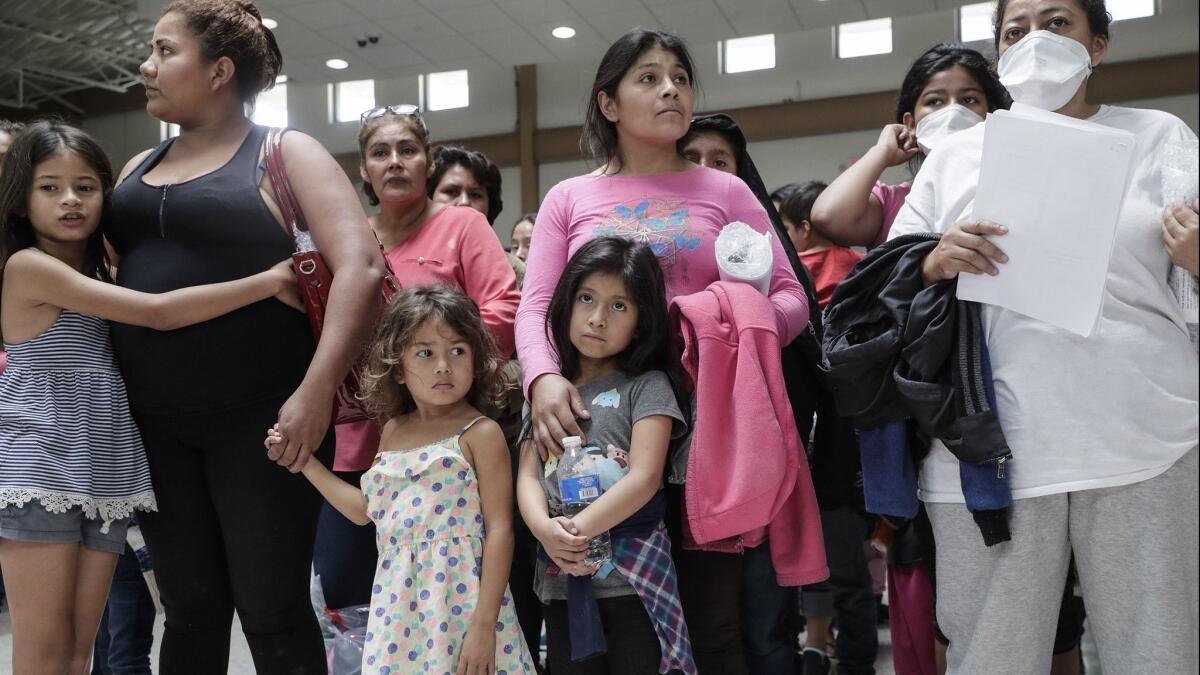 A mother at LAX threw her arms around her two teenagers, whom she had not seen in two months. Another waited anxiously in south Texas for her 7-year-old boy to arrive from New York. And in a village in Guatemala, a father who was deported in June did not know when he might see his 6-year-old daughter again.
A court-imposed deadline that had government officials scrambling to complete the reunification of more than a thousand migrant families by Thursday led to emotional scenes across the country, as parents and children who had not seen each other for weeks or months were together again.
But much remains unresolved after months of chaos and confusion resulting from the Trump administration's family separation policies.
Under an order issued by U.S. District Judge Dana Sabraw in San Diego, Thursday was the deadline for reuniting the more than 2,500 children who were taken from parents at the border.
With just hours left before the deadline, government officials said Thursday afternoon that they had reunited 1,442 children with their parents.
An additional 378 children had been released to sponsors, were reunited with their parents in other ways or have turned 18, according to court filings.
More than 700 were deemed ineligible by the government for reunification. Among them are 430 children whose parents have already been deported.
Those that were reunited, meanwhile, face an uncertain future — 900 of them have been ordered deported, according to court filings.
The American Civil Liberties Union, whose lawsuit against the government led Sabraw to order the reunifications, is arguing that those families should be allowed to remain in the country for seven days in order to consult with lawyers.
Hundreds of other families have been released from detention with the adults wearing ankle monitors, pending hearings on their asylum claims. And more than 200 families were sent to detention centers, where parents and children are being held together.
On a call with reporters Thursday, officials with U.S. Immigration and Customs Enforcement and Health and Human Services described a much smoother reunification process than advocates and lawyers say they have seen firsthand.
In preparation for reunifications, officials said, children were moved for short periods of time into detention center conference rooms and offices that were stocked with food, water and games. Some watched DVDs or played video games while their parents were processed.
"When we knew the parent was coming, we had them ready so kids could leave soon," said Matthew Albence, executive associate director of enforcement and removal operations for ICE.
Officials said they were confident all families that it has deemed eligible would be reunited by the end of the day Thursday.
But in addition to the deported parents, officials said nearly 300 children would not be reunified with their parents for various reasons. According to the government's filing, several dozen children had parents who failed a background check or other government review. And the parents of 120 children waived reunification.
Officials said parents opted to leave children behind with spouses or other relatives and had been given the opportunity to change their minds.
In court documents filed by the ACLU on Wednesday, a number of parents who waived reunification described signing forms they did not understand because of language or literacy barriers.
Many of these parents "in fact do want their children back and did not remotely understand their rights," the ACLU said in its filing.
For those families that were eligible for reunification, chaotic scenes unfolded around the country as officials rushed to meet the deadline.
In south Texas, hundreds of families were taken to the Basilica of Our Lady of San Juan del Valle, a massive shrine that Catholic Charities has converted into a shelter.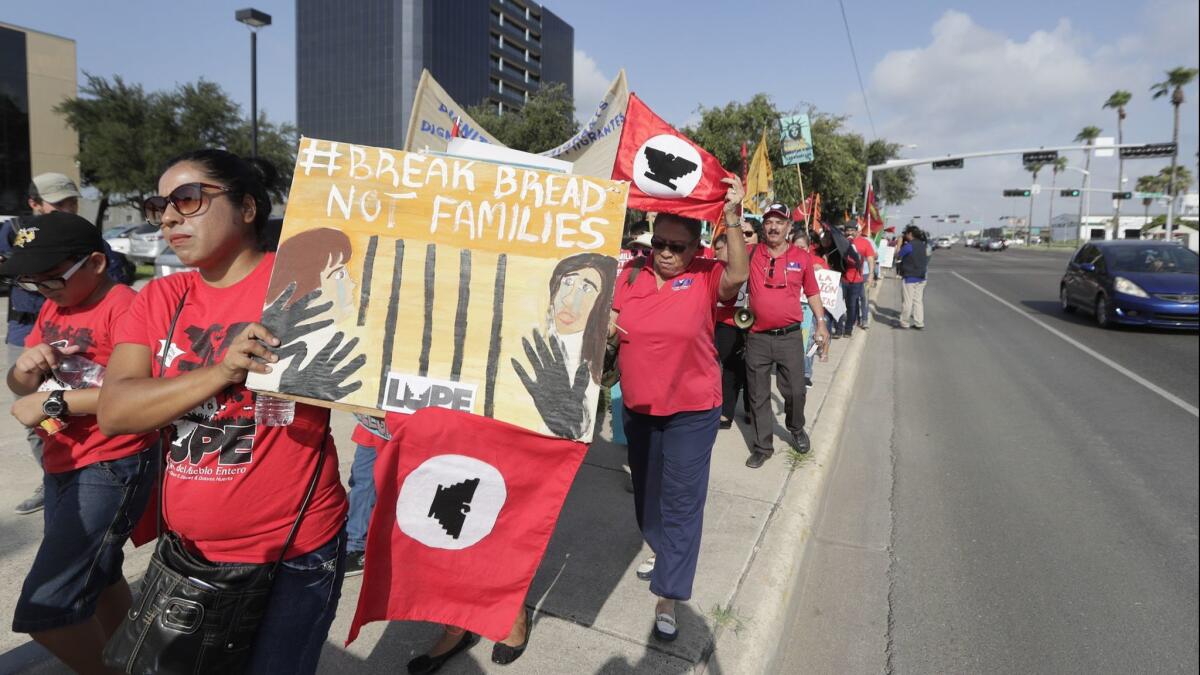 The Rev. Jorge Gomez said the charity has opened the basilica to separated families and those released together, about 300 each night, including pregnant women.
Some groups arrive in the early hours of the morning, and Catholic Charities has been serving meals not just at the shrine, but in the rectory where Gomez lives.
"Seeing the joy of people reunited with their families is my happiness," he said.
One morning, Gomez said he went to wake a group of 80 sleeping in conference rooms, and found many of them still asleep, embracing their children.
"There are people who were in New York and their children were in Houston; there are parents who were in El Paso and their kids were in Chicago. There's one today … the child was in Wyoming and the mother was in Atlanta, and they reunited them in the [Rio Grande] Valley," he said.
At a bus station in the Texas border town of McAllen, Houston lawyer Ruby Powers said she had spent the last couple of days scrambling to figure out where and when her client, a mother named Ana, would be reunited with her 7-year-old son.
Powers received a message late Wednesday from a caseworker saying that the boy would soon be returned from a shelter in New York. She bought her client a $150 nonrefundable ticket to Louisiana, where the mother had planned to meet her son. And Powers flew from Houston with a booster seat for the boy.
But after another conversation with the boy's caseworker, it was decided to send the boy to Texas.
On Thursday afternoon, Powers waited to hear when he would arrive before buying another ticket so mother and son could go to Louisiana.
"They said 10:30 p.m., McAllen, but I'll believe it when I get the flight confirmation," she said.
In Los Angeles on Thursday morning, a volunteer group of mothers with the California chapter of Immigrant Families Together helped Merin Cardoza Cardona get a ride to LAX where she would see her children for the first time in two months.
The group formed just one month ago to raise money to bail parents out of jail and buy plane tickets home.
When Cardoza Cardona's children, Yensi, 17, and Edwin, 11, appeared down a long hallway amid a stream of travelers, the mother gasped and ran to throw her arms around her kids.
"It is the greatest joy to see them again," said Cardoza Cardona, who plans to seek asylum in coming months. She had been detained in Texas while her children were held in a shelter in Miami.
"I don't know where we're going to live or what's next, but we're together now," Cardoza Cardona said. "I have faith that God will help us."
The family's reunification is among a few that have taken place in Los Angeles in recent weeks. But advocates believe the city, home to a large Central American population, will soon begin receiving many families that were released pending the outcome of their cases.
One group, Immigrant Defenders Law Center, said it had already received word of 35 families that were recently reunited in Texas and are headed to Los Angeles.
Most of them are immigrants from El Salvador and Guatemala, coming via bus or plane from El Paso.
Along with providing legal assistance, the group has a case manager on staff to connect families to services.
County and city officials have also been meeting with nearly 40 agencies to work out a plan to help reunited families. Their aim is to connect parents and children to services such as housing, school enrollment and trauma counseling.
With the deadline gone, one of the biggest questions that will remain is the fate of those children whose parents were deported.
No plan has been put in place yet that paves the way for these reunions to happen.
And finding the parents will take an extraordinary amount of work, especially for asylum seekers who may fear government prosecution and "may not want their country's government looking for them," said ACLU attorney Lee Gelernt.
"I'm under no illusions it's going to be easy," he said.
A consortium of nonprofit organizations — including Al Otro Lado and Kids in Need of Defense — recently announced it would step up efforts to find deported parents and reunite them with their children.
"We're doing the job of the government," said Nan Schivone, legal director at Justice in Motion, an immigrant rights group based in Brooklyn, N.Y., that is part of the effort. "We shouldn't have to search high and low for the people the government separated from their kids. The government should have kept better track."
Among those hundreds of deported parents is Nazario Jacinto-Carrillo, a 32-year-old potato farmer from Guatemala who said Thursday that he still doesn't know when he'll be reunited with his 6-year-old daughter, Filemona, whom he hasn't seen since she was taken from him after they illegally crossed the California border in May.
From his village in the western highlands of Guatemala, Jacinto-Carrillo said by telephone, he keeps in contact with an attorney and Guatemalan consular officials in New York who are trying to arrange Filemona's flight home.
He has provided copies of birth certificates of family members. The consulate, he said, has provided her a passport. Filemona also appeared at an immigration hearing in New York last week.
On Wednesday morning, Jacinto-Carrillo's attorney called him to confirm what he already feared: There would be no reunification by the government deadline. He asked why it was taking so long. His attorney told him that immigration officials wouldn't tell her why.
"I've done everything required, but there's still no explanation," Jacinto-Carrillo said. "I have no idea when I'll see my daughter again."
molly.hennessy-fiske@latimes.com
esmeralda.bermudez@latimes.com
Hennessy-Fiske reported from McAllen, Bermudez and Ulloa from Los Angeles and Marosi from San Diego. Times staff writers Cindy Carcamo in Los Angeles and Paloma Esquivel in Riverside and San Diego Union-Tribune staff writer Kristina Davis in San Diego contributed to this report.
---
UPDATES:
6:55 p.m.: This article has been updated with additional quotes and details.
This was originally published at 1:40 p.m.
Sign up for Essential California for the L.A. Times biggest news, features and recommendations in your inbox six days a week.
You may occasionally receive promotional content from the Los Angeles Times.