Here's why more U.S. drivers are dying in crashes this year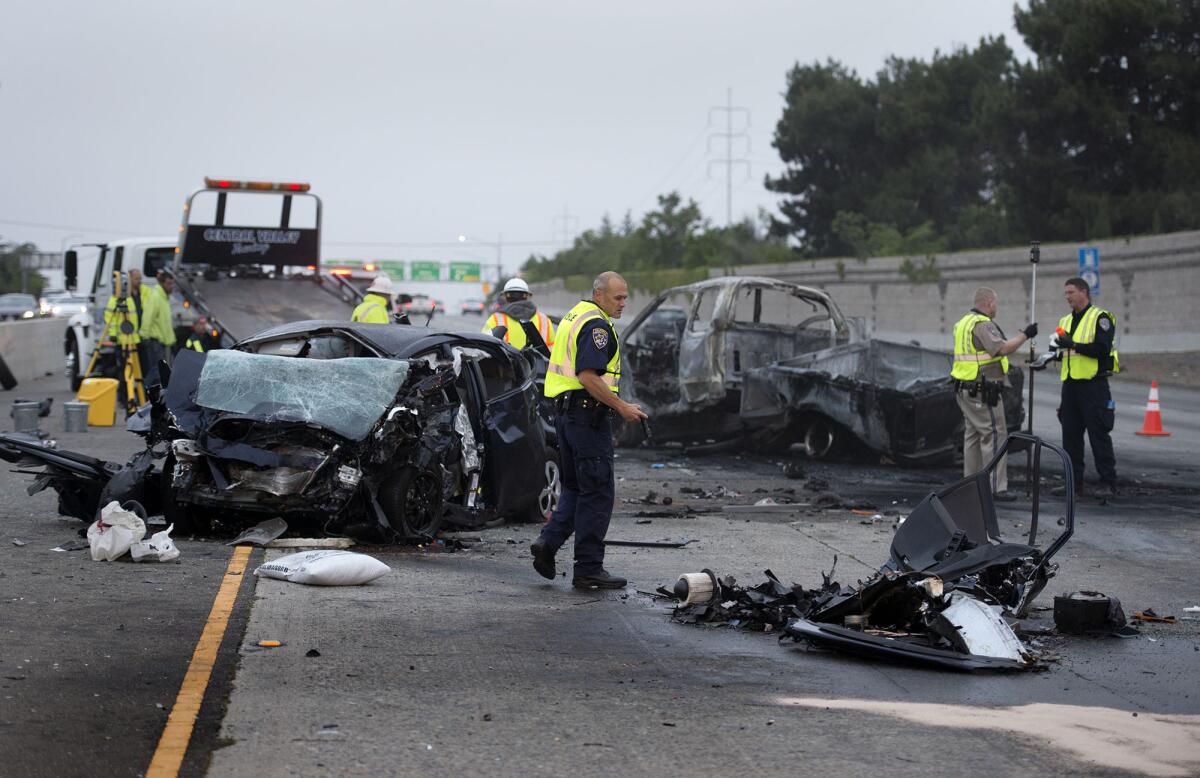 You finally got your job back, all these years after the Great Recession kept unemployed workers on their couches. You can afford a car again. You have someplace to drive every morning and a commute home every night. Gas is cheap again too.
All of it means more miles on the road.
And the result? Deadly automobile crashes have surged dramatically in the first half of 2015 as Americans hit the roads in record numbers, in part due to a stronger economy and more affordable fuel, experts say. California, despite its higher gas prices than most of the country, is one of the hardest hit states.
"We're not even into the more dangerous parts of the year," said Ken Kolosh, manager of statistics at the nonprofit National Safety Council, which found traffic deaths had jumped 14% compared with the same period in 2014, a year in which an estimated 32,675 people died.
"If this pace continues, we could exceed 40,000 deaths for the first time since 2007," Kolosh said.
NEWSLETTER: Get the day's top headlines from Times Editor Davan Maharaj >>
The increase bucks a longer-term decline in traffic deaths over the last half-century, even as the number of drivers on the road has doubled. Cars have become safer and traffic laws stricter.
But Americans drove a record 1.54 trillion miles in the first half of 2015, according to the Federal Highway Administration, beating the previous mark set in 2007.
Gas prices this year also hit their lowest Labor Day price in more than a decade, with the average price per gallon more than $1 cheaper than last year, according to AAA.
That means more time on the road and more chances to encounter a drunk driver or get distracted by a text message, experts say.
"To some extent, this is a rebound from the recession," Kolosh said. "The more people drive, the more people die, unfortunately, on our roads."
In California, traffic deaths in the first half of 2015 have jumped 20% over last year, with 1,566 deaths, according to the National Safety Council. Only Texas, with 1,643, had more.
The increase in miles driven doesn't totally explain the increase in crashes in California, so there are probably other factors involved besides modestly cheaper gas and an improving economy, said Marie Montgomery Nordhues, a spokeswoman for the Automobile Club of Southern California.
"The Auto Club and AAA nationally are very concerned about distracted driving," Nordhues said. "The latest research from the AAA Foundation for Traffic Safety shows that distraction is a factor in 60% of teen driver crashes."
In an August bulletin, the National Highway Traffic Safety Administration said that "it is too soon to speculate on the contributing factors or potential implications of any changes in deaths on our roadways," noting that it was still analyzing fatal crash data from 2013.
But according to the National Safety Council's preliminary figures, Oregon has seen the nation's largest surge by far with a 59% increase in deaths over the first half of 2014, with 204 people killed in the first half of this year.
The leap has puzzled Oregon transportation officials.
NEWSLETTER: Get essential California headlines delivered daily >>
Crashes involving vehicles leaving the road have increased; so have the number of incidents in which pedestrians have been hit, which is not a trend that has extended to bicyclists, according to Troy Costales, the transportation safety division administrator for the Oregon Department of Transportation.
"There doesn't appear to be any one location that is experiencing the increase different than other locations," Costales said in an email.
One of Oregon's fatal crashes seemed to capture the uncertainty of the situation. On Wednesday, La Grande, Ore., detectives found a totaled, scorched 1997 Ford pickup at the bottom of a steep ravine.
The detectives discovered a body inside. It's suspected to be a 27-year-old man who had been missing since June 18.
"Here is another crash where the vehicle left the roadway," Costales wrote. "As an example, we cannot say why and in this case may never know why the vehicle went off the road and down the ravine."
Kolosh, of the National Safety Council, said while the surge in accidents across the country is tragic, it may only be a phase, considering the continually improving safety features on cars.
"This is just part of the normal cycle, which is part of a bigger trend of general improvement," Kolosh said.
Follow @MattDPearce for national news
Si desea leer esta nota en inglés, haga clic aquí
ALSO:
Lower L.A. gas prices coming soon? Exxon Mobil is poised to increase output at Torrance refinery
Ancient sequoias threatened by California wildfire
Drought is no reason to ease environmental protections, California voters say
Sign up for Essential California for the L.A. Times biggest news, features and recommendations in your inbox six days a week.
You may occasionally receive promotional content from the Los Angeles Times.