Thousands of cruise ship passengers dropped off in Miami ahead of Hurricane Irma
Cruise lines are offering refunds to passengers on canceled cruises, as well as discounts on future voyages. (Sept. 7, 2017)
When Natasha Allen and her husband, Richard, embarked Monday on a five-day Royal Caribbean cruise to the Bahamas, the recently married couple expected a relaxing vacation.
While they had known that Hurricane Irma was potentially headed their way, the cruise line didn't cancel the trip, so they thought they were in the clear.
The couple spent one relaxing day in Nassau before learning Tuesday that their ship would be returning to Miami.
They arrived at 2:30 p.m. Thursday to a scene of unfolding chaos.
"We had one day when everything was fine and beautiful. Now we are rushing to get out of Miami," Allen said. "We saw some people crying, and they are not directing traffic to help people get off the ship."
The couple is among some of the luckier cruise ship passengers. Their travel agent was able to get them a flight out of Miami back to West Virginia on Friday, and they found a hotel room for $89 near the airport where they plan to spend Thursday night.
Still, they worry about what they will do if their flight is canceled.
"We will be stranded. We have no rental car because it's all sold out. We won't have a way out," Allen said.
With flights out of Miami difficult to find, rental cars sold out and hotel rooms scarce, thousands of cruise passengers who were forced to return to Miami are struggling to find ways out of the city as Irma approaches.
With Irma's path difficult to predict, ships from over a dozen cruises have been cutting short and canceling trips, and changing future itineraries, according to Cruise Critic, a website where people write reviews about cruises.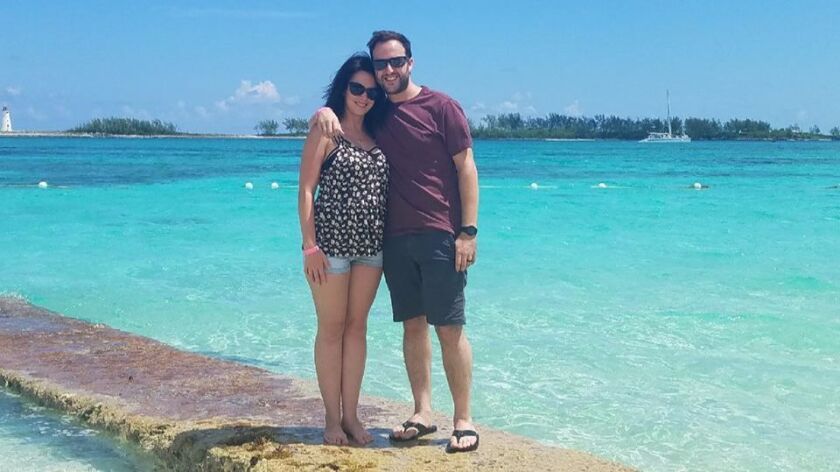 Relatives of people onboard affected cruise ships have expressed worry over social media.
"My nephew and his wife are stranded in Miami. Cruise ship just docked. Anyone with people who can help in ANY way please let us know," Libbey Tiefer wrote in a Facebook post.
Dianna Lauber said she had been trying for two days to book a flight for her daughter, Carmen, who was on a Carnival cruise in the Bahamas and arrived in Miami early Thursday.
"I was shopping at Costco Tuesday when Carmen called and asked me to help her find a new flight," Lauber said. "I was feeling hopeless."
Carmen went straight to the airport after her cruise ship docked in Miami, only to learn that her flight had been canceled, Lauber said.
Not wanting to take the risk of staying in Miami, Lauber said her daughter managed to find a rental car and drove six hours to Tampa, where she was able to book a flight back to Los Angeles for Thursday evening.
"There weren't many rental cars left, so she got lucky. I was starting to feel hopeless," Lauber said.
Allen and her husband had the option of staying on the cruise ship, as did passengers on other cruises, such as Norwegian Cruise line and MSC Cruises.
But Allen said she didn't know they had that option, and by the time they learned, it was too late because they had booked a hotel room.
She said she was frustrated with the lack of communication on part of the ship's captain.
"We weren't told anything and [staff] were acting like everything was fine," Allen said in a phone interview while trying to get off the ship.
"They should have canceled our cruise in the first place so we could have avoided this or dropped us off somewhere else," Allen said. "Everything is chaos right now."
Royal Caribbean did not immediate respond to phone calls or an email seeking comment.
Carnival Cruise Line spokeswoman Jennifer de la Cruz issued a statement saying that Carnival was "very sensitive to dropping people into a situation where they are going to have difficulty once they are on the ground."
In addition to allowing passengers on the Carnival Victory ship to remain on board, she said that another ship was being detoured to New Orleans and "a number of our other ships" would remain at sea.
Follow me on Twitter @melissaetehad
ALSO
Tales of sandbags, lifeguards and a monkey — Miami Beach battens down
Hurricane Irma devastates Caribbean islands as it continues toward Florida
Once there was an island known as Barbuda. After Hurricane Irma, much of it is gone
---
UPDATES:
4:55 p.m.: This article has been updated with a statement from Carnival Cruise Lines.
This article was originally posted at 4:15 p.m.
---
Must-read stories from the L.A. Times
Get all the day's most vital news with our Today's Headlines newsletter, sent every weekday morning.
You may occasionally receive promotional content from the Los Angeles Times.