Air Force error allowed Texas church gunman to pass background checks and buy guns
A day after a gunman entered a small Baptist church in Texas and killed 26 people, investigators on Nov. 6 were honing in on what connections the suspect might have had with the tight-knit, rural congregation.
The U.S. Air Force failed to report the Texas church gunman's 2012 domestic violence court-martial to an FBI database, wrongly allowing him to pass background checks to buy guns, officials said Monday.
The revelations came as experts wondered how Devin Patrick Kelley had been sold four guns between 2014 and 2017 despite spending a year in military prison and getting kicked out of the Air Force for assaulting his wife and reportedly cracking his stepson's skull.
He was also accused of repeatedly pointing a gun at her, according to newly released Air Force records, though those allegations were dropped.
Investigators have recovered hundreds of shell casings and 15 empty ammo magazines inside the church where Kelley killed 26 people outside San Antonio, investigators said Monday.
The mass shooting at the First Baptist Church in Sutherland Springs may have involved a domestic dispute with relatives who were in the congregation, officials said Monday, discounting religion as a possible motive.
But the gunman's preparations have made it difficult for investigators to believe he was only targeting a mother-in-law with whom he'd had disagreements, and who sometimes attended the church.
"There are many ways that he could have taken care of the mother-in-law without coming with 15 magazines and a loaded assault rifle to a church," Texas Department of Public Safety Regional Director Freeman Martin said at a news conference. The magazines each held 30 rounds.
After publicly identifying Kelley, 26, of Comal County, Texas, as the gunman earlier in the day, by nightfall, officials declined to speak his name again, saying "we do not want to glorify him and what he's done," Martin said.
Kelley had threatened his mother-in-law over text messages before attacking the church on Sunday.
But she was not in attendance as Kelley entered the church during worship services, shooting congregants with a 5.56-millimeter Ruger semiautomatic rifle while wearing a bullet-resistant vest and a black mask with a white skull on it, officials said.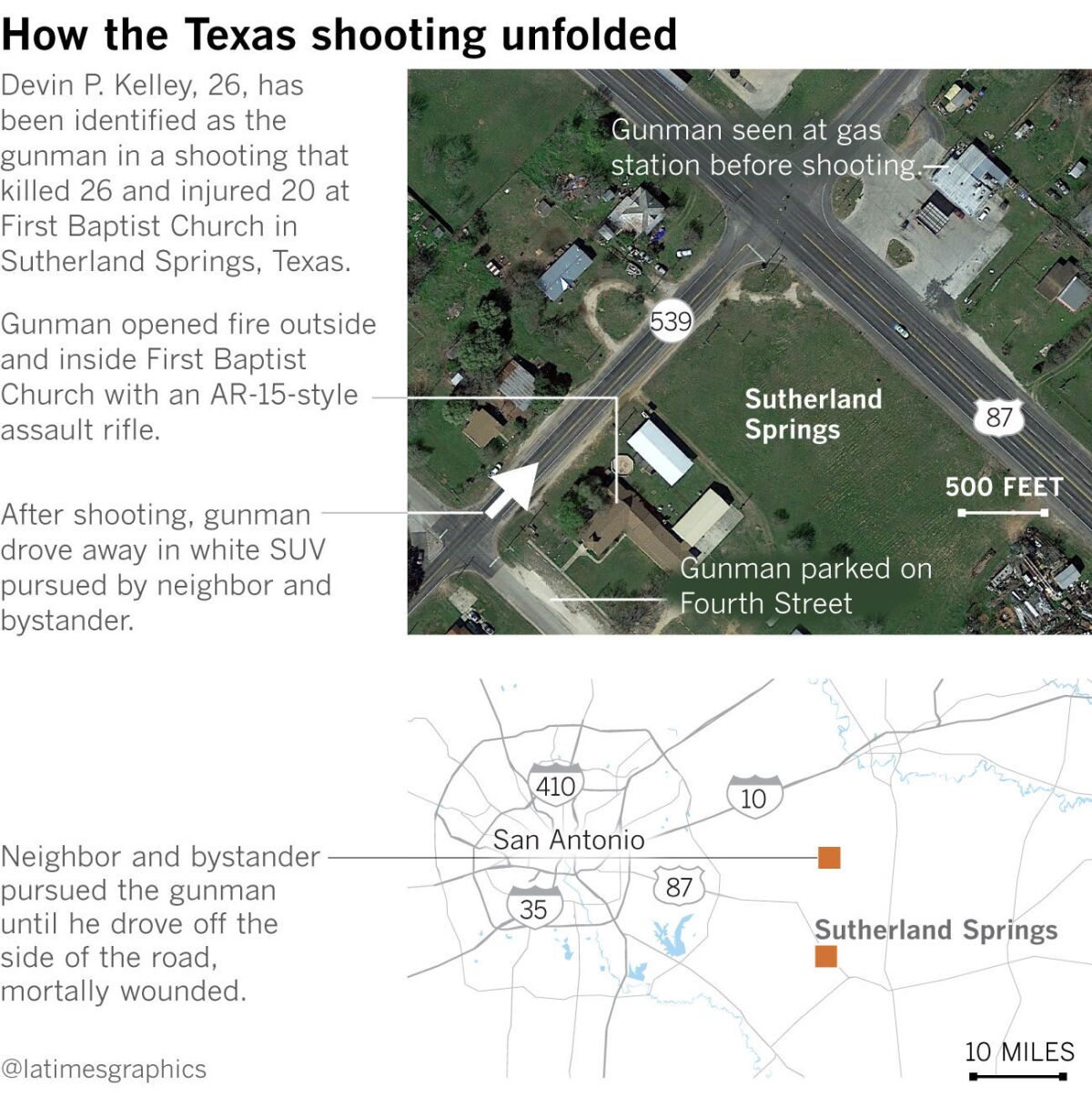 When Kelley left the building, he was confronted by a neighbor who had armed himself with an AR-15-style rifle.
The two had a gunfight that ended when the neighbor shot Kelley in the leg and the torso, prompting Kelley to drop his rifle and flee in his SUV, with the neighbor and another bystander in pursuit.
As the men chased Kelley out of town, the suspect used his cellphone "to notify his father that he had been shot and that he didn't think he was going to make it," Martin said. "Subsequently, he shot himself" in the head. His car drove off the road and crashed. It was unclear whether Kelley shot himself before the crash.
Earlier Monday, Texas Gov. Greg Abbott, in an interview with ABC's "Good Morning America," referred to Kelley, who served in the Air Force from 2010 to 2014, as "a very deranged individual" who exhibited signs of mental illness long before he was discharged from the military for "bad conduct" after he was court-martialed for assaulting his wife and their child. He was sentenced to 12 months' confinement.
Court-martial records released by the Air Force showed that Kelley had been accused of repeatedly hitting, choking and kicking his wife and pulling her hair in 2011 and 2012. He was also accused of pointing a gun at her multiple times, though those charges were dismissed.
The records also include a report that Kelley hit his young child "with a force likely to produce death or grievous bodily harm."
Though Kelley applied for a legal permit to carry a gun in the state of Texas, he was denied that permit, Abbott said. It was after that that he obtained an assault rifle, authorities said.
Investigators found a .22-caliber Ruger and a 9-millimeter Glock in Kelley's crashed vehicle.
Sutherland Springs is a rural farming community about 35 miles southeast of San Antonio. As the sun rose Monday, throngs of reporters had descended on the church, which was still cordoned off with yellow police tape. A large tent had been set up outside.
Those killed ranged in age from 18 months to 77 years, authorities said Monday. Among the victims was the preacher's daughter, 14-year-old Annabelle Pomeroy.
The 20 others wounded are 5 to 73 years old, officials said. As of Monday, six were stable or had been released from the hospital, four were in serious condition and 10 were in critical condition.
"Right now, our hearts are going out to all the family members that have lost family, or have family in the hospital," said Wilson County Sheriff Joe Tackitt.
Special correspondent Jarvie reported from New Braunfels, Texas, and staff writer Pearce from Los Angeles.
ALSO:
'This isn't a guns situation': Trump says Texas shooter was 'deranged'
Man identified as Texas shooter was court-martialed for assault on his spouse and child
Watch: President Trump comments on the Texas shooting
---
UPDATES:
5:25 p.m.: This article was updated with newly released Air Force records on Devin P. Kelley's prior domestic abuse case.
4:50 p.m.: This article was updated with additional details of the investigation revealed at a press conference.
12:15 p.m.: This article was updated with more details from officials and comments from residents.
9:15 a.m.: This article was updated with additional information from Texas officials, including that the shooting was not motivated by race or religion.
8:45 a.m.: This article was updated with officials revising the age range for victims.
This article was originally published at 8:35 a.m.
---
Must-read stories from the L.A. Times
Get the day's top news with our Today's Headlines newsletter, sent every weekday morning.
You may occasionally receive promotional content from the Los Angeles Times.