China blasts 'absurd' U.S. charges of cyberespionage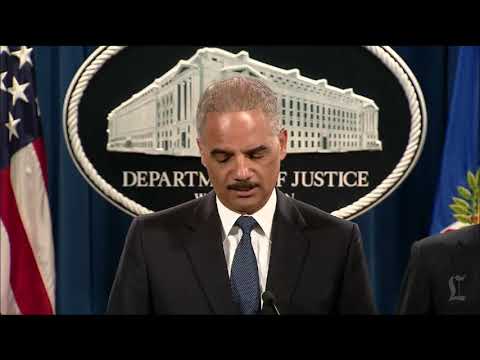 The Justice Department filed criminal charges against five Chinese army officers accused of cyber-spying, a first when it comes to foreign officials.
Reporting from Washington and Beijing —
Chinese government officials on Monday strongly rebuked the U.S. over its claims of cyber-spying by five Chinese military officers, saying the Justice Department indictment was based on "fabricated facts" and would jeopardize U.S.-China relations.
"The Chinese government, the Chinese military and their relevant personnel have never engaged or participated in cyber theft of trade secrets," Foreign Ministry Spokesperson Qin Gang said in a statement. "The U.S. accusation against Chinese personnel is purely ungrounded and absurd."
The Chinese government demanded that the U.S. indictment, unsealed Monday, be withdrawn. Chinese officials also said they would suspend activities of the China-U.S. Cyber Working Group, created last year to address allegations of hacking.
The Justice Department on Monday filed unprecedented criminal charges against the members of the Chinese military, accusing them of economic espionage by hacking into the computers of U.S. companies involved in nuclear energy, steel manufacturing and solar energy.
The indictment alleging economic espionage and theft of trade secrets marked the first such case brought against foreign government officials, and was seen by some analysts as symbolically important.
Atty. Gen. Eric H. Holder Jr. said at a news conference in Washington that the hacked companies and organizations included U.S. Steel Corp., Westinghouse, Alcoa, Allegheny Technologies, the United Steel Workers Union and U.S. subsidiaries of SolarWorld, a German company.
Holder said that in some cases the five Chinese officers stole trade secrets and in other cases they stole "sensitive, internal communications" that provided Chinese companies with valuable information on the strategies or vulnerabilities of U.S. competitors that the Chinese were negotiating with.
"This administration will not tolerate actions by any nation that seeks to illegally sabotage American companies and undermine the integrity of fair competition in the operation of the free market," Holder said. "This case should serve as a wake-up call to the seriousness of the ongoing cyber threat."
Kathleen Walsh, an associate professor at the Naval War College, said the indictment underscored key differences in the viewpoints of the two influential nations.
The U.S. has historically considered it a crime to spy on private firms in order to provide commercial advantage, she said. In contrast, China's technology-development strategy embraces all forms of technology transfer, including espionage and cyber-espionage.
"Therefore, this indictment is unlikely to fundamentally change China's long-standing technology-development strategy and cyber-espionage activities," said Walsh, who stressed that her analysis did not represent the official views of the U.S. government or the military. "It does, nonetheless, raise the costs somewhat, if mainly in diplomatic terms and as a loss of global face."
The indictment included the five officers' names, their unit, their photographs and the building in Shanghai where U.S. officials said they worked. There is little prospect of them ever being brought to justice in the U.S., officials said.
Instead, the indictment appeared to be intended to send a message to Chinese leaders, who have denied that the People's Liberation Army is engaged in economic espionage and have challenged the U.S. to provide proof.
"Well today, we are" providing proof, said John Carlin, assistant attorney general for national security. "For the first time, we are exposing the faces and names behind the keyboards in Shanghai used to steal from American businesses."
"This indictment describes, with particularity, specific actions on specific days by specific actors to use their computers to steal information from across our economy," Carlin said.
According to the indictment, the officers -- identified as Wang Dong, Sun Kailiang, Wen Xinyu, Huang Zhenyu, and Gu Chunhui -- were officers in Unit 61398 of the Third Department of the Chinese People's Liberation Army.
The charges are certain to heighten tensions between the U.S. and China. Each side has accused the other of cyber-spying.
In 2013, the U.S. information security firm Mandiant said that a unit of the People's Liberation Army had been linked to cyber-intrusions of 141 U.S. and foreign companies and entities, mostly in English-speaking countries.
Chinese officials have accused the U.S. of hypocrisy, noting that disclosures by former NSA contractor Edward Snowden suggested that the U.S. had monitored and hacked into Chinese phone and Internet companies.
In his statement, Qin accused the U.S. of spying on Chinese government agencies, companies and individuals. "China is a victim of severe U.S cyber theft, wiretapping and surveillance activities,'' he said.
Holder said the U.S. only engages in surveillance for national security purposes, not to give American companies a competitive advantage.
Professor June Teufel Dreyer, a China specialist at the University of Miami, said the indictment was an effort by the Obama administration to demonstrate toughness, both to China and the Asia Pacific region.
"From Obama's perspective, this will hopefully take some of the heat, the criticism, off him that he's been totally wimpy," she said, adding that by targeting individuals rather than the entire Chinese military, the U.S. may be attempting to limit the potential damage to U.S.-China relations.
"China is going to respond very angrily," she predicted. "The Chinese [believe they] are never guilty of anything. And they will shortly issue a counter-indictment, doubtless based on some information from Snowden."
Phelps reported from Washington and Makinen from Beijing. Staff writer Richard Serrano contributed to this report.
Sign up for Essential California for news, features and recommendations from the L.A. Times and beyond in your inbox six days a week.
You may occasionally receive promotional content from the Los Angeles Times.