Defense attorneys concede James E. Holmes was Colorado theater shooter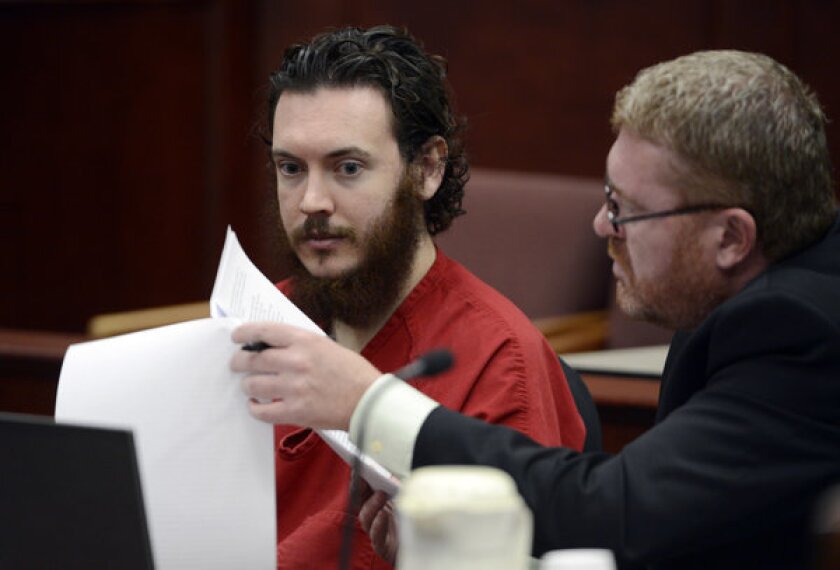 CENTENNIAL, Colo. – Although it has never really been a whodunit, almost exactly a year after the Aurora movie theater massacre, attorneys for James E. Holmes erased any doubt about who opened fire.
In a court filing made public this week, defense lawyers admitted that Holmes "was in the throes of a psychotic episode when he committed the acts that resulted in the tragic loss of life and injuries sustained by moviegoers on July 20, 2012."
It is the first time the defense team has made such a clear-cut declaration of their client's responsibility.
Holmes, 25, is accused of unleashing a bloodbath in a packed suburban movie theater during a midnight showing of "The Dark Knight Rises." Twelve people died and 70 were injured in a massacre that stunned the nation.
Testimony in pretrial hearings have revealed that Holmes, dressed in military-style combat gear, threw up his hands in surrender in the theater's parking lot minutes after the shooting and told police he acted alone.
Holmes is charged with 166 counts of first-degree murder, attempted murder and weapons charges in connection not only with the movie shooting but also for booby-trapping his apartment, presumably to kill police who entered.
He faces the death penalty if convicted. But while his actions may not now be in question, Holmes' mental condition remains the key issue in the case. The defense has said from the earliest moment of the case that Holmes suffers from severe mental illness.
Holmes has pleaded not guilty by reason of insanity and is undergoing extensive psychiatric evaluation this summer in advance of trial early next year. The former neuroscience student at the University of Colorado-Denver cannot be put to death if he is found to have been insane or suffered from a mental defect at the time of the crime.
The defense admission came as Holmes' public defenders and Judge Carlos A. Samour sparred in a series of legal filings.
In a filing released Wednesday, defense lawyers vigorously complained about a recent ruling by Samour that Holmes would be inconspicuously tethered to the floor by a cable running under his clothes. Samour wrote in his order -- which, in fact, granted a defense request that Holmes not be visibly shackled and handcuffed during trial to avoid prejudicing a jury -- that such restraint was needed to protect both the public and Holmes during trial because of the violent nature of the charges.
But defense lawyers wrote in their filing that Samour's solution meant Holmes would be "hitched to the floor like an animal," a step they contended "shocks the conscience."
And even as they acknowledged their client committed the massacre, they argued in the motion that Holmes previously had "no criminal history whatsoever" and had never been violent in any of the dozens of pretrial hearings to date.
The defense also accused Samour of breaking legal rules by conferring with law enforcement about security without notifying the lawyers or setting a hearing.
Samour did not take kindly to the accusation of impropriety, firing back later in the day in a court order that defense lawyers had been "disrespectful" and "impugned the dignity of the court." Samour wrote he was within his rights to confer with officers to find ways to maintain safety in the courthouse, especially in light of such a high-profile case.
"The court does not hold hearings just to hold hearings or to placate a party or an attorney," he wrote.
The judge also scoffed at the defense accusation that Holmes was being treated unfairly by being restrained during trial. "The defendant's contention, while high on rhetoric, is low on substance," Samour wrote.
Samour has previously chided lawyers in the case, not only for attempts to delay the proceedings, but also for inappropriately leaking information in documents.
Earlier this year the defense divulged in a routine filing that it had attempted to negotiate a plea bargain with prosecutors so Holmes could plead guilty with no possibility of parole in exchange for not pursuing the death penalty. The prosecution quickly responded, accusing the defense of trying to sway public opinion. Soon afterward the district attorney announced he was seeking the death penalty.
When Samour took over the case he demanded both sides stop grandstanding by negotiating the case through public documents.
A trial, expected to last four months, is scheduled for February 2014. The largest jury pool in state history for one case will be summoned. Defense attorneys have already signaled they will ask for a change of venue.
ALSO:
Zimmerman case judge: Jury can consider manslaughter charge

DNA 'familiar match' ties DeSalvo to 1964 Boston Strangler case
Judge's unique sentence: Woman told to write about being a lady
---
The Latinx experience chronicled
Get the Latinx Files newsletter for stories that capture the multitudes within our communities.
You may occasionally receive promotional content from the Los Angeles Times.