Transgender people are being killed at a record pace in U.S., advocacy groups say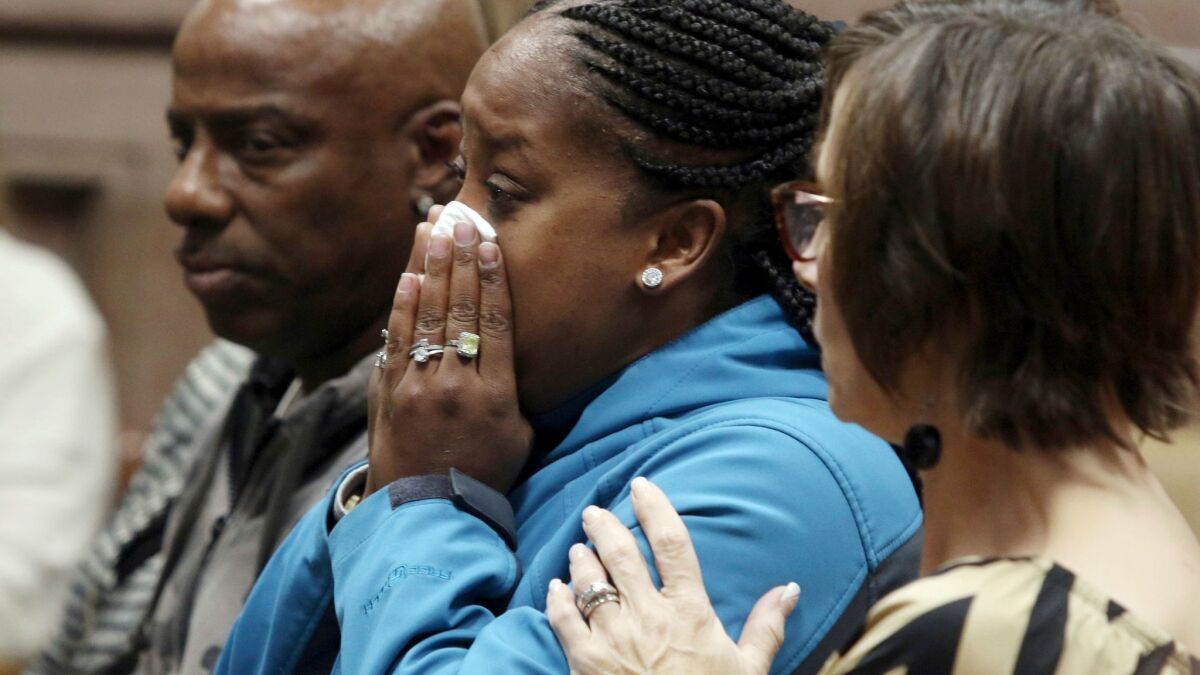 Reporting from NEW YORK —
At least 25 transgender people in the United States have been homicide victims so far this year, the highest annual total on record, according to advocacy groups that have been monitoring the grim phenomenon and seeking ways to reduce the toll.
The Human Rights Campaign, in a report released Friday, calculated that 102 transgender people have been killed in the U.S. over the past five years — including 25 this year. Its report, jointly sponsored by the Trans People of Color Coalition, was issued ahead of Monday's annual Transgender Day of Remembrance observations, commemorating the hundreds of transgender people killed worldwide each year.
Another monitoring group, the National Coalition of Anti-Violence Programs, has tallied 26 homicides of transgender and gender-nonconforming people in the U.S. so far this year.
Both groups say their counts may be incomplete because transgender victims are sometimes misidentified in police and news reports.
The Human Rights Campaign provided a statistical breakdown of the 102 killings since January 2013. It said that 88 of the victims were transgender women, and that nearly all of them were black or Hispanic. Nearly three-quarters were under age 35, including four minors. And 55 of the victims were killed in the South, including 16 this year.
"Their killings were committed by lovers, acquaintances, family members, neighbors and strangers," the report said. "While every story highlighted in this report is unique and tragic, they all also reflect a legacy of intolerance, hate and discrimination that transgender people must navigate and surmount every day."
The report noted that most states do not have laws prohibiting discrimination against transgender people.
"Indeed, in many states, anti-transgender bias is ingrained and systematically enforced in nearly all aspects of life, including in laws and government agencies, schools, housing, healthcare and employment," the report said.
The result, said the report, is a disproportionately high 30% poverty rate among transgender people.
"Many of those living in poverty rely on the underground economy to survive, including sex work, drug sales and other currently criminalized work," the report said. "These dangerous situations may put transgender people at a higher risk of police harassment, sexual assault and fatal violence."
While many of the transgender homicides draw no more than scant local news coverage, two recent cases have attracted national attention.
In Missouri, LGBTQ activists have asked the state attorney general to oversee an investigation of the death of a transgender teenager whose body was mutilated and burned in September. Activists have raised concerns about the response of the local sheriff and prosecutor to the death of 17-year-old Ally Lee Steinfeld. The local officials insist the slaying wasn't a hate crime.
The U.S. Justice Department sent a federal hate crimes lawyer to Iowa to help prosecute a man charged with killing a transgender teenager last year, an unusual decision by Atty. Gen. Jeff Sessions even as he takes other steps to weaken the rights of transgender people. A jury on Nov. 3 convicted Jorge Sanders-Galvez, 23, of first-degree murder in the fatal shooting of 16-year-old Kedarie Johnson in Burlington, Iowa, in March 2016. A trial for a second man charged with murder in the case, Jaron Purham, 25, is set for Feb. 20, 2018.
Sessions says the Justice Department no longer considers transgender people shielded from workplace discrimination under federal law, and he has issued sweeping guidance on protecting religious freedom that undercuts protections for LGBTQ people.
ALSO
L.A. County hate crimes linked to white supremacists jumped 67% in 2016, study finds
13-year-old girl rescued, 39 arrested in human trafficking sting in Compton, authorities say
Driver who fatally ran over woman in Calabasas gets one year in jail
Must-read stories from the L.A. Times
Get the day's top news with our Today's Headlines newsletter, sent every weekday morning.
You may occasionally receive promotional content from the Los Angeles Times.