Medical checks ordered after second child migrant dies in U.S. custody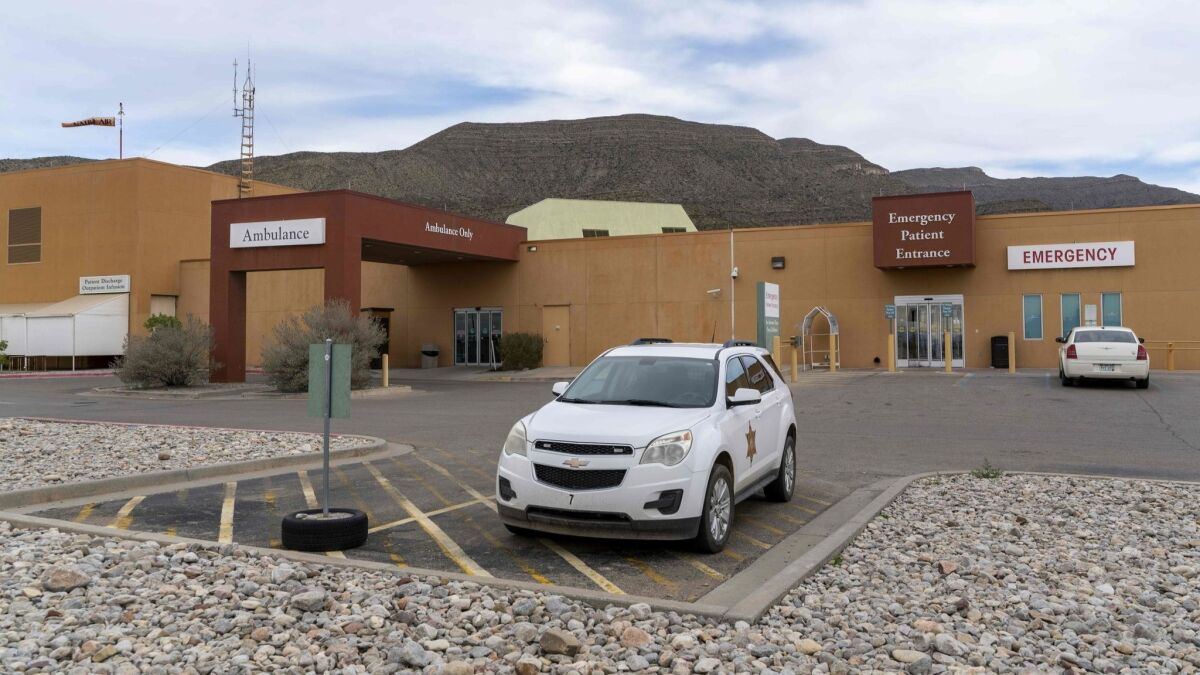 Reporting from Washington —
The secretary of Homeland Security said Wednesday she had ordered medical checks on every child in Border Patrol custody and a series of other measures after a boy from Guatemala died in custody on Christmas Eve, the second such death this month.
"This tragedy, the death of a child in government custody, is deeply concerning and heartbreaking," Kirstjen Nielsen, secretary of Homeland Security, said in a statement.
Claiming the immigration system is at "a breaking point," she blamed the migrants, Congress and judges, not U.S. border authorities or immigration policies. "Smugglers, traffickers, and their own parents put these minors at risk by embarking on the dangerous and arduous journey north," she said.
No child had died in the custody of U.S. immigration authorities for more than a decade until December — when first a 7-year-old girl and then an 8-year-old boy, both from Guatemala, died in less than three weeks despite receiving emergency hospital care.
Nielsen said she had asked the Centers for Disease Control and Prevention to investigate whether sick children were crossing the border and to help nearby hospitals to better prepare and treat them. She also asked the Coast Guard medical corps and the Pentagon to provide additional medical help along the border.
Nielsen and other officials blamed a dramatic surge of large migrant groups, including children, who have overwhelmed resources in recent months, particularly in the El Paso sector of the Southwest border, which flanks two counties in western Texas and serves the entire state of New Mexico.
Officials did not say how many children are in custody. But Border Patrol outposts and processing facilities along the border are on pace to handle nearly 25,000 minors this month, according to Kevin McAleenan, commissioner of Customs and Border Protection.
"What we're seeing is more children than ever before coming into our custody," McAleenan said on "CBS This Morning."
U.S. officials say a detention system designed decades ago to hold adult males cannot handle the influx of unaccompanied minors and families, including young children.
"That's an enormous flow," McAleenan said. "That's very different than we've seen before."
Fatalities in U.S. immigration custody are relatively rare. Six migrants died in Border Patrol custody in the year that ended Sept. 30, of more than half a million who were apprehended, officials said.
Deaths of those who die trying to get into the United States are much higher — nearly 300 such migrants died in fiscal 2017, the last year for which data is available.
Officials did not release the name of the Guatemalan boy who died, but Rep. Joaquin Castro (D-Texas) identified him as Felipe Alonzo-Gomez, and called for Congress to investigate.
It wasn't clear why the boy and his father were held for nearly a week. Customs and Border Protection typically detains migrants only a few days at the border before either releasing them or turning them over to U.S. Immigration and Customs Enforcement for longer-term detention.
The child died shortly before midnight on Christmas Eve at Gerald Champion Regional Medical Center in Alamogordo, N.M. He and his father had crossed the border on Dec. 18 and were taken into custody.
"Many questions remain unanswered, including how many children have died" in Customs and Border Protection custody, Castro, chairman-elect of the Congressional Hispanic Caucus, said in a statement.
Last week, Castro and several other lawmakers traveled to the desert in New Mexico where Jakelin Caal, the girl who died on Dec. 8, was taken into custody by the Border Patrol.
"Serious concerns were raised about the condition of … detention facilities, and the lack of adequate medical supplies, equipment and resources to properly treat migrants and the agents working there," Castro said.
Xochitl Torres Small, a Democrat from New Mexico who will take office on Jan. 3, called for a thorough and transparent investigation into the children's deaths and more medical resources along the border.
"This is inexcusable," she said Wednesday. "Instead of immediately acting to keep children and all of us safe along our border, this administration forced a government shutdown over a wall."
In the last two months, Nielsen said, the Border Patrol apprehended 139,816 migrants on the Southwest border, compared with 74,946 in the same period last year — an increase of 86%.
"This is a dramatic change from historical trends and has only become starker in December," Nielsen said. Blaming "activist judges and inaction by Congress," she added, "Our system has been pushed to a breaking point by those who seek open borders."
Nielsen said she would travel to the border this week to witness the medical screenings and conditions at Border Patrol stations.
"The unprecedented number of families and unaccompanied children at the border must not be ignored. I once again ask — beg — parents to not place their children at risk by taking a dangerous journey north," she said.
But other U.S. officials cautioned against linking the children's deaths until more information is available. It may be weeks before autopsies determine an official cause of death, and the Homeland Security inspector general's office is investigating both deaths to see whether rules were followed by Border Patrol personnel.
"We've seen an uptick in the number of individuals in our care and custody with illness," a Homeland Security official told reporters in a conference call Wednesday, speaking on background. "We can't say there's a connection or shared illness.… We're going to have to wait until the medical teams examining the causes of the deaths get back with the results of their investigations and reports."
According to the latest timeline by Customs and Border Protection, Felipe Alonzo-Gomez and his father crossed the border and were apprehended on Dec. 18, a few miles west of the Paso del Norte Port of Entry in El Paso, a far busier area than the desolate desert where the Caals crossed.
Officials took the father and son to Paso del Norte about 3½ hours later, officials said on the conference call. Authorities provided them with hot food, snacks, juice and water, per agency policy.
At noon on Dec. 20, officials transferred Felipe and his father to the larger El Paso Border Patrol station, where they said the father and son were given access to showers, food, juice and water during 17 "welfare checks" over the next two days.
The night of Dec. 22, authorities moved the father and son again, to the smaller Alamogordo Border Patrol station in New Mexico, more than an hour's drive north, "to prevent overcrowding" in El Paso, a Customs and Border Protection official said on the call. They arrived in the early hours of Dec. 23.
On the morning of Dec. 24, the Immigration and Customs Enforcement's removals office requested the father and son be placed in a family detention facility. A few hours later, an agent noticed the boy was coughing and had glassy eyes.
Suspecting influenza, agents took him and his father to the medical center in Alamogordo, less than 7 miles away.
Felipe tested negative for strep throat and medical personnel diagnosed him with a common cold, giving him Tylenol about 11:30 a.m. Two hours later they noted he was running a 103-degree fever. Just before 3 p.m., they released him with a prescription for amoxicillin and ibuprofen.
U.S. agents then took the boy and his father to a cell at a temporary holding facility at a highway checkpoint, where agents administered the medication and the pair ate a hot meal, officials said.
By 7 p.m., Felipe was nauseous and had vomited, but his father declined further medical help, the officials said. At 10 p.m., when the boy appeared lethargic, agents took them back to the hospital.
The boy lost consciousness en route and doctors could not revive him. At 11:48 p.m. on Christmas Eve, the hospital declared Felipe deceased.
The next morning Felipe's father notified the boy's mother in Guatemala about his death, as well as the Guatemalan Consulate.
Oscar Padilla, the Guatemalan consul in Phoenix, said the boy's father told him they had come from their home in Nenton, a village about 280 miles from Guatemala City, according to the Associated Press. They were planning to go to Johnson City, Tenn.
Unlike Jakelin Caal's father, who was released in El Paso, Felipe's father was detained and will be transferred to the custody of the Immigration and Customs Enforcement removals office, officials said Wednesday.
His son's body was transferred to Albuquerque for an autopsy to determine the cause of death.
On Thursday, the New Mexico Office of the Medical Investigator released preliminary findings indicating that Felipe had a flu virus.
"Results of nasal and lung swabs have tested positive for influenza B," the office said in a statement. "While this result indicates that the child had influenza, determining an accurate cause of death requires further evaluation."
Must-read stories from the L.A. Times
Get the day's top news with our Today's Headlines newsletter, sent every weekday morning.
You may occasionally receive promotional content from the Los Angeles Times.