'How much and what damage?' Senators call for a special committee to investigate Russian hacking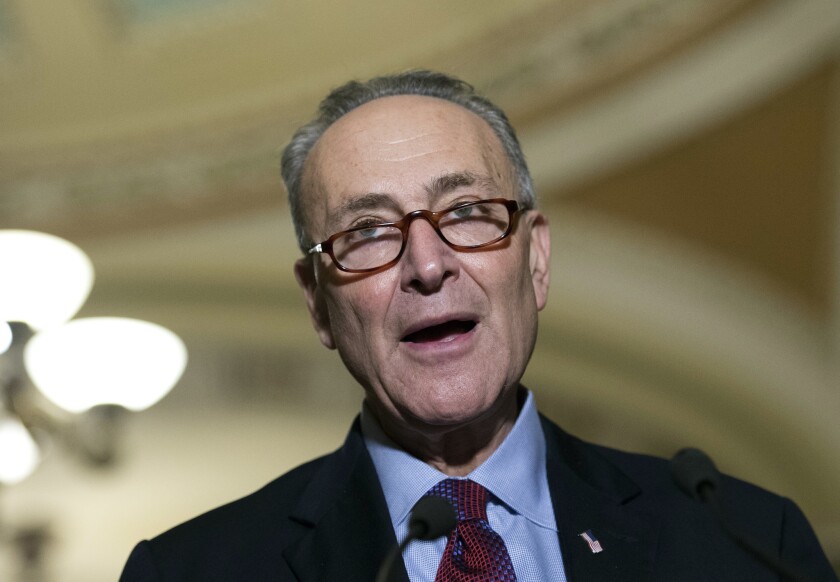 Reporting from Washington —
Update: President Obama on Thursday slapped Russia with new penalties for meddling in the U.S. presidential election, kicking out dozens of suspected spies and imposing banking restrictions on five people and four organizations the administration says were involved.
Four powerful members of the Senate called Sunday for creation of a special select committee to investigate Russian attempts to influence the presidential election, a sign of growing concern that GOP leaders' plans to use existing panels will produce a partisan inquiry.
Sens. John McCain (R-Ariz.), who chairs the Armed Services Committee, and Charles E. Schumer (D-N.Y.), the incoming minority leader, said the specter of a foreign power trying to sway the U.S. election demands a special bipartisan investigation.
"We need to get to the bottom of this," McCain said on CNN's "State of the Union."
"There's no doubt they were interfering," he said. "There's no doubt…. The question is now, how much and what damage? And what should the United States of America do?"
Schumer told a news conference in New York that it's "clearer and clearer that the Russians hacked our cybersystem with the intent of influencing the election."
"It sure should raise the hackles of every American," he added.
Sens. Lindsey Graham (R-S.C.) and Jack Reed (D-R.I.) also called for creation of an independent investigation.
So far, Senate Majority Leader Mitch McConnell (R-Ky.) and House Speaker Paul Ryan (R-Wis.) have insisted that the GOP-controlled House and Senate intelligence committees should conduct any inquiry.
McCain and Schumer said four sets of committees have jurisdiction over foreign policy, cyber threats, law enforcement and intelligence.
Most will be tied up next spring with confirmation hearings for the incoming administration, they said, and only a special select committee can focus on cyberthreats from Russia, China, Iran and others.
On Oct. 7, the director of national intelligence released a public statement saying the nation's intelligence agencies' consensus view is that senior Russian officials had directed hacking of U.S. "political organizations" in an effort to interfere with the election.
Thousands of emails pilfered from the Democratic National Committee servers and from Hillary Clinton's campaign chairman were posted on WikiLeaks and other websites through the summer and fall, undermining Clinton's campaign.
In recent weeks, the CIA and other agencies have hardened their conclusions, saying they believe the Russian hacking and leaking was at least partly aimed at helped Donald Trump win the election.
Last week, Trump dismissed those intelligence reports as "ridiculous," and on Sunday, his incoming White House chief of staff cast doubt on the intelligence agencies "strong consensus" on the question.
"We haven't heard from [FBI Director James] Comey," Reince Priebus said on "Fox News Sunday."
"I mean, if there is this conclusive opinion among all of these intelligence agencies, then they should issue a report or they should stand in front of a camera and make the case."
"I don't think they've been clear about it," he added. "I think that it's been all over the map."
Rep. Peter King (R-N.Y.), who serves on the House Intelligence Committee, said he too is not yet convinced by the intelligence.
"We haven't been shown that consensus," he said on ABC's "This Week." "If they have the evidence, show it to us."
But Rep. Adam Schiff (D-Burbank), the top Democrat on the intelligence committee, defended John Brennan, the CIA director.
"I think he has done a remarkable job at the agency and don't think he's trying to politicize this in any way," he said.
Intelligence officials are naturally wary of disclosing sources and methods used to obtain secret information, he said.
Schiff faulted Trump for using tweets to slam the intelligence reports.
In a future crisis, the public may doubt the Trump White House "because he's sending false tweets or persuaded the American people not to believe our own intelligence agencies."
Democratic campaign officials who were the hacking targets said they received little help from Obama administration and the FBI.
Donna Brazile, the interim chair of the Democratic National Committee, said the attempting hacking continued up to election day.
"They did not stop. They came after us absolutely every day until the end of the election. They tried to hack into our system repeatedly," she said on ABC's "This Week."
"I think the Obama administration ― the FBI, the various other federal agencies ― they informed us, they told us what was happening. We knew as of May. But in terms of helping us to fight, we were fighting a foreign adversary in cyberspace. The Democratic National Committee, we were not a match."
And John Podesta, the Clinton campaign chairman whose emails were stolen and publicized, said he had one conversation with the FBI in early October — months after the bureau had discovered the hacking.
"The first time I was contacted by the FBI was two days after WikiLeaks started dropping my emails," he said on NBC's "Meet the Press." That "was the first and last time" he spoke to the FBI, he said.
President Obama told a news conference on Friday that he is convinced the Russian cyberattack that roiled the fall election could not have happened unless Russian President Vladimir Putin had approved it.
Obama has ordered the intelligence community to produce a detailed report that he can share with Congress before he leaves office on Jan. 20.
ALSO
Opinion: Fake news spreading like wildfire? The French had the problem before we did
Trump tells China: Go ahead, keep that U.S. military drone you seized
Activists take to the streets to protest Donald Trump ahead of electoral college vote
---
For reporting and exclusive analysis from bureau chief John Myers, get our California Politics newsletter.
You may occasionally receive promotional content from the Los Angeles Times.