Welcome to the first weekend of October and thus postseason baseball and the start of the holiday baking season. Thus we've been considering pies, both how to make them and where to find a few very good ones around town. Read on for our pie crust tutorial, and recipes for classic pumpkin and apple pie — the perfect thing to bake for a Dodgers party.
At Sari Sari Store, you can get a fried egg-topped rice bowl and an excellent slice of pie. This week Jonathan Gold reviews that new Filipino restaurant, lately opened in downtown L.A. by the chefs who brought us République. In other news, we check out a few new restaurants, including a French bistro across from the PCH and a cereal bar in Koreatown, and a new cookbook from the "Cherry Bombe" folks. On your way to the farmers market? It's Lima bean season. And if you've noticed the many iterations of the chile paste zhoug around town, we've got some recipes for the addictive stuff.
FILIPINO RICE BOWL CENTRAL
As if we needed more reasons to go to Grand Central Market, the century-old food court that's conveniently located a few blocks away from the Los Angeles Times building, chefs Margarita and Walter Manzke recently opened a Filipino food counter there. And since that counter, Sari Sari Store, is the subject of Jonathan's latest restaurant review, it was also a good reason to have not a few Food staff meetings there. Arroz caldo and coconut pie for us all.
PIE CRUST 101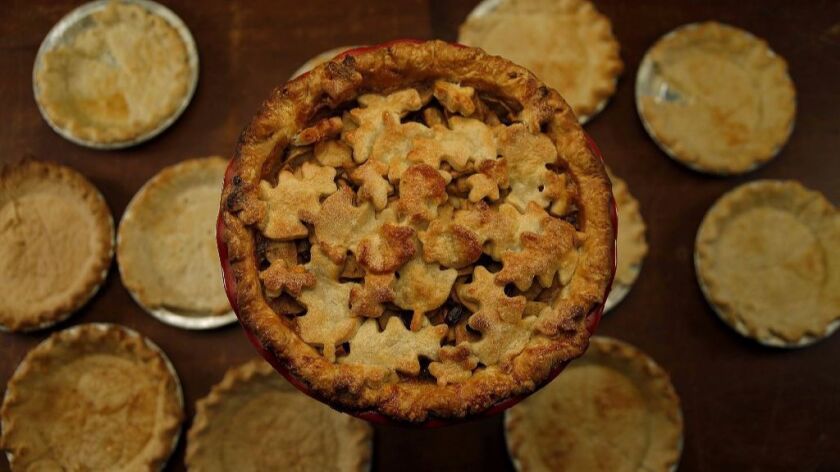 It's almost holiday baking season, which means it is time to think about pie. Test Kitchen Director Noelle Carter has been thinking about — and baking — pies a lot lately, and has translated that into this week's pie crust tutorial. Butter, lard or shortening? Glass, metal or ceramic pie pan? Find the answers to those questions, and many more, in her story.
4 GREAT PIES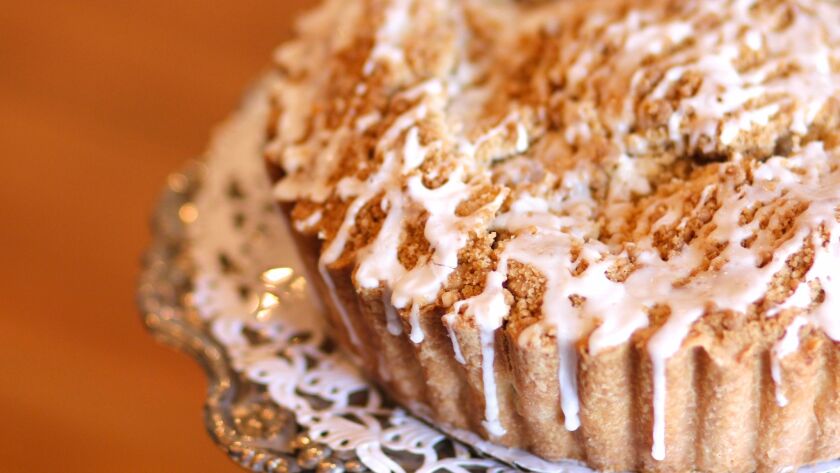 If you don't want to bake your own pie (no shame, it's still hot), Deputy Food Editor Jenn Harris has four particular pies she'd recommend. An apple pie from a Los Feliz bakery and a banana cream pie from a Hollywood hamburger joint are two of the four craveable slices she's sought out.
FRENCH FOOD, OCEAN VIEW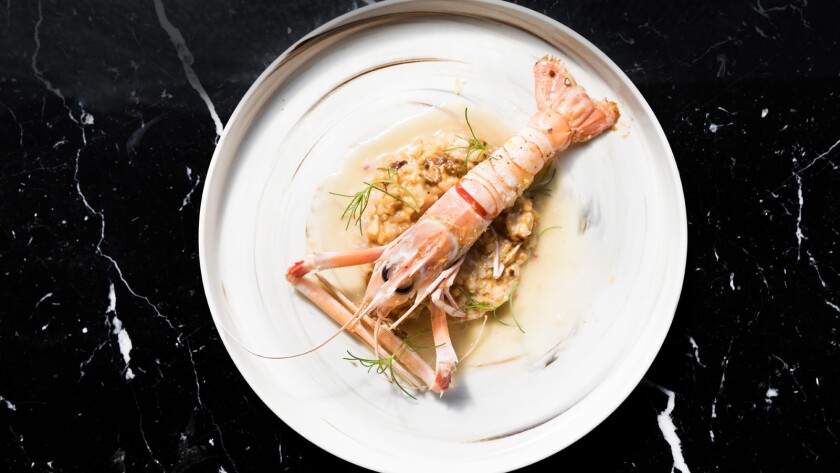 For years many of us braved the South Coast Plaza not for the shopping but for the terrific French food at Marché Moderne. That restaurant closed earlier this year, and has finally reopened — in new digs across the PCH from the Pacific. Nice. In more restaurant news, Jenn reports on a cereal bar in Koreatown (!) and a rotisserie chicken joint in Sherman Oaks.
IN PRAISE OF ZHOUG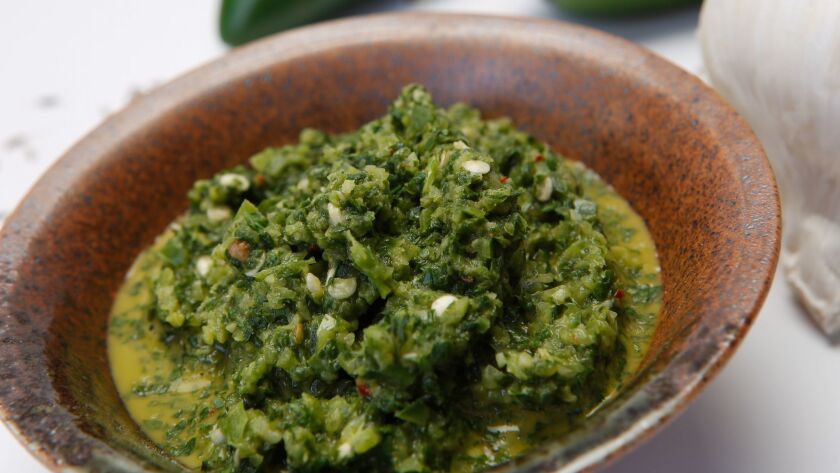 If you spend much time in Middle Eastern restaurants, you've likely become as addicted to zhoug, the chile-and-herb hot sauce, as we have. Food writer Gillian Ferguson considers the stuff, its back story and variations, and gets three recipes from local restaurants. You'll probably want to make all of them.
CHERRY ON TOP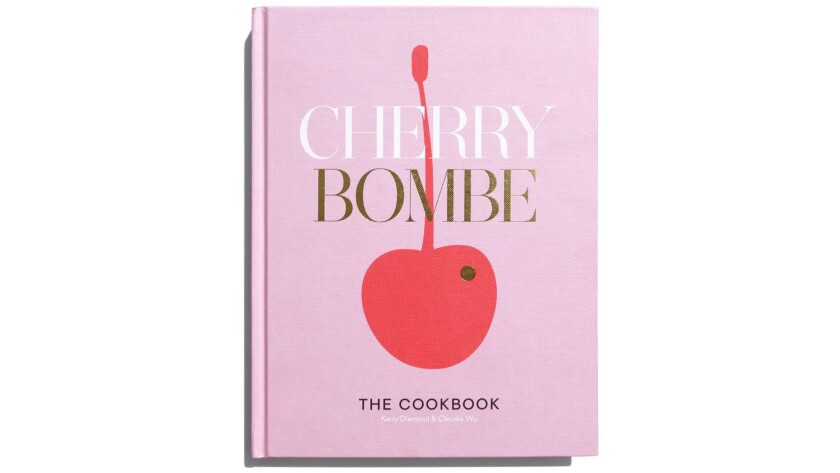 Fall cookbook season continues, with the first cookbook from the folks who brought you the Cherry Bombe magazine. So I check out "Cherry Bombe: The Cookbook," considering the pages between the pink covers, filled with 100 recipes — including Padma Lakshmi's sweet and sour shrimp — from 100 prominent women in food.
Goldbot: you can now talk to Jonathan Gold any time you want — or at least the robot version of him that now lives on Facebook Messenger. You can ask Goldbot for a personal restaurant recommendation based on location, type of food or price. The bot will also deliver Jonathan Gold's latest reviews straight to your device.
The Daily Meal, the food and drink website under the editorial direction of Colman Andrews, is now one of our partners. Check out their new 2017 list of the 101 best pizzas in America and other stories, recipes and videos.
Jonathan Gold's 101 Best Restaurants, the authoritative annual guide to local dining, is online for subscribers and now features his 2016 Best Restaurants. If you didn't get a copy of the booklet, you can order one online here.
Check us out on Instagram @latimesfood
Check out the thousands of recipes in our Recipe Database.
Feedback? We'd love to hear from you. Email us at food@latimes.com.
---