Newsletter: Baja-Med cooking, wine bars, sandwiches
Welcome to the first Saturday in November. We won't talk about baseball, except to say that an excellent meal at a great restaurant or in your own kitchen can buoy your spirits, at least a little bit. The holidays can also cheer you up, hopefully, as can baking. To help you with that, our seventh annual Cookie Bake-off starts today. And it is now 19 days until Thanksgiving. Right.
Sweet potatoes are in season, conveniently for your holiday menu planning. On the subject of holiday planning, our gift guide is out, with recipe ideas, cookbook suggestions, and other cool stuff. Back to the consolation of restaurants: This week Jonathan Gold reviews Verlaine in West Hollywood; chef Michael Cimarusti opens a new restaurant; and we consider the terrific wine programs at Esters, Rustic Canyon and Cassia, which are also not bad places to get a good meal.
DINING AT VERLAINE
Jonathan considers the Baja Med cooking of chef Diego Hernández, the highly regarded Mexican chef who recently opened Verlaine, his first L.A. restaurant. At the restaurant, named after a French poet and in the former Dominick's space, there is a creditable roast chicken, aguachile — and, apparently, some of the best beans he's had in California.
THE BEST WINE BAR IN SOCAL
Wine writer Patrick Comiskey profiles the woman behind Esters, what he considers to be the best wine bar not only in this town but in Southern California. Kathryn Coker runs the wine program there, as well as at the Santa Monica restaurants Rustic Canyon Wine Bar and Seasonal Kitchen and Cassia.
SANDWICHES!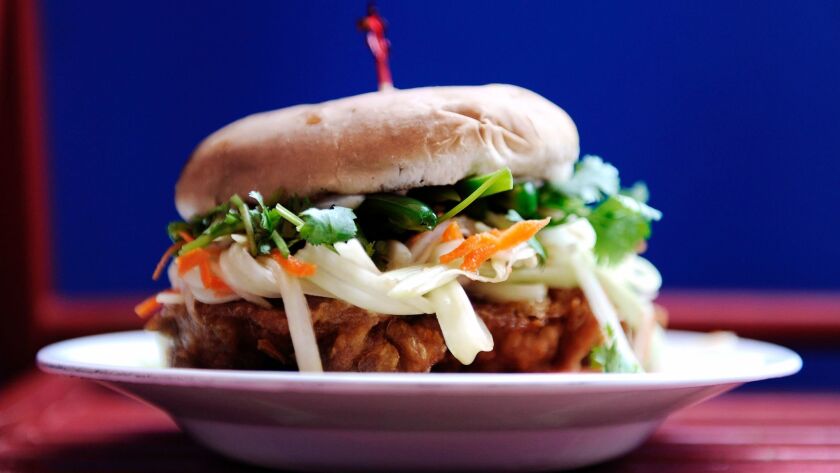 On the occasion of National Sandwich Day, Jonathan (the sometimes king of the listicle) lists five of his favorite L.A. sandwiches. Also because, really, every day is Sandwich Day.
CIMARUSTI'S LATEST
Deputy Food Editor Jenn Harris gets the scoop on Best Girl, the latest project from chef Michael Cimarusti (Providence, Connie & Ted's), which opened Tuesday, replacing the L.A. Chapter restaurant inside the Ace Hotel. The name is from an old movie. And yes, there will be seafood, but also hamburgers.
ACTIVIST COOKBOOKS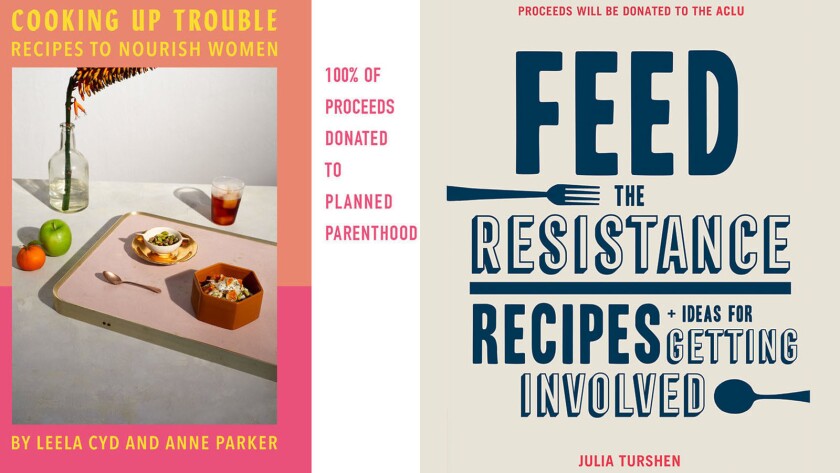 Food writer Allison Gibson checks out two new cookbooks whose authors are using cooking to advocate for social change: Julia Turshen's "Feed the Resistance" and "Cooking up Trouble," from Leela Cyd and Anne Parker. And yes, we got a recipe.
OUR 2017 GIFT GUIDE
It's that time of year again, or almost: time to start picking out gifts for friends, family, whomever. We have some ideas for you, of course: the latest cookbooks, kitchen gadgets and food-related fun stuff, and of course some recipe ideas if you prefer the DIY route.
Our Holiday Cookie Bake-off is back, starting today! Got a great holiday cookie recipe? Submit your recipe, plus an essay and photo or video by Nov. 25, to latimes.com/bakeoff. We'll take the top 20 vote-getters and narrow them down to our top 5, which we'll bake in our Test Kitchen. The 5 finalists will be invited to our Test Kitchen and their recipes will be featured in the Saturday section in December.
Jonathan Gold's 101 Best Restaurants, the authoritative annual guide to local dining, is online for subscribers and now features his 2017 Best Restaurants. If you didn't get a copy of the booklet, you can order one online here.
Goldbot: you can now talk to Jonathan Gold any time you want — or at least the robot version of him that now lives on Facebook Messenger. You can ask Goldbot for a personal restaurant recommendation based on location, type of food or price. The bot will also deliver Jonathan Gold's latest reviews straight to your device.
The Daily Meal, the food and drink website under the editorial direction of Colman Andrews, is one of our partners. Check out their 101 best pizzas in America and other stories, recipes and videos.
Check us out on Instagram @latimesfood
Check out the thousands of recipes in our Recipe Database.
Feedback? We'd love to hear from you. Email us at food@latimes.com.
---