Newsletter: Pancakes, latkes and Jell-O shots (not necessarily in that order)
Good morning. Is it December already? Apparently so. Time for holiday stuff, which in this town can mean chestnut gelato and sea salt caramels, and I guess some farmers market salad to go with it. So if you're now thinking again about the lettuce in your fridge, Robin Abcarian has a terrific piece about the romaine scare. And I've been making pancakes, stacks of them. Because having a pancake party is a great way to entertain, to feed your family and friends, in your pajamas.
This week we also have a story about a noted restaurant in Nashville, another one in a Little Tokyo taqueria, and an update on a burger joint in Boyle Heights. Back in the kitchen, we consider how to make oversized latkes, conveniently in time for Hanukkah, or to make anytime. Because we don't really need a reason to make pancakes, whether with cornmeal and blueberries or potatoes and root vegetables.
Lastly, our annual party to celebrate 101 of our favorite restaurants is happening on Monday night. It will be as bittersweet as those holiday tamales, true, and yet time to celebrate this city's fantastic food and the folks who continue make it. Enjoy the weekend.
HOW TO PANCAKE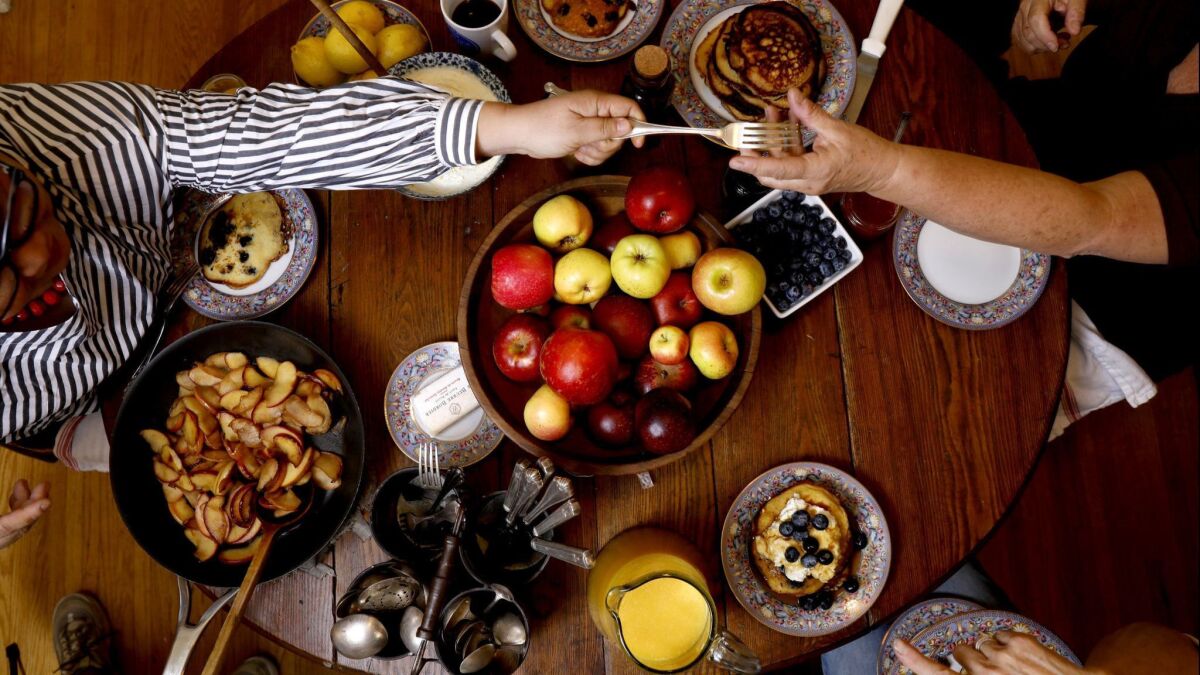 If you make pancakes as much as I do, then you might get a kick out of our latest Entertaining story, in which I have a pancake social at home. In my world, that translates into having a few friends over for stacks of whole-grain pancakes, lemon ricotta, sauteed local apples, my mother's brown sugar syrup — and plenty of shots. Your Calvados, my espresso.
OYSTERS AND JELL-O SHOTS
For our latest Eaten Path story, an occasional feature that highlights a recent meal outside Los Angeles, Andrea Chang considers Henrietta Red in Nashville — where she finds Jell-O shots, oysters and some of the best seafood in Music City.
BIG LATKE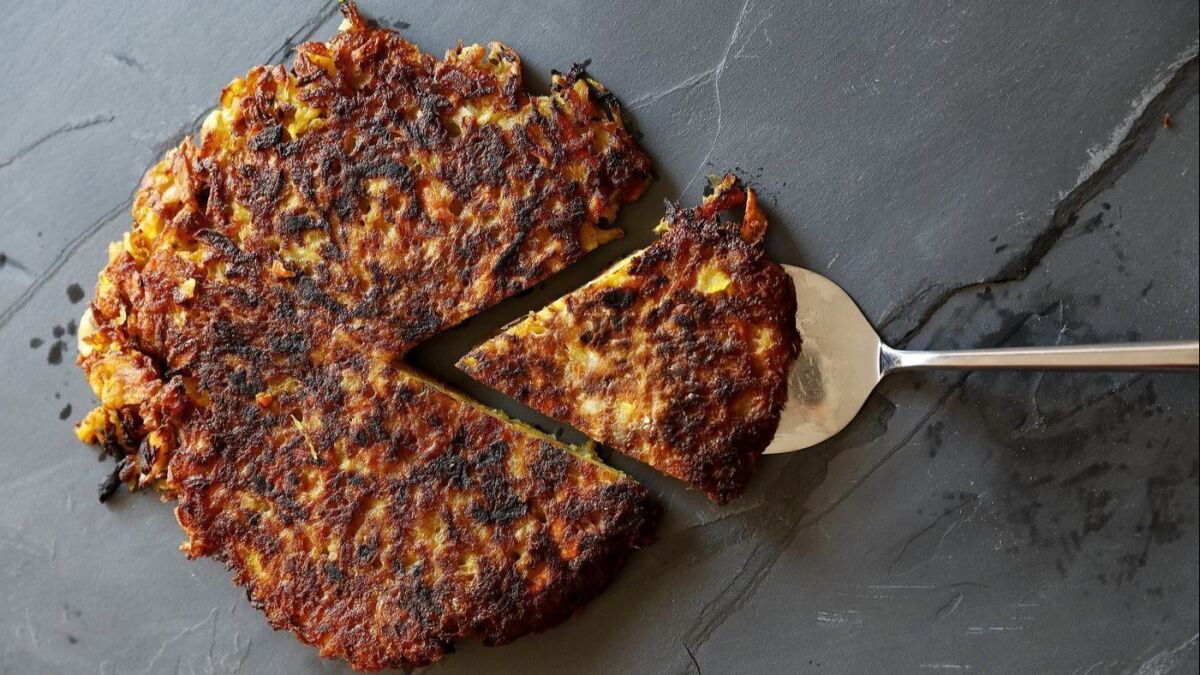 Food writer Adeena Sussman gives both recipe and back story for oversized latkes, applicable for Hanukkah and otherwise. The potato pancakes are delicious and "a royal pain for the person making them. In fact it was last year, mopping my brow frying for friends as they drank cocktails within earshot, that I decided I'd officially had my last canola-oil-steam facial."
BAD SON
Bad Son Tacos is a tiny taqueria in a Little Tokyo supermarket where you can find mole tacos, street corn — and co-owner, chef and "bad son" Elvis Prado, writes Hadley Tomicki. (The name is a reference to a father-son argument, since patched up and now a source of some amusement.)
BOYLE HEIGHTS BURGERS
As Hadley reports in his food news column, the folks who brought us Guisado's (thank you, thank you), recently took over George's Burger Stand in Boyle Heights (chili cheeseburgers, breakfast burritos, pastrami sandwiches). Also: a new kaiseki restaurant, more excellent chocolate, changes at Valerie Confections.
101 Restaurants We Love: On the evening of Dec. 3, a celebration of Los Angeles' top restaurants brings together the best of the best, serving you samples from their acclaimed menus. Join us as we reveal the Los Angeles Times' 101 Restaurants We Love list for 2018. You'll enjoy unlimited bites from our handpicked favorites, along with craft cocktails and live music. At the MacArthur, from 6:30 to 9:30 p.m.; tickets are $135.
Check us out on Instagram at @latimesfood.
And don't forget the thousands of recipes in our California Cookbook recipe database.
Feedback? We'd love to hear from you. Email us at food@latimes.com.
Get our L.A. Goes Out newsletter, with the week's best events, to help you explore and experience our city.
You may occasionally receive promotional content from the Los Angeles Times.