Newsletter: Essential California: The bullet train project in crisis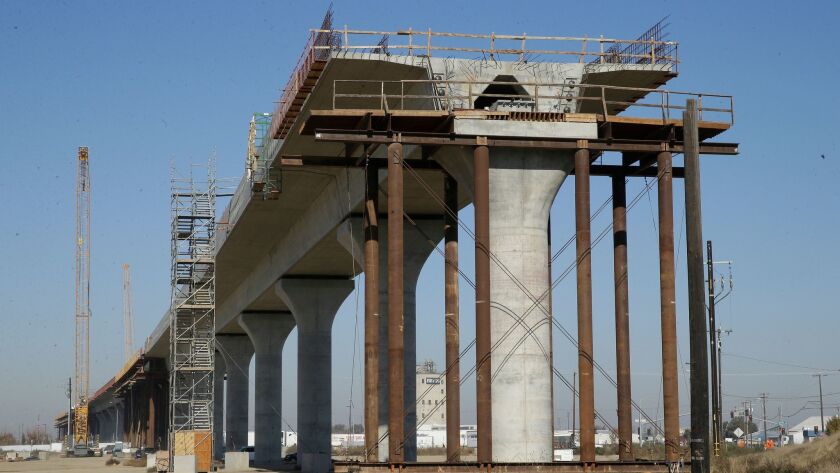 Good morning, and welcome to the Essential California newsletter. It's Monday, Jan. 22, and here's what's happening across California:
TOP STORIES
Train to nowhere?
Seemingly endless delays, cost overruns and changes in California's high-speed rail project, a lofty objective that Gov. Jerry Brown has pursued since the 1980s, have created an existential crisis. Over the next year, Brown, the Legislature and the next governor will have to decide whether to create new revenue sources, dramatically delay its construction or scale it far back from a complete 550-mile system, among other possibilities. Los Angeles Times
A new vision for Grand Avenue
In a booming downtown L.A., the fate of the Grand Avenue project has always been perplexing. The plan had huge names involved — Eli Broad, Frank Gehry — but struggled when other projects rose. Now Gehry has completed new and nearly final designs for the Grand, an open-air complex of apartments, condominiums, movie theaters, restaurants and shops that promises to enliven a city block that has been mostly dead for half a century. Los Angeles Times
Mudslide milestones
Two milestones in Montecito: U.S. Highway 101 is finally reopened after nearly two weeks of mud and debris clearance. Los Angeles Times … And the 21st victim of the mudslides is found. Los Angeles Times
Warning signs missed?
Dead dogs, filth and ropes tied to beds: Inside the Turpins' home in Texas before they moved to Perris. Some residents there were alarmed by what they saw and worried about the children. But it does not appear any one called authorities. Los Angeles Times
Plus: The parents are accused of starving and abusing their kids, but the family dogs appeared well-fed and healthy. Los Angeles Times
L.A. STORIES
Looking back: Los Angeles Police Chief Charlie Beck reflects on his career of more than 40 years with LAPD, which he has led for more than eight years during a period of budget woes, an uptick in crime and a national outcry over the police killings of black men. He announced he will step down in June. Los Angeles Times
Boulevard of dreams: A photo essay of Sunset Boulevard, both real and imagined. New York Times
Ready to roll: The massive widening of the 405 Freeway from Long Beach into Orange County is about to begin. Long Beach Press-Telegram
The art of protest: The Church of the Epiphany in Lincoln Heights was the Los Angeles home base for Cesar Chavez and the United Farm Workers movement. The newspaper for the Chicano civil rights movement, La Raza, was printed in the basement. It's now being used a center of protest in the Trump era. Los Angeles Times
POLITICS AND GOVERNMENT
Nervous time: For immigrants here illegally, the days of high anxiety return. Los Angeles Times
Coming up: The November statewide ballot could see a dozen propositions, given what's on the street with money for signature gathering. Housing, taxes, crime and ... yes ... maybe even dissolving California. Los Angeles Times
Plus: Voters are likely to decide the fate of California's gas tax. San Diego Union-Tribune
The Trump effect: How Trump came to dominate the political scene in California, even as the state seems to loathe him. San Francisco Chronicle
Unanswered questions: An investigation by the Santa Monica-Malibu Unified School District found that a school board member voted to approve contracts with her husband's consulting clients on at least nine separate occasions, according to a summary of the inquiry. Los Angeles Times
CRIME AND COURTS
Toddler killed: An argument between two men in a Compton parking lot led to gunfire that left a 3-year-old boy fatally wounded Saturday evening. Los Angeles Times
Shooting: One person was killed and another wounded in a shooting early Sunday at a homeless encampment in Highland Park. Los Angeles Times
Parole denied: Gov. Jerry Brown has reversed a parole board's decision to free Manson family killer Leslie Van Houten. Los Angeles Times
Beyond the legal battle: The lasting cultural and gender influences when Barbie went to war with Bratz. "In the course of years of legal wrangling, hundreds of millions of dollars changed hands, but I'm afraid I couldn't possibly tell you exactly how much because, as talking Barbie used to say, her pull string wriggling, 'Math class is tough!' " The New Yorker
CALIFORNIA FOOD
What's hot: Better tortillas. More Israeli and Korean food. More expensive restaurants. More fermentation. More wood. L.A. food trends for 2018 by Jonathan Gold. Los Angeles Times
So this is NorCal cuisine? "Masses of vegetables stir-fried with tofu over brown rice. Whole-wheat bread so dense that chewing felt as if you were excavating the vitamins embedded inside. Sandwiches of avocado and alfalfa sprouts. Homemade yogurt with wheat germ." Thanks, we think. San Francisco Chronicle
Plus: Save your money on the avocado toast. Los Angeles Times
Beyond brownies: The new California cuisine will include pot. Pop Sugar
CALIFORNIA CULTURE
Awards surprise: "For an awards ceremony that isn't the Oscars or the Golden Globes, there was plenty of attention heading into the 24th Screen Actors Guild Awards on Sunday," writes TV critic Lorraine Ali. "Call it a stunt or a bold statement, but for the first time ever, the SAGs featured a female-only lineup of award presenters, and its first host, Kristen Bell. And it arrived less than 24 hours after the Women's March." But there was an even bigger surprise. Los Angeles Times
And: One of the most unpredictable awards seasons in memory took another itty-bitty step toward clarity, as Hollywood's actors — who represent the motion picture academy's largest branch — gave their highest honor to "Three Billboards Outside Ebbing, Missouri." Los Angeles Times
Plus: What to watch for at Sundance. Los Angeles Times
The next generation: A plan that might allow San Jose's children to afford living in their hometown as adults. The Mercury News
Boo: Hanging out at some of Southern California's most haunted places. Los Angeles Magazine
Keep an eye on it: Should children really be spending more time looking at screens? Wall Street Journal
Something to think about: The big James Franco questions. New York Times
CALIFORNIA ALMANAC
Los Angeles area: sunny and 68. San Diego: sunny and 66. San Francisco area: scattered showers and 54. Sacramento: cloudy and 54. More weather is here.
AND FINALLY
This week's birthdays for those who made a mark in California: former L.A. Mayor Antonio Villaraigosa (Jan. 23, 1953), Rep. John Garamendi (Jan. 24, 1945), Rep. Mike Thompson (Jan. 24, 1951), San Diego Mayor Kevin Faulconer (Jan. 24, 1967), California Atty. Gen. Xavier Becerra (Jan. 26, 1958) and Rep. Kevin McCarthy (Jan. 26, 1965).
If you have a memory or story about the Golden State, share it with us. Send us an email to let us know what you love or fondly remember about our state. (Please keep your story to 100 words.)
Please let us know what we can do to make this newsletter more useful to you. Send comments, complaints and ideas to Benjamin Oreskes and Shelby Grad. Also follow them on Twitter @boreskes and @shelbygrad.
---