Newsletter: Essential California: A count of L.A. County's homeless begins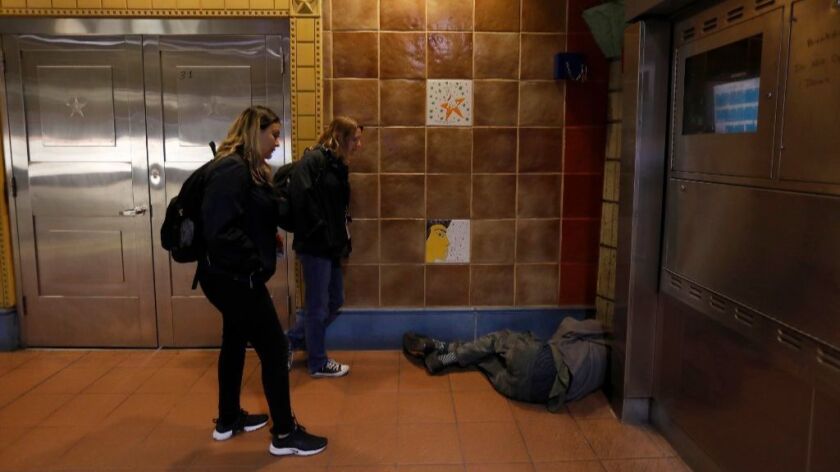 Good morning, and welcome to the Essential California newsletter. It's Thursday, Jan. 25, and here's what's happening across California:
TOP STORIES
The count begins
The annual three-day effort to update Los Angeles County's homeless figures started late Tuesday night. The U.S. Department of Housing and Urban Development requires the count in all areas that seek federal funds to address homelessness. Last year, volunteers counted 58,000 homeless people in the county. The Los Angeles Homeless Services Authority will release the results of this year's count in the spring. It is the first census since funds began to flow from two tax increases approved in 2016 for homeless services and housing. Los Angeles Times
#MAGA?
San Francisco is not an inviting place to Make America Great Again. Several people in the Trump administration say it has once again lost its leading candidate to head the Environmental Protection Agency's southwestern headquarters based in Northern California. He says it was all a big mistake. This was at least the second time the Trump administration had an oil industry executive bow out of the running for the Region 9 job in a late stage of vetting. Los Angeles Times
This is scary
New data from state geologists show that an earthquake fault runs below Rodeo Drive and Beverly Hills' shopping district, heightening the known seismic risk in an area famous for Cartier, Gucci, Prada and other luxury brands. The California Geological Survey's final map has the Santa Monica fault zone cutting through the so-called Golden Triangle, running between Santa Monica and Wilshire boulevards. Los Angeles Times
L.A. STORIES
Earthquake: A shallow magnitude 4.0 earthquake was reported Thursday morning one mile from Temescal. Residents throughout the Southland reported shaking on Twitter. Los Angeles Times
More about the Turpins: Neighbors and others caught glimpses of the Turpin siblings. Now they're struggling to process what they missed. Los Angeles Times
Plus: A judge has ordered David and Louise Turpin not to contact their children. Los Angeles Times
Welcome to California! "It's been hilarious to see the snowflake right triggered over moves by the state Legislature and cities like San Francisco and Maywood to create sanctuaries for immigrants," writes columnist Gustavo Arellano. Los Angeles Times
At the zoo: The physical and emotional well-being of Billy, an Asian elephant kept at the Los Angeles Zoo for nearly three decades, is again being debated at City Hall. Los Angeles Times
Allegations: California-based Monster Energy drink is being sued by five women who allege they were bullied, harassed and even assaulted. Monster argued that these cases are without merit. The Huffington Post
IMMIGRATION AND THE BORDER
Below the border: Mexico's drug cartels, now hooked on fuel, cripple the country's refineries. Reuters
POLITICS AND GOVERNMENT
Looking ahead: You can track the California races that could flip the House in 2018 here. Los Angeles Times
San Francisco has a new interim mayor: "The vote to appoint moderate Supervisor Mark Farrell — led, in a twist, by the board's progressives — happened twice, after Supervisor Katy Tang withdrew her initial vote of support, saying she had been caught up in the moment." San Francisco Chronicle
Backtracking: The city of El Cajon, which found itself in the international spotlight because of a ban on feeding the homeless, lifted the temporary order on Tuesday. San Diego Union-Tribune
See you in court, again: California Atty. Gen. Xavier Becerra marked his one-year anniversary in the post by filing his 25th legal challenge to Trump administration policies, this time over the federal decision to repeal restrictions on the oil-extraction method known as fracking. Los Angeles Times
CRIME AND COURTS
Recall vote coming: The Santa Clara County judge who sentenced a former Stanford University swimmer to six months in jail for sexually assaulting a woman after a fraternity party will be up for a recall vote later this year, the Registrar of Voters announced on Tuesday. Los Angeles Times
No charges: The off-duty Los Angeles police officer who fired his gun during a confrontation with a group of teenagers last year in Anaheim will not face criminal charges, prosecutors said Wednesday. Los Angeles Times
Changes: To prevent wrongful convictions, California is considering new eyewitness lineup standards. Los Angeles Times
Wow: A letter allegedly written by a 1962 Alcatraz Island escapee in 2013 has surfaced. CBS San Francisco
THE ENVIRONMENT
Too many cats: Animal control officers on Tuesday removed 54 cats from a Pasadena house after the animals were found to be living in unsanitary conditions. Los Angeles Times
Drink in the scenery: A Starbucks branch is opening in Yosemite and people are not happy about it. NBC News
CALIFORNIA CULTURE
Where to go this weekend: Now that Highway 101 is reopened, these 10 top Santa Barbara spots are easy to reach again. Los Angeles Times
Very cool: There's a sudden burst of color in L.A.'s improv comedy scene. Los Angeles Magazine
$$$: What $2,300 rents you in L.A. right now. Curbed LA
Plus: The Southern California median home price in December finally surpassed the bubble-era heights of last decade, further heightening concern that the white-hot market is making homes unaffordable. Los Angeles Times
Out of the sunken place, into the Oscars race: The emotional journey of Jordan Peele's "Get Out." Los Angeles Times
Oh no! "In California, where cancer warnings abound, coffee is next in line." Wall Street Journal
CALIFORNIA ALMANAC
Los Angeles area: partly cloudy, 64, Thursday; partly cloudy, 66, Friday. San Diego: partly cloudy, 63, Thursday and Friday. San Francisco area: rain, 52, Thursday; partly cloudy, 52, Friday. Sacramento: rain, 52, Thursday; partly cloudy, 53, Friday. More weather is here.
AND FINALLY
Today's California memory comes from LJ Anderson:
"Like many preteen girls in the 1960s, my older sister and I loved horses. So whenever we got a chance to go to T&L Stables in Monrovia from our home in Pasadena, we jumped at the opportunity. We would be dropped off in our pedal pushers and tennis shoes, and wait patiently until the wrangler assigned us to our particular horses. If a horse can look excited, they didn't. We were instructed to ride out to a certain point and then return to the stables. The ride out was painfully slow, and took what seemed like forever to reach the endpoint. But when we finally did, that's when the sheer terror began. The horses abruptly turned and, at full gallop, returned to the barn. Meanwhile, with hair flying (minus protective helmets) and no riding boots to keep us locked in, we somehow arrived back in one piece. Terrified but exhilarated, we dismounted the horses, waited for our parents to pick us up, and swore that we'd never do it again — at least until the next time we had the chance."
If you have a memory or story about the Golden State, share it with us. Send us an email to let us know what you love or fondly remember about our state. (Please keep your story to 100 words.)
Please let us know what we can do to make this newsletter more useful to you. Send comments, complaints and ideas to Benjamin Oreskes and Shelby Grad. Also follow them on Twitter @boreskes and @shelbygrad.
---