Newsletter: Essential California: Gunfire at an L.A. school shakes a community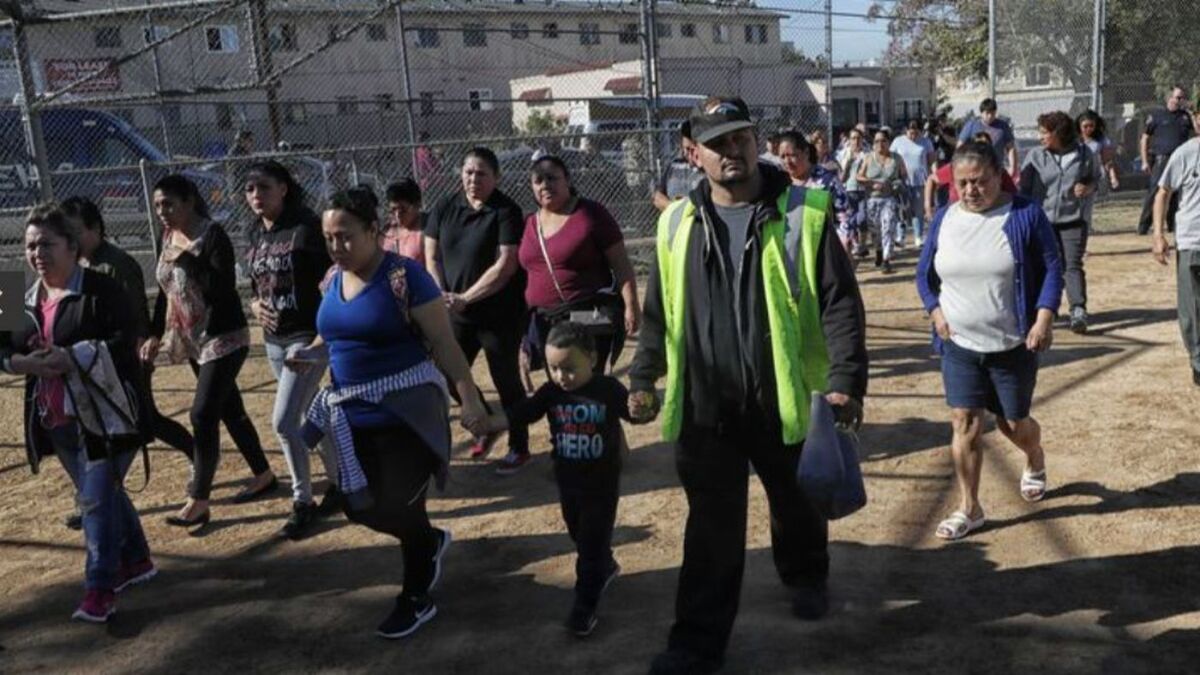 Good morning, and welcome to the Essential California newsletter. It's Friday, Feb. 2, and here's what's happening across California:
TOP STORIES
Gunfire shakes a community
Authorities are trying to sort out the chain of events that lead to a shooting inside a classroom of a Westlake middle school that left two students hospitalized, two others and a 30-year-old woman injured, and resulted in the arrest of a 12-year-old girl. Los Angeles police do not believe that the shooting was intentional, spokesman Josh Rubenstein said Thursday evening. But it does renew a debate on safety at the Los Angeles Unified School District. Los Angeles Times
— Frantic texts between a mother and her young son after gunfire burst out. Los Angeles Times
— More about LAUSD's random weapons searches on campus. Los Angeles Times
Trump takes on California desert protections
The Trump administration is threatening to scrap a major Obama-era agreement that sought to protect millions of acres of the California desert by placing sensitive areas off limits to major solar- and wind-energy installations. The Desert Renewable Energy Conservation Plan covers more than 10 million acres and was designed to guide energy facilities to parcels where they are least likely to cause environmental damage. The administration's announcement that it will reconsider the plan touched off an immediate backlash. Los Angeles Times
Mass transit suffers with Californians on car-buying spree
The vast majority of public transit agencies across Southern California, from modest municipal carriers to the West Coast's largest bus system, have watched their ridership numbers fall off a cliff over the last five years. With data revealing multiyear decreases of up to 25%, experts and officials have stopped debating whether the decline exists, and have instead turned their attention to why. One answer: California is on a car-buying spree. Los Angeles Times
L.A. STORIES
Beyond Meat: Inside the L.A. fake-meat company. It's become famous for faux chicken strips, ground beef and soon-to-be-released sausage need constant tinkering, like software updates. Then there are the moonshots — ersatz bacon and steak, considered the holy grails of mock meat. Los Angeles Times
Mountain lion killed: The Santa Monica Mountains cougar known as P-23 was found dead near Malibu Canyon Road recently, where she appears to have been struck by a vehicle. Los Angeles Times
Private/public space: The classic California bungalow courtyard is an endangered species as officials push for more dense developments. Should they be saved? Curbed Los Angeles
Speaking up: Latinx poetry about the injustices and inequalities of L.A. Los Angeles Review of Books
GOVERNMENT AND POLITICS
Gearing up: Lt. Gov. Gavin Newsom has amassed more than $16 million for his 2018 bid for governor, far outpacing his rivals and cementing his position as the clear front-runner in a race that's just starting to liven up. Los Angeles Times
Prop. 65's latest twist: Could a cancer warning come with your coffee? Welcome to what could be the future in California. Los Angeles Daily News
Oops: More than $1 million was spent lobbying last year on failed legislation that would have fast-tracked construction of a new Clippers arena in Inglewood, according to state lobbying disclosures released this week. Los Angeles Times
About that train: Democratic legislators have heard enough. They've decided to take a closer look at Gov. Jerry Brown's deeply troubled bullet train. One reason: Brown is a lame duck headed for the door with waning Capitol influence. Los Angeles Times
CRIME AND COURTS
What happened? The mysterious death of Natalie Wood off Catalina Island has sparked more than three decades of speculation about whether it was an accident or murder. One of the investigators on the case has made fresh comments, but do they push it forward in any serious way? Los Angeles Times
Murder case: A Fresno man accused in a shooting rampage last year said racism made him want to kill white people. Fresno Bee
THE ENVIRONMENT
Snow report: California's snowpack is a bit better but still at critically low levels. Sacramento Bee
Tough times: The extreme weather hitting the state is taking a toll on California's military bases. SCPR
CALIFORNIA CULTURE
Duuude: How California is pushing legalized pot not just as a drug but as the key to a healthy lifestyle. The New Yorker
No magic trick: Why are there suddenly walls and barriers on Disneyland's Main Street? It's part of a replacement of a famous attraction. San Gabriel Valley Tribune
Hot hot hot: San Jose's overheated real estate market is reaching levels no one has seen before. San Francisco Chronicle
Silicon Valley milestone: An upscale San Mateo grocery store has delivered its first orders using self-driving delivery vehicles. The Mercury News
The big fig: San Diego's most famous tree might be getting its own viewing platform. San Diego Union-Tribune
Do not try this at home: This Lodi couple might have won the extreme wedding contest. SF Gate
CALIFORNIA ALMANAC
Los Angeles area: partly cloudy and 81. San Diego: partly cloudy and 74. San Francisco area: mostly sunny and 67. Sacramento: mostly sunny and 67. More weather is here.
AND FINALLY
Today's California memory comes from Linda Ward:
"When I was about 9 years old (in the late 1950s), I would spend time with my cousin in Hollywood. We spent all day exploring on Hollywood Boulevard, playing in the Hollywood Bowl (which we had all to ourselves), and hiking in the hills exploring the grounds of all these amazing homes. Our days always ended the same: waiting for Frank Sinatra. My cousin was born in love with Frank Sinatra. She discovered that he owned the Villa Capri restaurant off Highland. We sat on the curb in front of the restaurant for hours waiting to see him. As the dinner guests started arriving, the maitre d' kept coming out to see if we were still there. Much to his dismay, there we were. We didn't believe him when he told us Mr. Sinatra was not expected. He would get so upset, he would give us money to go away. We never did get to see Ol' Blue Eyes, but the anticipation was so much fun."
If you have a memory or story about the Golden State, share it with us. Send us an email to let us know what you love or fondly remember about our state. (Please keep your story to 100 words.)
Please let us know what we can do to make this newsletter more useful to you. Send comments, complaints and ideas to Benjamin Oreskes and Shelby Grad. Also follow them on Twitter @boreskes and @shelbygrad.
---