Newsletter: Essential California: Lincoln Heights — A Dream Displaced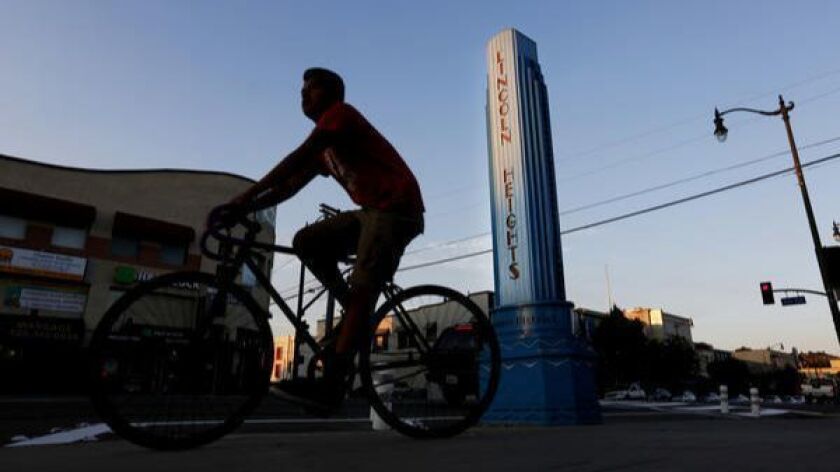 Good morning, and welcome to the Essential California newsletter. It's Thursday, March 29, and here's what's happening across California:
TOP STORIES
Across the country, the presidency of Donald Trump has put immigrants who are here illegally on edge. In Lincoln Heights, a neighborhood of 28,000 just northeast of downtown Los Angeles, that tension has become a part of daily life. A team of Times reporters spent months there last year to capture how one of California's oldest ports-of-call for immigrants has wrestled with the changing tone of the national debate — and to see the day-to-day adjustments residents have made in their lives. Los Angeles Times
Plus: Léelo aquí en español. Los Angeles Times
Getting ready for the Big One
A number of cities big and small in Southern California are taking steps to identify seismically vulnerable buildings for the first time in a generation, acting in part on the devastating images of earthquake damage in Mexico and elsewhere around the world. In hopes of mitigating the loss of life from a major quake that experts say is inevitable, Long Beach is discussing spending up to $1 million to identify as many as 5,000 potentially vulnerable buildings. The city of Moorpark already has agreed to spend up to $10,000 for its own survey of at-risk buildings. Los Angeles Times
DiFi and the guns
The violent experience of being the first person to discover Supervisor Harvey Milk on the floor of his office, shot, has shaped the views and career of Dianne Feinstein. Now a U.S. senator, she is perhaps best known for her quest over 25 years in Congress to enact stricter national gun control, including authoring the now-expired original assault weapons ban. Los Angeles Times
L.A. STORIES
What's going on here? Why does a city without its own police force have a weapons vault? Questions are mounting after 31 pistols go missing in Compton. Los Angeles Times
Big new rivalry: The Galaxy and Los Angeles Football Club meet for the first time in a crosstown rivalry in which emotions are already running high. The StubHub Center sold out nearly two weeks ahead of time, and supporters of the two teams are trading insults — and worse — both on social media and in person. Los Angeles Times
Beisbol is back! In advance of opening day, Vin Scully comes out of retirement for 60 seconds. Los Angeles Times
Plus: Learn how one enterprising graphic reporter at The Times used data to pick the perfect seat at Dodger Stadium. Los Angeles Times
Funny: The streets of Los Angeles, if they were your garbage friends. The New Yorker
IMMIGRATION AND THE BORDER
More backlash: "Two Huntington Beach city councilmen said they want to follow the lead of Los Alamitos and other cities in an effort to seek relief from state mandates that expand protections" for immigrants here illegally. Los Angeles Times
POLITICS AND GOVERNMENT
Look who's tweeting! President Trump appears to have finally found a part of California he likes — Orange County. Los Angeles Times
Plus: "Orange County's anti-sanctuary fervor is all but guaranteed to backfire," argues Gustavo Arellano. Los Angeles Times
Mum's the word: Gubernatorial front-runner Gavin Newsom will not participate in any more debates until early May, a spokesman for this campaign said Wednesday. Los Angeles Times
Census trouble: "With the Trump administration in charge, voting rights advocates fear the undercount [of minorities in the census] could be amplified, shifting economic resources and political power toward rural, white, and Republican communities." Nowhere would that be felt more than in California. Mother Jones
Wow! "California signed up an estimated 450,000 people under Medicaid expansion who may not have been eligible for coverage, according to a report by the U.S. Health and Human Services' chief watchdog." Kaiser Health News
CRIME AND COURTS
Body identified: A body discovered in a shallow grave in Northern California earlier this week has been identified as missing Macedonian model Adea Shabani, authorities said Wednesday. Los Angeles Times
Sad: "Mendocino County Sheriff Tom Allman said Wednesday it's likely all six children of a Washington state couple perished with their two mothers when their family car plunged over a cliff on the north Mendocino Coast on Monday night." Press-Democrat
The world today: "Law enforcement at Coachella is bracing for the possibility of a Vegas-like massacre, and it's taking radical steps to make sure it thwarts any plot and protects concertgoers." TMZ
THE ENVIRONMENT
Big change if it happens: "Southern California's biggest water agency is considering picking up most of the bill for overhauling the state's waterworks without any guarantee that it will eventually recoup its additional, multibillion-dollar investment." Los Angeles Times
In the desert: The Department of Energy is trying to turn the Salton Sea into "a farm for renewable fuels — and clean its infamously polluted water in the process." Vice News
CALIFORNIA CULTURE
The big picture: Facebook and other technology companies use sophisticated design strategies intended to convince users to hand over their data. That's fueling a huge ethical debate. Los Angeles Times
Ooof: "Uber will not renew its permit to test autonomous vehicles on public roads in California." The Verge
History lesson: In 1986, a spring break riot changed Palm Springs. Here is the video. Desert Sun
Down it goes: A three-judge panel has handed a defeat to historic preservationists, upholding the city's plan for demolishing a 1960 bank building on the site of a planned Frank Gehry-designed mixed-use complex. Los Angeles Times
CALIFORNIA ALMANAC
Los Angeles area: sunny, 78, Thursday; partly cloudy, 80, Friday. San Diego: sunny, 72, Thursday; partly cloudy, 74, Friday. San Francisco area: partly cloudy, 71, Thursday; partly cloudy, 68, Friday. Sacramento: partly cloudy, 81, Thursday; partly cloudy, 82, Friday. More weather is here.
AND FINALLY
Today's California memory comes from Katie Raddon:
"In 1980 my family piled into our station wagon and drove from Utah to Oceanside. Listening to the ocean crash against the shore all night long in our beach rental was magical. After that I would get homesick for the ocean every time I heard 'The Tide Is High' by Blondie. I got the opportunity to move to Los Angeles after college, and I jumped at the chance. Finally, I felt I had arrived home. It's been over 23 years, and I've not left yet. I met my husband here, and now we have kids of our own. We love L.A.!"
If you have a memory or story about the Golden State, share it with us. Send us an email to let us know what you love or fondly remember about our state. (Please keep your story to 100 words.)
Please let us know what we can do to make this newsletter more useful to you. Send comments, complaints and ideas to Benjamin Oreskes and Shelby Grad. Also follow them on Twitter @boreskes and @shelbygrad.
---