Newsletter: Essential California: Death in Delano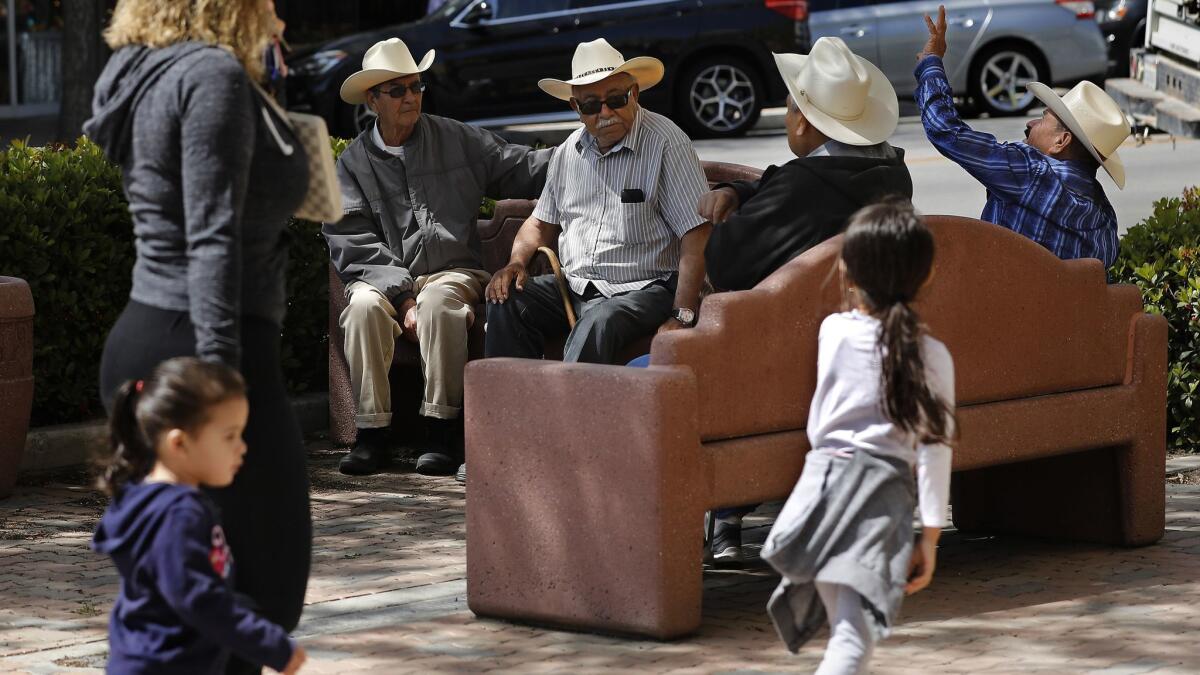 Good morning, and welcome to the Essential California newsletter. It's Thursday, April 19, and here's what's happening across California:
TOP STORIES
Celestino Hilario Garcia struggled to explain that he was not to blame for the death of his sister-in-law and the brother he labored alongside in the vineyards for years. The native of the Mexican state of Guerrero stood outside of his apartment, his eyes bloodshot, his voice raw. He was the target of ICE agents in Delano when they mistakenly followed his brother. His brother Santos and his wife died after fleeing from the agents. Now, blame is a common theme in this Central Valley farm town: Some Delano officials and residents blame ICE; and ICE blames California's "sanctuary" state policies. Los Angeles Times
Plus: Kern County prosecutors on Wednesday said they will not file charges against federal immigration agents involved in a crash that killed two farmworkers trying to flee from the agents. Los Angeles Times
Senate 2018!
Billionaire Democratic activist Tom Steyer is endorsing state Sen. Kevin de León in his insurgent challenge to Sen. Dianne Feinstein, and did not rule out funding an outside effort to boost De León's chances. "I think he's the kind of young progressive that reflects California and would be a very strong advocate for our state nationally," Steyer said, pointing to De León's efforts on issues such as immigration, climate change and gun control while he was the state Senate leader. "I know him well and he's a friend. We share a lot of values." Los Angeles Times
Why this matters: "Establishment Democrats are resisting calls from figures on the left like Steyer and the activist group MoveOn.org to campaign on impeaching Trump if the party seizes the House." Bloomberg
How much? Steyer thought about running for the Senate seat himself. Instead, the former hedge fund manager pledged tens of millions to fund candidates who commit to impeaching Trump. Los Angeles Times
L.A. STORIES
Fast track? Elon Musk's vision for a tunnel network that could whisk people across Los Angeles County got a boost when the Los Angeles City Council's public works committee unanimously approved an environmental review exemption for a test tunnel that could run 2.7 miles through West Los Angeles. But more steps remain. Los Angeles Times
Real Coachella: Columnist Steve Lopez went to Coachella. No, not that Coachella. He met, among others, Fernando Chavez, who works in patient transfer at the Torres Martinez Indian Reservation and pockets extra money by ferrying festival-goers in his pickup. Los Angeles Times
Plus: Coachella makes millions, but the festival's exploited Latino neighbors feel none of it. Los Angeles Times
And: Sexual harassment was apparently rampant at Coachella 2018. A reporter interviewed 54 women at Coachella, and they all said they had been sexually harassed. Teen Vogue
Get the Essential California newsletter »
POLITICS AND GOVERNMENT
Enter the Guard: Gov. Jerry Brown formally mobilized 400 California National Guard members Wednesday for transnational crime-fighting duties, thus preventing any effort by President Trump to have the troops focus on immigration enforcement on the Mexican border. The governor announced that federal officials have agreed to fund the plan he announced last week. Los Angeles Times
Eeesh: Buried beneath Fresno were some costly surprises for the California bullet train authority, which disclosed that the price of utility relocations along a 29-mile section of railway has surged from a 2013 estimate of $69 million to $396 million. Los Angeles Times
Joining in: The San Diego County Board of Supervisors voted 3-1 Tuesday to support the Trump administration's lawsuit against California over so-called sanctuary laws that the state passed last year to limit its role in immigration enforcement. San Diego Union-Tribune
An interesting fight: An investigation of L.A. County's ad spending pits the state watchdog against its former enforcement chief. Los Angeles Times
Ooof: The Los Angeles City Council agreed unanimously Wednesday to pay up to $3 million to settle a lawsuit lodged by a woman who was injured on a Hollywood sidewalk. Los Angeles Times
CRIME AND COURTS
Heating up: Los Alamitos has been sued for enacting an ordinance that exempts it from the state's sanctuary laws, which were designed to protect immigrants in the country illegally. Los Angeles Times
Hmmmm? Los Angeles Unified School Board member Ref Rodriguez, who was indicted last year, filed two forms disclosing his 2014 finances. They don't line up. KPCC
Pay up: "California Atty. Gen. Xavier Becerra has ordered three California hospitals to pay out millions of dollars to local nonprofits, declining their requests to be freed from charity obligations required under state law." California Healthline
IMMIGRATION AND THE BORDER
In Congress: Republican Rep. Jeff Denham says at least 240 of the 430 current House members have signed on to his resolution to hold votes on four immigration bills. Los Angeles Times
Listen! His boss asked him to compile data that would help ICE round up immigrant workers. So he quit. Los Angeles Times
The borderlands: Along the Rio Grande in Texas, the much trumpeted border wall doesn't actually run along the border. In places, it's miles inland. So residents are given a code to a gate to access their land. Los Angeles Times
THE ENVIRONMENT
A solar battle: There's a fight going on in the desert between the Trump administration and California. Desert Sun
Wonder why? "Eight of the USA's 10 most-polluted cities, in terms of ozone pollution, are in California." USA Today
CALIFORNIA CULTURE
Hollywood-land: Netflix has explored the idea of buying movie theaters in Los Angeles and New York that would enable it to screen a growing pipeline of feature films and documentaries, according to people familiar with the situation. Los Angeles Times
Cul-cha! At Disney Hall, the dresses made of speakers were just the beginning. Los Angeles Times
The chattering class: Kendrick Lamar's Pulitzer Prize sparks lively — and at times snobby — conversations on the aesthetics of music. Los Angeles Times
Torrance in the news: A second allegation of racial bias at Starbucks has surfaced — this time in the Los Angeles area — in the days since two black men were arrested while waiting at one of the coffee chain's Philadelphia stores. Washington Post
CALIFORNIA ALMANAC
Los Angeles area: showers, 65, Thursday; sunny, 72, Friday. San Diego: showers, 62; Thursday; sunny, 67, Friday. San Francisco area: cloudy, 59, Thursday; sunny, 62, Friday. Sacramento: sunny, 71, Thursday; sunny, 80, Friday. More weather is here.
AND FINALLY
Today's California memory comes from Pamela D. Anderegg:
"I moved to Menlo Park with my new husband in May 1962. As the plane descended, I was shocked by what I later learned were the 'golden hills' of California. I could not believe that a dry period of this dimension had not made the national news. It was October before the rains came, turning the hills green. I recall hearing rain on a quiet morning only to learn that tree leaves were gently brushing my bedroom window. I now live in New York state, where the seasons are clearly delineated. I miss California."
If you have a memory or story about the Golden State, share it with us. Send us an email to let us know what you love or fondly remember about our state. (Please keep your story to 100 words.)
Please let us know what we can do to make this newsletter more useful to you. Send comments, complaints and ideas to Benjamin Oreskes and Shelby Grad. Also follow them on Twitter @boreskes and @shelbygrad.
Get our Essential Politics newsletter
The latest news, analysis and insights from our politics team.
You may occasionally receive promotional content from the Los Angeles Times.