Newsletter: Essential California: Suspected Golden State Killer caught
Good morning, and welcome to the Essential California newsletter. It's Thursday, April 26, and here's what's happening across California:
TOP STORIES
Authorities have arrested former police officer Joseph James DeAngelo Jr., who is suspected of being one of California's most prolific serial killers and rapists — the Golden State Killer. A local and federal task force apprehended the man after tying him to the crimes through "surveillance and discarded DNA," Sacramento County Sheriff Scott Jones told reporters Wednesday. Los Angeles Times
— Golden State Killer: a primer on an elusive predator. Los Angeles Times
— The news of the arrest struck a deep chord among the relatives of victims and those who feared his next move. Los Angeles Times
— Eight years of terror, decades of unanswered questions about serial slayings. Los Angeles Times
— Comedian Patton Oswalt, whose late wife Michelle McNamara authored a book about the killer, weighed in on the arrest. Los Angeles Times
— Here's one of McNamara's many pieces on the serial killer. Los Angeles Magazine
Noxious stuff
Three years after the Exide Technologies battery recycling plant in Vernon shut down, only 264 lead-contaminated properties have been cleaned — most of them years ago in two small areas closest to the facility. While residents wait, delays keep mounting. A Los Angeles Times analysis of new state data shows which homes, schools, child-care centers and parks across a swath of southeast Los Angeles County are hardest-hit by lead contamination and how long they have been waiting. Los Angeles Times
Outside Issa's office
In a state that already embodies the anti-Trump resistance, it's fitting that Rep. Darrell Issa's turf has been home to some of the most organized, persistent and vocal dissenters. Here, the stakes are high and the ground they're fighting over narrow: In 2016, the Republican Issa, who is not seeking reelection, won by just 1,621 votes, the slimmest reelection margin in any House race that year. The longevity of the protests, which often drew hundreds, gives Democrats hope a wave election to put them back in control is coming in November. But the hardening on each side is what may give others anxiety about the state of the union afterward. Los Angeles Times
Get the Essential California newsletter »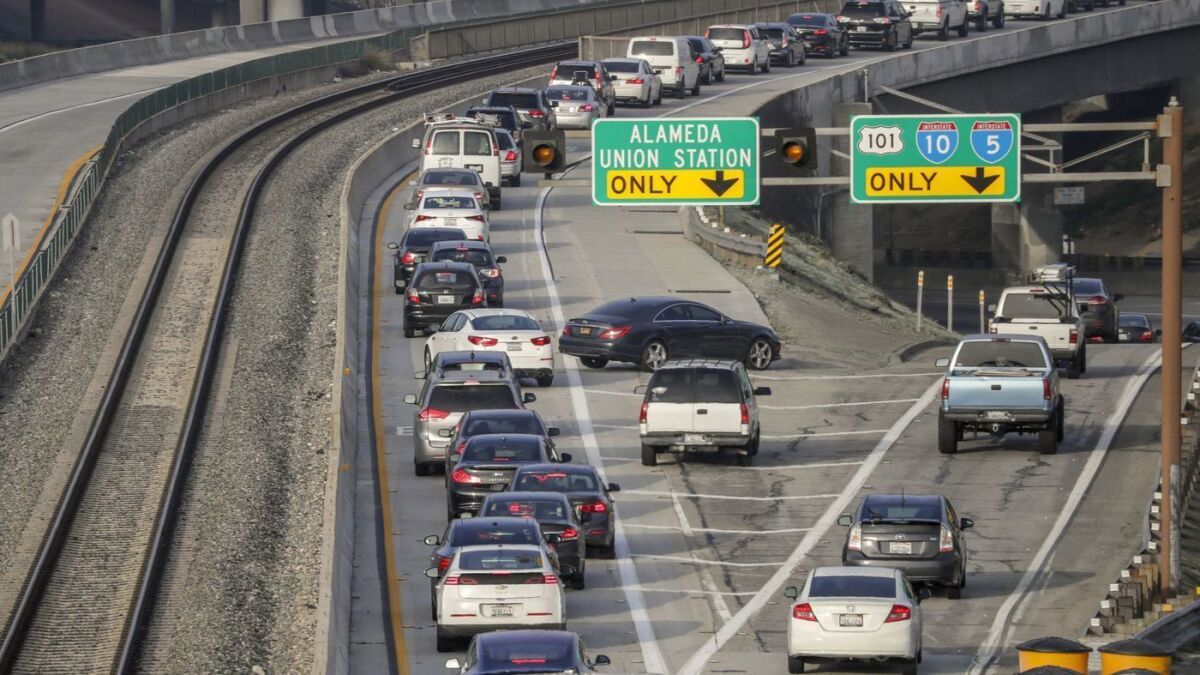 L.A. STORIES
Change under consideration: Facing rising congestion in the 110 Freeway and 10 Freeway toll lanes, the Metropolitan Transportation Authority will consider ending free rides for commuters who drive alone in zero-emission vehicles. Los Angeles Times
RIP: Laura Aguilar, a Los Angeles photographer renowned for capturing the denizens of a working-class Eastside lesbian bar in the 1990s and for employing her nude body in desert landscapes in sculptural ways, died early Wednesday at a nursing home in Long Beach. Los Angeles Times
TV news: After clawing for seven years over the same turf, Southern California's two large public television stations — KCET and KOCE — are merging to become a stronger voice in local broadcasting. Los Angeles Times
What to do? South Orange County's solution to homelessness is class warfare at its NIMBYest, writes columnist Gustavo Arellano. Los Angeles Times
IMMIGRATION AND THE BORDER
In court: The Supreme Court's conservative justices sounded ready Wednesday to uphold President Trump's travel ban, potentially giving the embattled White House a big legal victory after a series of defeats in the lower courts. Los Angeles Times
The debate: Pro- and anti-Trump forces are scoring points on immigration, but both sides are losing, columnist Steve Lopez writes. Los Angeles Times
South of the border: Soldiers took three cousins in the night. Now Mexico's key drug-war strategy is on trial. Los Angeles Times
POLITICS AND GOVERNMENT
It begins: After a sleepy campaign, California voters are now being bombarded with television advertisements in the governor's race, an onslaught that is expected to ramp up in coming weeks.Los Angeles Times
The California delegation: How Rep. Devin Nunes turned the House Intelligence Committee inside out. New York Times Magazine
CRIME AND COURTS
Sentenced: A Border Patrol agent who was caught in a drug-smuggling sting gets six years in prison. Los Angeles Times
Influencing the D.A.? Law enforcement groups have given $420,000 to Anne Marie Schubert — the Sacramento district attorney who is deciding whether to bring charges against the cops who killed Stephon Clark. The Intercept
In San Diego: "A year after a decomposed body was discovered concealed in a cell, questions remain, despite investigations." San Diego Patch
THE ENVIRONMENT
Found: A legally blind man who became lost on a hike in Joshua Tree National Park over the weekend has been found, authorities said. Los Angeles Times
Smoke's up, or not: Why the black market for weed is still thriving in California. Vice News
Sad: UC Davis Bodega Marine Laboratory scientist Susan Williams, who died in a car crash earlier this week, was a key voice for conservation and a mentor to students worldwide. Press Democrat
CALIFORNIA CULTURE
They must like it: Facebook continued to add users and saw revenue soar in the first quarter despite data privacy crisis. Los Angeles Times
Crash landing: Warner Bros. is facing a tax-fraud investigation for the costs of the plane in the Clint Eastwood film "Sully." Variety
More Ball controversy: It appears that a dispute with the coach of the Lithuanian pro basketball team that brothers LiAngelo and LaMelo Ball joined this season has led their father, LaVar, to pull the two from the team. Los Angeles Times
Bloodshot eyes: Fans are partaking in the Infinity War Marathon, a more than 30-hour endurance screening of 12 Avengers movies, in advance of the "Avengers: Infinity War" release. Los Angeles Times
CALIFORNIA ALMANAC
Los Angeles area: partly cloudy, 70, Thursday and Friday. San Diego: partly cloudy, 66, Thursday and Friday. San Francisco area: partly cloudy, 57, Thursday; partly cloudy, 59, Friday. Sacramento: sunny, 76, Thursday; partly cloudy, 70, Friday. More weather is here.
AND FINALLY
Today's California memory comes from Stephanie Schneider:
"When I arrived at the UCSB campus in 1982, I knew it was where I would spend the next chapters of my life. I was 16. The scent of ocean air, the grandeur of the mountains and the feeling of being blessed by just being there gave my life significance. From the horse farms of Hope Ranch to the secondhand shops of Goleta, Santa Barbara was enticing and romantic. I ran up and down the long streets passing manicured yards, smelling sweet jasmine and feeling the crunch of eucalyptus leaves under my feet. My legs carried me farther every time I ran. It was out of my curiosity over what the next curve, the next avenue would bring. I fell in love with California, not with the phony dream of Hollywood, but the majesty of the most beautiful and naturally blessed state in our country. After completing my studies in Santa Barbara, I moved down the coast to another gem, Del Mar. Every time I drove over the hills and saw the expansive ocean open up before me, I knew there was no other place I could ever call home."
If you have a memory or story about the Golden State, share it with us. Send us an email to let us know what you love or fondly remember about our state. (Please keep your story to 100 words.)
Please let us know what we can do to make this newsletter more useful to you. Send comments, complaints and ideas to Benjamin Oreskes and Shelby Grad. Also follow them on Twitter @boreskes and @shelbygrad.
---