Newsletter: Essential California: How the Golden State Killer suspect was ID'd
Good morning, and welcome to the Essential California newsletter. It's Friday, April 27, and here's what's happening across California:
TOP STORIES
The break that authorities said led them to the man accused of being the Golden State Killer came when they linked DNA evidence from the slayings to genetic information contained on a consumer genealogical website, authorities said Thursday. Investigators knew the killer only through a string of DNA recorded in several of the dozen murder scenes. Los Angeles Times
Plus: For decades Joseph James DeAngelo Jr., the suspected Golden State Killer, lived a quiet suburban life, with flashes of rage and anger. Los Angeles Times
Infrastructure bonanza!
As Republican activists prepare to file signatures for a ballot initiative to repeal an increase in the state gas tax and vehicle fees, California officials on Thursday announced that $2.4 billion of the money will be spent on dozens of transit projects, including work they say will prepare Southern California to host the 2028 Summer Olympics. An additional $1.9 billion for the projects will come from funds collected by California's landmark climate change program, which requires polluters to buy carbon emission credits, the officials said. Los Angeles Times
Plus: These activists are on the verge of turning in at least 830,000 signatures for for this repeal effort. Even before they know for sure it will appear on the November ballot, the party's candidates up and down the state already are acting to direct voter anger over higher fuel prices at Democrats who boosted the levies. Los Angeles Times
A what?
Thousands of baseball fans have thought longingly of visiting Chavez Ravine without fighting through snarled, rush-hour traffic in a car or on a bus. Now, a company funded by former Dodgers owner Frank McCourt has proposed a solution: a gondola lift that would whisk passengers from Union Station to Dodger Stadium by air in five minutes. Los Angeles Times
Get the Essential California newsletter »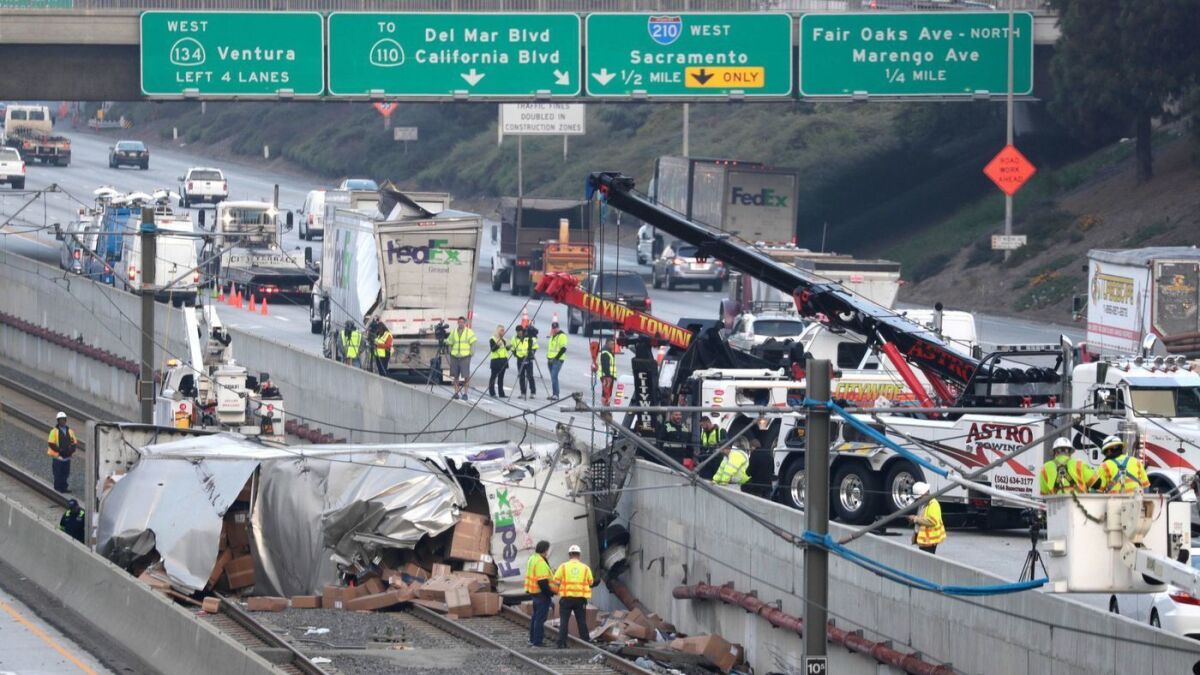 L.A. STORIES
What he became: Four years ago Elliot Rodger killed six people and wounded more than a dozen others in the college town of Isla Vista before committing suicide. Since then he's become an icon of sorts for so-called involuntary celibates, or "incels" — a fringe group of sexually frustrated men who blame women for their misery and often advocate for violence against them.This group included the man who is accused of plowing a van onto a crowded Toronto sidewalk. Los Angeles Times
That traffic, yesterday: A FedEx truck traveling west on the 210 Freeway crossed into a median and toppled onto Metro Gold Line tracks in Pasadena early Thursday, causing quite a jam. Los Angeles Times
Yum: Catching up with the woman who runs the Santa Monica farmers market. Los Angeles Times
Click: C. Fitz's documentary "Jewel's Catch One" is a love letter to a historical landmark of Los Angeles nightlife. Los Angeles Times
IMMIGRATION AND THE BORDER
Your government at work: "A top official with the Department of Health and Human Services told members of Congress on Thursday that the agency had lost track of nearly 1,500 migrant children it placed with sponsors in the United States." New York Times
POLITICS AND GOVERNMENT
A bummer for some: In a bid to reduce congestion in toll lanes on the 110 and 10 freeways, Los Angeles County Transportation officials on Thursday opted to end a program granting solo drivers of zero-emissions vehicles free access to the lanes. Los Angeles Times
Happier for others: University of California regents will not vote on a tuition increase next month, shelving the plan for now in hopes that state lawmakers will come through with more funding. Los Angeles Times
Sordid history: California lawmakers are seeking reparations for people sterilized by the state. Kaiser Health News
CRIME AND COURTS
Nabbed: A Los Angeles Police Department officer has been charged with attempting to transport two people in the country illegally through an immigration checkpoint in Southern California. Los Angeles Times
Sentenced: A man living in the U.S. illegally has been sentenced to death for the 2014 killing of a Northern California sheriff's deputy and a detective. Los Angeles Times
Weird tale: An electronics-recycling innovator from Southern California is going to prison for trying to extend computers' lives. Washington Post
It's a walkout! "A smoldering labor dispute intensified Thursday inside of one of San Francisco's most exclusive, secretive and male-only clubs." San Francisco Chronicle
THE ENVIRONMENT
News you can use: The number of almonds being produced in California has exploded. Fresno Bee
CALIFORNIA CULTURE
Someone to watch: With "Ocean's 8" and "Crazy Rich Asians," Awkwafina is the summer's comedy secret weapon. Los Angeles Times
Surprise, surprise: There are shockingly few female-directed films coming out this summer. Los Angeles Times
On the diamond: Dodgers outfielder Joc Pederson finds calm despite his reduced playing time. Los Angeles Times
Wow: "A pop-up avocado museum is opening in California — and tickets cost $27." SF Gate
All is not forgiven: Here's one writer who is still mad the Chargers decamped from San Diego. The Big Lead
CALIFORNIA ALMANAC
Los Angeles area: partly cloudy, 68, Friday; sunny, 69, Saturday. San Diego: partly cloudy, 65, Friday; partly cloudy, 67, Saturday. San Francisco area: partly cloudy, 61, Friday; partly cloudy, 59, Saturday. Sacramento: sunny, 70, Friday; partly cloudy, 66, Saturday. More weather is here.
AND FINALLY
Today's California memory comes from Tania Davidson:
"I moved to San Diego from Pennsylvania in 1988 at age 23 to start my doctorate and soon knew California was home. In 1999, I moved to the Arctic in Alaska from Ventura to work for a few years and experienced extreme homesickness for the first time in my life at age 34! On my first 'visit' back after six months in Alaska, I was flying in over the Sierra and I could see down into Yosemite Valley. I just burst into tears at the sight, and the person sitting next to me asked, 'Are you OK?' and I answered, 'I am now, those are my Sierras!' Whether I backpack the mountains or sail the Pacific, my home is always in California."
If you have a memory or story about the Golden State, share it with us. Send us an email to let us know what you love or fondly remember about our state. (Please keep your story to 100 words.)
Please let us know what we can do to make this newsletter more useful to you. Send comments, complaints and ideas to Benjamin Oreskes and Shelby Grad. Also follow them on Twitter @boreskes and @shelbygrad.
---