Newsletter: Essential California: On ICE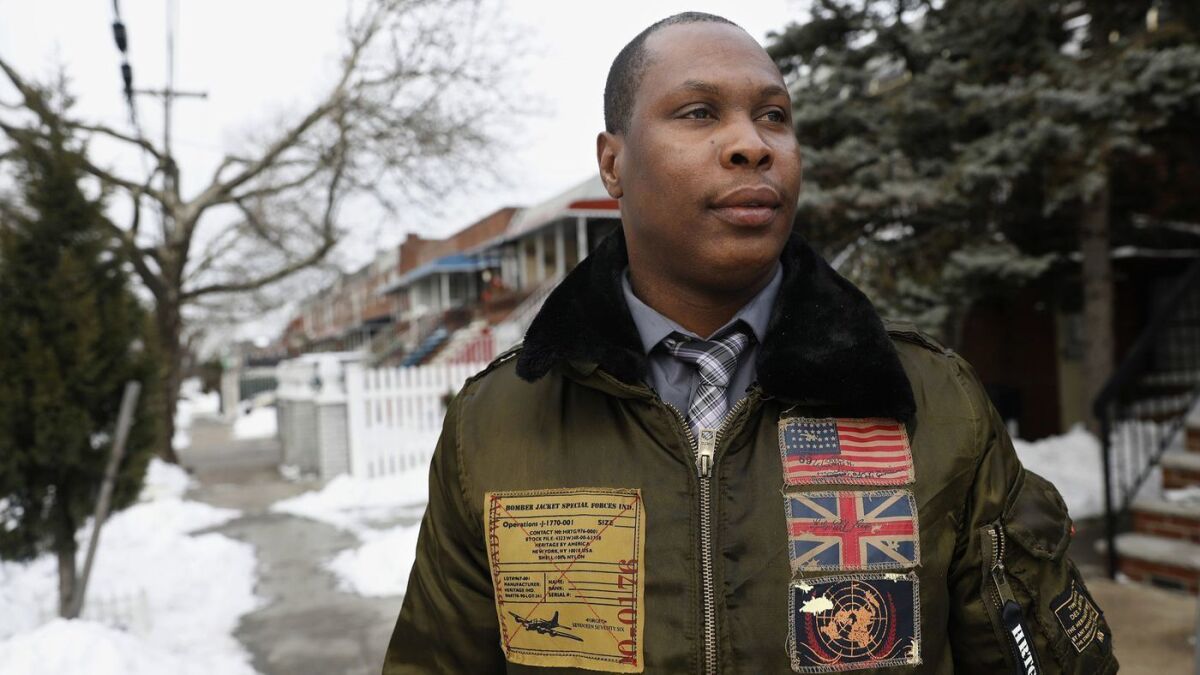 Good morning, and welcome to the Essential California newsletter. It is Saturday, April 28. Here's what you don't want to miss this weekend:
TOP STORIES
Immigration officers in the United States operate under a cardinal rule: Keep your hands off Americans. But Immigration and Customs Enforcement agents repeatedly target U.S. citizens for deportation by mistake, making wrongful arrests based on incomplete government records, bad data and lax investigations, according to a Times review of federal lawsuits, internal ICE documents and interviews. Since 2012, ICE has released from its custody more than 1,480 people after investigating their citizenship claims, according to agency figures. Los Angeles Times
More on how they got him
There was no match in the FBI's national DNA database. A search of California's forensic databank came up blank. The clue that led investigators this week to the door of the suspected Golden State Killer came instead from an unexpected source: an amateur genealogy website that's something like the Wikipedia of DNA. The arrest of Joseph James DeAngelo Jr., a 72-year-old former police officer suspected of a string of rapes and murders across California from 1976 to 1986, hinged on GEDmatch.com, an open-source platform where people volunteer their genetic information in hopes of finding long-lost family members. Los Angeles Times
USA versus CA, part a-zillion
The Trump administration is speeding toward all-out war with California over fuel economy rules for cars and SUVs, proposing to revoke the state's longstanding authority to enforce its own, tougher rules on tailpipe emissions. The move forms a key part of a proposal by Trump's environmental and transportation agencies to roll back the nation's fuel economy standards. Los Angeles Times
AROUND CALIFORNIA
Festival fire: Three recreational vehicles were destroyed and a fourth damaged by fire Friday at the annual Stagecoach festival in Indio. Los Angeles Times
Bad news: A high-ranking officer and another supervisor with the Los Angeles Police Department were taken into custody by Glendale police early Friday morning on alcohol-related charges, marking the third time this week that LAPD officers were arrested. Los Angeles Times
Local news: In L.A.'s Koreatown on Friday, there was mixed reaction to the historic North Korea-South Korea summit on the other side of the globe. Los Angeles Times
He's out: Former Baltimore schools chief Andrés Alonso, one of three remaining finalists to lead the Los Angeles school system, has withdrawn from consideration. Los Angeles Times
Eesh: "A 51-year-old homeless man stands accused of trespassing after an incident last week in which he entered Gov. Jerry Brown's residence, the historic governor's mansion on H Street." Sacramento Bee
The big merger: Add cigarettes to the list of things that family-friendly Walt Disney Co. has to figure out as it prepares to integrate the sharper-edged 20th Century Fox movie and television studio. New York Times
Following up: "Two Southern California lawmakers accused of sexual misconduct are struggling to raise cash for the June elections, new campaign finance reports show." KPCC
Amazon second headquarters: Mayor Eric Garcetti said Los Angeles is in "aggressive pursuit of this opportunity." Los Angeles Times
Bummer: Thieves have been targeting surfers' cars at secluded San Onofre State Beach. Orange County Register
It's early: Some California farmers are already feeling the effects of possible tariffs. Capital Public Radio
Get the Essential California newsletter »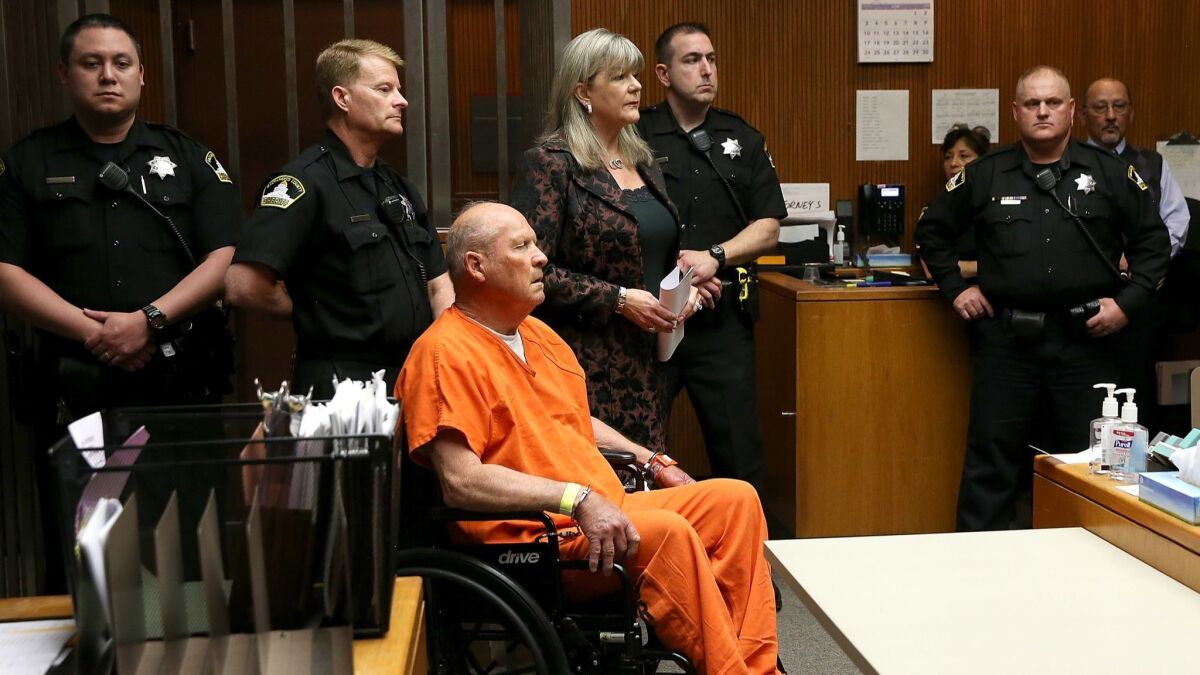 THIS WEEK'S MOST POPULAR STORIES IN ESSENTIAL CALIFORNIA
1. Police used consumer genealogical websites to identify the Golden State Killer suspect. Los Angeles Times
2 After a blackface incident, minority students at Cal Poly San Luis Obispo say they don't feel welcome. Los Angeles Times
3. In a forgotten town by the Salton Sea, newcomers build a bohemian dream. The Guardian
4. Golden State Killer suspect lived a quiet suburban life, with flashes of rage and anger. Los Angeles Times
5. The long, tortured hunt for the Golden State Killer leads to the arrest of a former cop. Los Angeles Times
ICYMI, HERE ARE THIS WEEK'S GREAT READS
Big debut: A few months after the Los Angeles Football Club was birthed during a red-carpet ceremony held in a dark, stuffy movie studio on Sunset Boulevard, a cross-section of the ownership group met at chairman Peter Guber's Bel-Air home to hammer out a vision for the infant club. "Real formative stuff," team president Tom Penn, who organized the retreat, remembered of the discussion. "If you get it right, it helps with everything else." More than three years later, a major part of that vision will come into focus when LAFC plays the first home game in its history Sunday at Banc of California Stadium, its new $350-million home in the shadow of the Coliseum in Exposition Park. Los Angeles Times
Plus: "A shiny new front in the battle for L.A.'s soccer soul." New York Times
Amazing story: They are totems of homesickness and love for Filipinos who have left the homeland to different corners of the world. Balikbayan boxes, which are sent to loved ones, carry everything from food staples to small luxuries like Kirkland chocolates. But the boxes — part of a billion dollar industry — are packed with sentiment above all else. Los Angeles Times
Help wanted: The number of farmworkers with guest visas in Riverside County has skyrocketed. "In the 2015-2016 fiscal year, the U.S. Department of Labor issued just 46 H-2A visas in Riverside County, according to the state Economic Development Department. The following year, that number more than quadrupled to 204. This year, just six months into the federal fiscal year, the labor department has issued 476 visas, already a tenfold increase from two years earlier." Desert Sun
Deadly waters: "California Aqueduct drownings renew safety concerns in San Bernardino County's high desert." San Bernardino Sun
Goals: At 95, Mexican food expert Diana Kennedy is growing her own coffee and making her own tortillas. Los Angeles Times
Yum: The 38 essential tacos in Los Angeles. Eater LA
Please let us know what we can do to make this newsletter more useful to you. Send comments, complaints and ideas to Benjamin Oreskes and Shelby Grad. Also follow them on Twitter @boreskes and @shelbygrad.
---