Newsletter: Essential California: The fight over speaking Spanish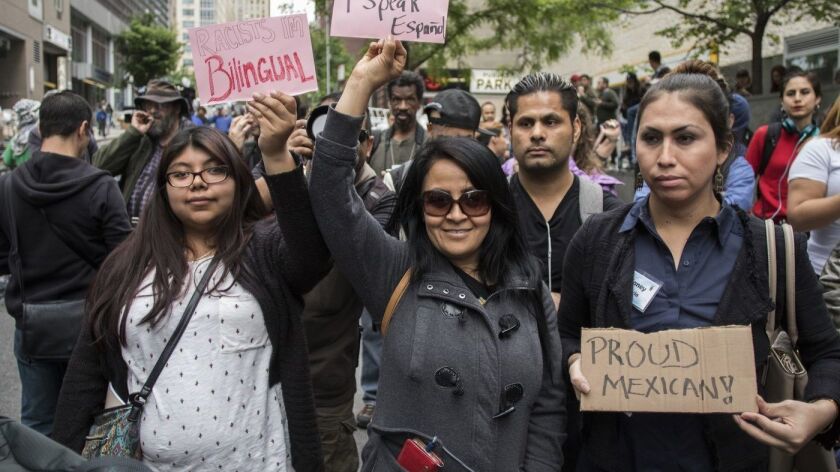 Good morning, and welcome to the Essential California newsletter. It's Tuesday, May 29, and here's what's happening across California:
TOP STORIES
Spanish, the first European tongue to take root in North America, has established itself as perhaps the most relentlessly polarizing language in the United States. But in the Trump era, social media allows you to fight back from "speak English" taunts, as the last week has made clear. Los Angeles Times
-- The bizarre tale of a fake ICE agent. Los Angeles Times
-- How the "missing" immigrant children story went viral. Washington Post
-- Immigrants released from jails even though ICE wants them. San Diego Union-Tribune
Plastic purge
It took years of activist campaigns to turn the plastic bag into a villain, and hard-fought legislation to reduce its presence in oceans and waterways. Now, environmentalists and lawmakers are deploying similar tactics against a new generation of plastic pollutants. There are drinking straws, which as a viral video shows can get stuck in a sea turtle's nose. The hundreds of thousands of bottle caps that wind up on beaches. And the microfibers that wash off polyester clothes, making their way into the ocean, the stomachs of marine life and ultimately our seafood. Los Angeles Times
It's complicated
Los Angeles Mayor Eric Garcetti's unveiling of the first new public bathrooms on skid row in more than a decade was seen as a possible turning point for the homeless enclave, which remains mired in misery even as downtown development closes in around it. After more than three months of operation, the trailers with toilets and showers shut down in late March for a planned expansion and now are gone. Across town, bathroom access for Venice's homeless people is hung up over approvals from other agencies. Los Angeles Times
Get the Essential California newsletter »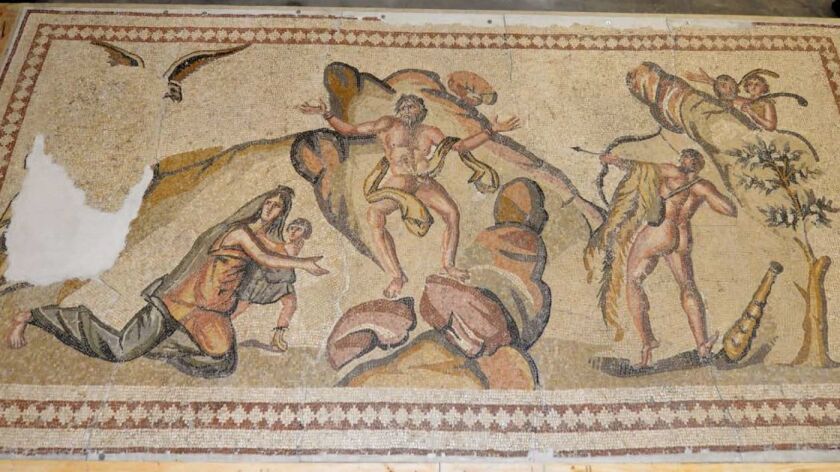 L.A. STORIES
From Syria to Palmdale: The ancient mosaic depicts Hercules and other figures from Roman mythology and is believed to date from the 3rd or 4th century. It is 18 feet wide and 8 feet tall, and weighs one ton. The Byzantine artwork was seized by FBI agents in 2016 at the Palmdale home of Mohamad Yassin Alcharihi, who is accused in a complaint filed in federal court in Los Angeles last week of smuggling the antiquity into the U.S. and concealing it at his residence. Los Angeles Times
Remembering the fallen: Families and veterans observed Memorial Day with ceremonies and parades across the country. In Los Angeles, Mayor Eric Garcetti spoke during an observance at the city's National Cemetery, where family members placed flowers on loved ones' graves. Los Angeles Times
"Unhappy hour": San Pedro is mourning the loss of a beloved restaurant as redevelopment sweeps in. Daily Breeze
CRIME AND COURTS
Wild story: Police arrested a flight school instructor and his assistant who are accused of kidnapping a student pilot in Redding and trying to send him back to China. Los Angeles Times
Reaction: Some are pushing back as Robert F. Kennedy's son promotes a conspiracy theory about a second gunman in his father's assassination. Los Angeles Times
POLITICS AND GOVERNMENT
Build that … : Travis Allen is making the border wall a big part of his campaign. San Diego Union-Tribune
Tax debate: In Davis, housing prices are getting so high, teachers can't afford to live there. Sacramento Bee
Last legs? Is the two-party system in California about to die? New York Times
Pay attention: Times columnist George Skelton on why the state propositions really matter. Los Angeles Times
ELECTION ENDORSEMENT ROUNDUP
-- Los Angeles Times Editorial Board.
-- Sacramento Bee.
CALIFORNIA CULTURE
Flying low: "Solo: A Star Wars Story" didn't exactly take flight this holiday weekend in the way that Disney had hoped. The origin story of Han Solo took the top spot at the box office but underperformed, making an estimated $103 million in its first four days in the U.S. and Canada, when it had been expected to gross $140 million to $150 million. Los Angeles Times
At odds: Inside the high-stakes war for CBS. Wall Street Journal
What's cooking: Black chefs hope the high-end restaurant industry and foodie scene are becoming more inclusive. Oakland might be the place to start. San Francisco Chronicle
Trend alert: Not surprisingly, California is at the center of the food-as-medicine movement. New York Times
Styling: The California connection to the British royal family's newest coat of arms. SF Gate
Light it up: Digital license plates come to California, but they will cost you. Sacramento Bee
CALIFORNIA ALMANAC
Los Angeles area: Partly cloudy, 74, Tuesday. Partly cloudy, 73, Wednesday. San Diego: Partly cloudy, 67, Tuesday and Wednesday. San Francisco area: Sunny, 67, Tuesday. Cloudy, 60, Wednesday. Sacramento: Sunny, 96, Tuesday. Partly cloudy, 79, Wednesday. More weather is here.
AND FINALLY
Today's California memory comes from Rhodes Gardner:
"It was late May 1978 on an Eastern Airlines flight from Atlanta to LAX that I first came and moved to California after graduating from college. On this same flight were Fred MacMurray and Joey Bishop. How special, yet I did not know that frequent celebrity sightings would be few and far between for me. I continued to start my California life with my first job in the coastal community of Port Hueneme."
If you have a memory or story about the Golden State, share it with us. Send us an email to let us know what you love or fondly remember about our state. (Please keep your story to 100 words.)
Please let us know what we can do to make this newsletter more useful to you. Send comments, complaints and ideas to Benjamin Oreskes and Shelby Grad. Also follow them on Twitter @boreskes and @shelbygrad.
---