Newsletter: Essential California: Three Californias? It's a longshot, but ...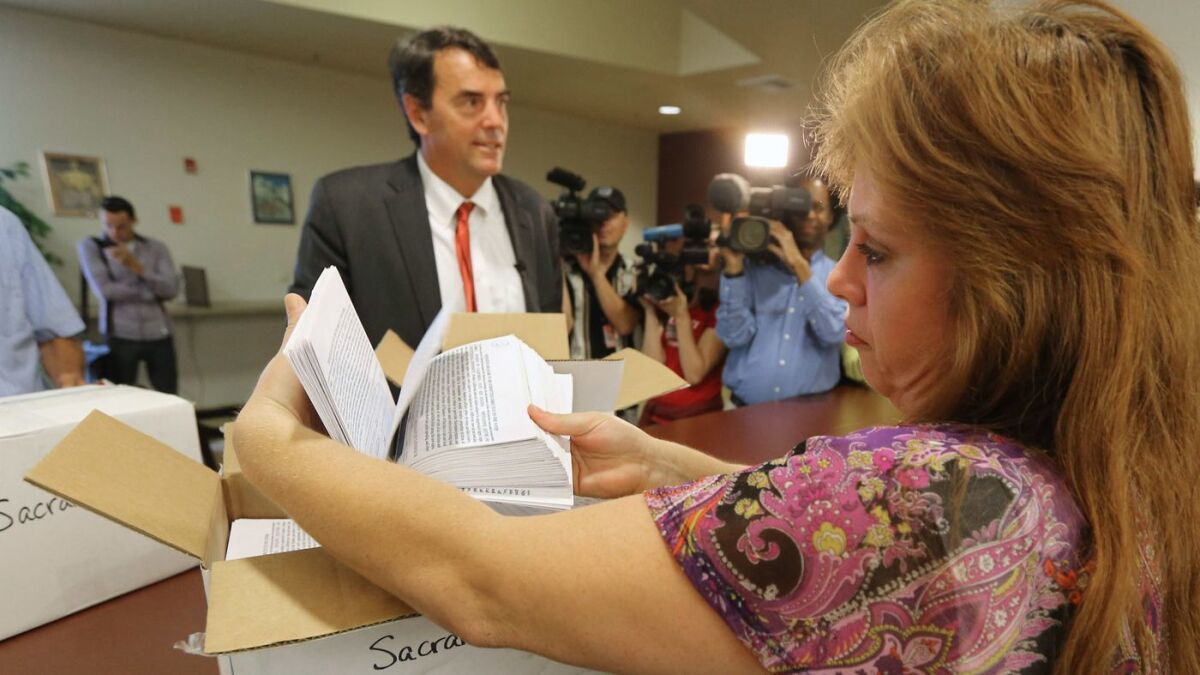 Good morning, and welcome to the Essential California newsletter. It's Wednesday, June 13, and here's what's happening across California:
TOP STORIES
California's 168-year run as a single entity, hugging the continent's edge for hundreds of miles and sprawling east across mountains and desert, could begin to come to an end next year — as a radical plan to split the Golden State into three new jurisdictions qualified Tuesday for the Nov. 6 ballot. Completion of the radical plan — far from certain, given its many hurdles at judicial, state and federal levels — would make history. It's the latest of many plans to break up California over the years. Los Angeles Times
More politics: Even if Democrats can't flip the House in Orange County, they have much to feel good about. Los Angeles Times
— Being a leftist in Orange County. San Francisco Chronicle
— Can this young Democrat help flip the House? The New Yorker
— The Times' House Flipper Tracker. Los Angeles Times
— President Trump might be coming to California to campaign this fall. Los Angeles Times
Merger mania
There's another quake in the business world, as a federal judge cleared the way for AT&T Inc.'s $85.4-billion purchase of Time Warner Inc., creating an entertainment colossus that promises to reshape the media business. Some expect more mergers. AT&T argued that the deal allows it to better battle online competitors such as Netflix, Amazon, Facebook and Google. The combination of Time Warner's "premium content" with AT&T's vast subscriber network would allow the new company to engage consumers and target advertising tailored to their habits. Los Angeles Times
— The next big battle: Comcast, Disney and Fox. Wall Street Journal
— Media titan Brian Roberts is poised to make the most audacious move in a career full of them. Los Angeles Times
— A breakdown of which big media deals could be made or upended. CNBC
— Where does Trump go from here? New York Times
-- Who's next? CBS? Viacom? AMC? Lionsgate? The Hollywood Reporter
Get the Essential California newsletter »
L.A. STORIES
Caused by a weed trimmer: Another reminder of the danger amid drought conditions: A brush fire threatened homes in the Beverly Crest and Benedict Canyon areas. Los Angeles Times
Newfound social justice activist: Kim Kardashian West appears to be winning right now. Following her late May visit to the Oval Office, President Trump granted clemency last week to Alice Marie Johnson, a nonviolent drug offender for whom Kardashian West has been advocating during the last seven months. Los Angeles Times
Must-watch: The story behind the USC Track and Field miracle. Los Angeles Times
Read the tea leaves: Is LeBron James headed to the Lakers? Deadspin
Plus: Columnist Bill Plaschke says Magic Johnson needs to do his magic to bring LeBron here. Los Angeles Times
CRIME AND COURTS
Quick thinking: A mother of four used a street taco to distract a gun-wielding man posing as a police officer in the San Gabriel Valley while she sought help, the Los Angeles County Sheriff's Department said in a statement. It praised the woman's "taco tactics." Los Angeles Times
THE ENVIRONMENT
Help from above: Can this new type of water-dropping technology help fight brush fires? Orange County Register
Try it out? Summer is a time of year when utility bills often rise, as people crank up appliances and devices such as air conditioners and swimming pool pumps that use lots of energy. With that in mind, it may make sense for utility customers to experiment with the various "time of use" pricing plans. San Diego Union-Tribune
GOVERNMENT AND POLITiCS
Obamacare effect? California's nonprofit hospitals are providing sharply less free and reduced-cost medical care than they did a few years ago, raising questions about the role and obligations of those institutions in the age of Obamacare. Hospital industry leaders say charity care has declined because the Affordable Care Act — which became law in 2010 but took full effect in 2014 — has provided millions of Californians with free and reduced-cost coverage through Medicaid expansion and the Covered California marketplace. Los Angeles Times
Bet on it? An initiative to legalize sports betting in the state was proposed Monday for the November 2020 ballot by a political consultant working with California card clubs, online and out-of-state gambling firms and sports leagues. Los Angeles Times
On the border: For asylum seekers, the Trump administration's actions leave a sense of hopelessness. New York Times
Keeping track: Some too-close-to-call California races that still matter. Sacramento Bee
Tired of it all: Californians are suffering from "voter fatigue," so candidates who survived the June 5 primary will have to hone their message to better address specific issues and provide solutions for problems if they want to connect with the electorate in November, members of a panel of political experts said. Los Angeles Times
CALIFORNIA CULTURE
Heading home: A Thai chef who made it big in San Francisco is going home to Bangkok, trying to help craft a new fine dining scene. New York Times
Perspective: Some Asian Americans say they are fighting discrimination from elite schools and universities. Wall Street Journal
In Los Gatos: Silicon Valley was once fertile farmland. Now, the last walnut orchard in Los Gatos is set for destruction. Mercury News
Harsh: Tesla Inc. is cutting about 9% of its workforce as part of a restructuring, Chief Executive Elon Musk announced Tuesday. He said the cuts would not hurt the automaker's ability to produce its Model 3 electric sedans. Los Angeles Times
CALIFORNIA ALMANAC
Los Angeles area: sunny, 81, Wednesday; sunny, 82, Thursday. San Diego: sunny, 75, Wednesday; mostly sunny, 78, Thursday. San Francisco area: cloudy, 72, Wednesday; partly cloudy, 66, Thursday. Sacramento: sunny, 99, Wednesday; sunny, 93, Thursday. More weather is here.
AND FINALLY
Today's California memory comes from Paule Méthé:
"I was lucky to live in the Marina district of San Francisco for 20-plus years, and I think it is one of the most beautiful neighborhoods in the world. I worked near the water at Fort Mason and Ghirardelli Square and never tired of admiring the bay, the changing colors of the water, the fog rolling in. When I commuted across the bay to Skywalker Ranch, I felt a sense of wonder every day as I crossed the Golden Gate Bridge and marveled at the wonderful vistas of Sausalito, Mount Tam, the rolling hills of Marin, and San Francisco."
If you have a memory or story about the Golden State, share it with us. Send us an email to let us know what you love or fondly remember about our state. (Please keep your story to 100 words.)
Please let us know what we can do to make this newsletter more useful to you. Send comments, complaints and ideas to Benjamin Oreskes and Shelby Grad. Also follow them on Twitter @boreskes and @shelbygrad.