Newsletter: Essential California: A major blow to public employee unions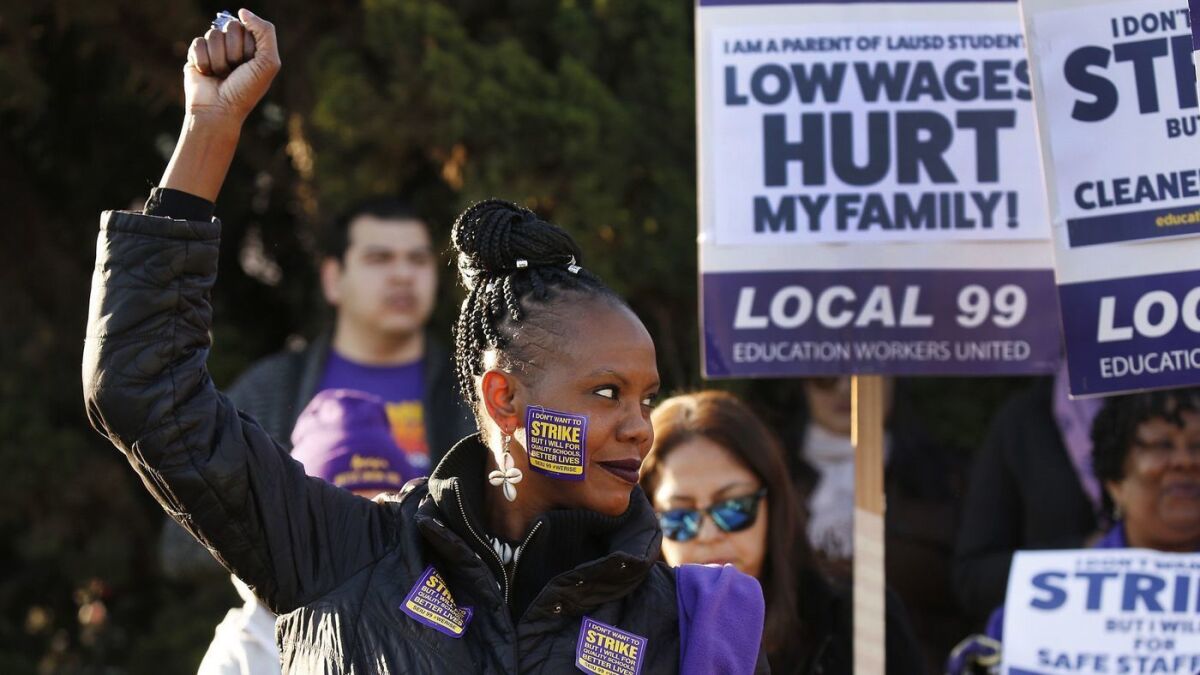 Good morning, and welcome to the Essential California newsletter. It's Thursday, June 28, and here's what's happening across California:
TOP STORIES
The Supreme Court dealt labor unions a sharp defeat Wednesday, ruling that teachers, police officers and other public employees cannot be forced to pay dues or fees to support their unions. This has potentially huge implications in California, where labor unions have emerged as major power brokers and fundraisers for Democratic candidates. Los Angeles Times
-- Teachers unions, already weakened in their battle with wealthy charter school forces, have a lot to lose. Los Angeles Times
-- In California, union leaders are relying on plans they've been carefully crafting for more than five years. They knew this day was coming and pushed through various laws and contingencies aimed at lessening the blow. Los Angeles Times
More big Supreme Court news
Justice Anthony M. Kennedy, the Sacramento Republican who became the U.S. Supreme Court's swing vote and a moderating force, is retiring. It gives President Trump a chance to shift the court sharply to the right. But Democrats could put up a fight over his replacement, especially around the issue of abortion. Los Angeles Times
Costly payouts
Los Angeles has spent soaring amounts in recent years to end legal disputes over dangerous roads, police misconduct and other alleged wrongdoing, depriving the city of money that could fund other pressing needs. Last budget year, the city paid out more than $200 million in legal settlements and court judgments — a record amount that was more than the city spent on its libraries or fixing its streets, a Times data analysis found. Los Angeles Times
Get the Essential California newsletter »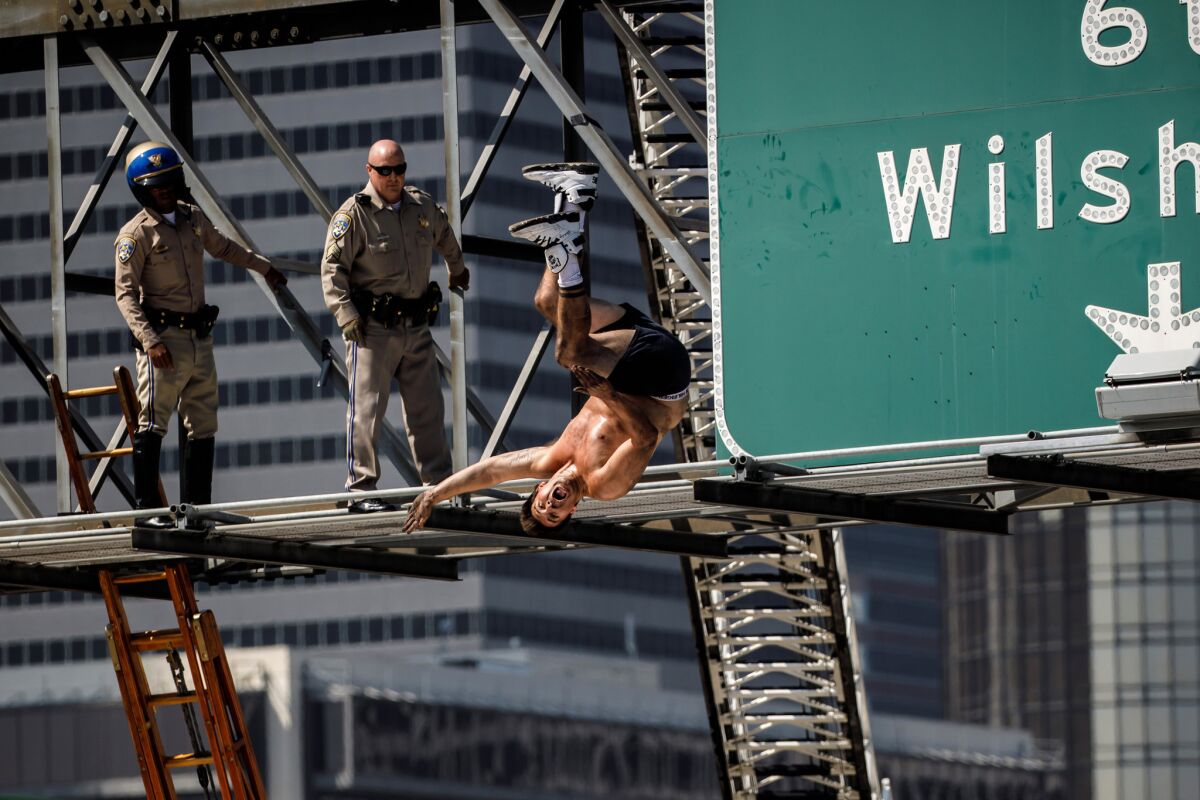 Plan approved: A South Los Angeles shopping center with a storied history could triple in size with hundreds of new apartments and condos, offices and a hotel. Los Angeles Times
Some publicity stunt: A shirtless man wearing boxer shorts shut down the southbound lanes of the 110 Freeway in downtown Los Angeles for two hours Wednesday morning after he scaled an exit sign, unfurled political banners and began vaping, dancing and shouting from a bullhorn. It caused gridlock for miles and became a social media meme. Los Angeles Times
Power struggle: The Los Angeles Department of Water and Power will seek to scale back plans for a Utah power plant fueled by natural gas. Los Angeles Times
Next generation: The Getty highlights the photography of L.A. teenagers. LAist
For sale: It was once in disrepair. Now a famed Frank Lloyd Wright house is on the market for $23 million. Curbed Los Angeles
CRIME AND COURTS
He's off duty: After 42 years, LAPD Chief Charlie Beck said goodbye to the department with a retirement bash at the police academy Wednesday. Beck handed his chief's badge and four-star pin to his successor, Michel Moore. Los Angeles Times
Malibu update: Tristan Beaudette, a father who was killed while camping with his two young daughters at Malibu Creek State Park campground, was shot in the head, a coroner's spokesman revealed Wednesday. Los Angeles Times
POLITICS AND GOVERNMENT
Budget time! California schools, healthcare and social services programs will see spending increases under the state budget signed Wednesday by Gov. Jerry Brown. Los Angeles Times
Words matter: California government tries to put an end of "female-dominated" jobs. Sacramento Bee
Delayed again: NASA continues to struggle with a troubled telescope project. New York Times
CALIFORNIA CULTURE
She makes altars: She was born in East Los Angeles in 1932. At 86, she lives four blocks from where she took her first breath. On Wednesday, the National Endowment for the Arts announced she is among the recipients of a 2018 NEA National Heritage Fellowship, which is considered the nation's highest honor in the folk and traditional arts. Meet Ofalia Esparza. Los Angeles Times
In Mountain View: Tech companies might be able to pay more to local governments as they continue to add people and traffic. Can a head tax work? Mercury News
Plus: A tech billionaire's $100-million house in Silicon Valley. "There's a poker room; a room dedicated to making pizza; a wine cellar; a dance floor; a theater; and a steam spa, sauna, and massage table." SF Gate
Major coup: Walt Disney Co. won U.S. antitrust approval Wednesday for its $71-billion purchase of 21st Century Fox Inc.'s entertainment assets, giving the Burbank entertainment giant a leg up in its bidding war with Comcast Corp. Los Angeles Times
Watch: At the Los Angeles Times' new offices in El Segundo, the sign was lifted to the top of the building. Los Angeles Times
CALIFORNIA ALMANAC
Los Angeles area: Partly cloudy, 77, Thursday. Sunny, 76, Friday. San Diego: Partly cloudy, 71, Thursday. Partly cloudy, 68, Friday. San Francisco area: Sunny, 68, Thursday. Sunny, 70, Friday. Sacramento: Sunny, 90, Thursday. Sunny, 99, Friday. More weather is here.
AND FINALLY
Today's California memory comes from Mitchell Lane:
"During our 10-year high school reunion, a friend had invited me to become a partner in his software documentation business. This required me to relocate from Los Angeles to Santa Cruz. The week of arrival, I volunteered to drive to a client meeting. During the trip, my partner playfully admonished me for exceeding the speed limit. He said, 'Relax, you're no longer in the rat race. Here, we call it Santa Cruz'n.' I quickly adapted, and life seemed more relaxed and with less tension. Three weeks later, I returned to SoCal for a weekend gathering of friends. Several motorists on the 405 Freeway confirmed I was no longer an Angeleno. Apparently my speed — 45 in a 55 mph zone — was too slow."
If you have a memory or story about the Golden State, share it with us. Send us an email to let us know what you love or fondly remember about our state. (Please keep your story to 100 words.)
Please let us know what we can do to make this newsletter more useful to you. Send comments, complaints and ideas to Benjamin Oreskes and Shelby Grad. Also follow them on Twitter @boreskes and @shelbygrad.
---