City Council approves hotly contested overhaul of South L.A. mall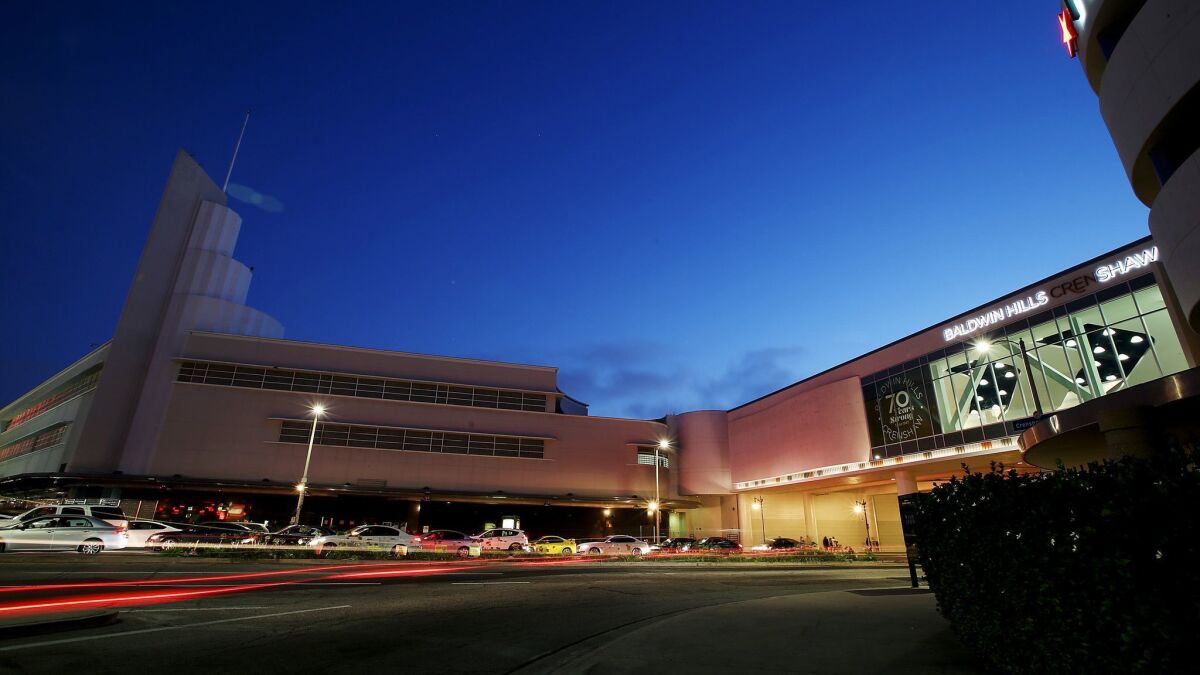 The Los Angeles City Council voted Wednesday to approve a hotly contested plan to overhaul a South L.A. shopping center that would triple its size and add hundreds of new apartments and condos, overriding objections from activists who fear it will push people out of black neighborhoods.
Supporters argued that Baldwin Hills Crenshaw Plaza needs to become a destination where people can live, work and play in order to survive in the era of Amazon and other online retailers. It has struggled at times to lure shoppers from affluent nearby neighborhoods, and two years ago the sudden closure of a Walmart there stoked fears about its future.
But the mall makeover has alarmed and elicited challenges from some neighbors and activists, including the Black Community Clergy and Labor Alliance, the Los Angeles Tenants Union and the Los Angeles Black Worker Center. At a City Hall hearing earlier this month, critics charged that the plan would fuel gentrification and lead to displacement of black residents as rents surged.
"What will you say when we ask you, 20 years from now … as to how black L.A. was eviscerated?" said Damien Goodmon, an activist who lodged one of the seven appeals against the project. "What will you say to many of us who are pushed out to Victorville — or even worse, onto skid row?"
Gregory Akili, a community organizer living in the area who argued against the plan, called it "a classic example of development and displacement."
"It starts with gentrification — the shiny new thing that everybody wants and thinks they want," Akili said. "But then, in a few years, the same people who wanted it can't live there. Don't live there. What's the price that we pay?"
What will you say when we ask you, 20 years from now … as to how black L.A. was eviscerated?
— Damien Goodmon, activist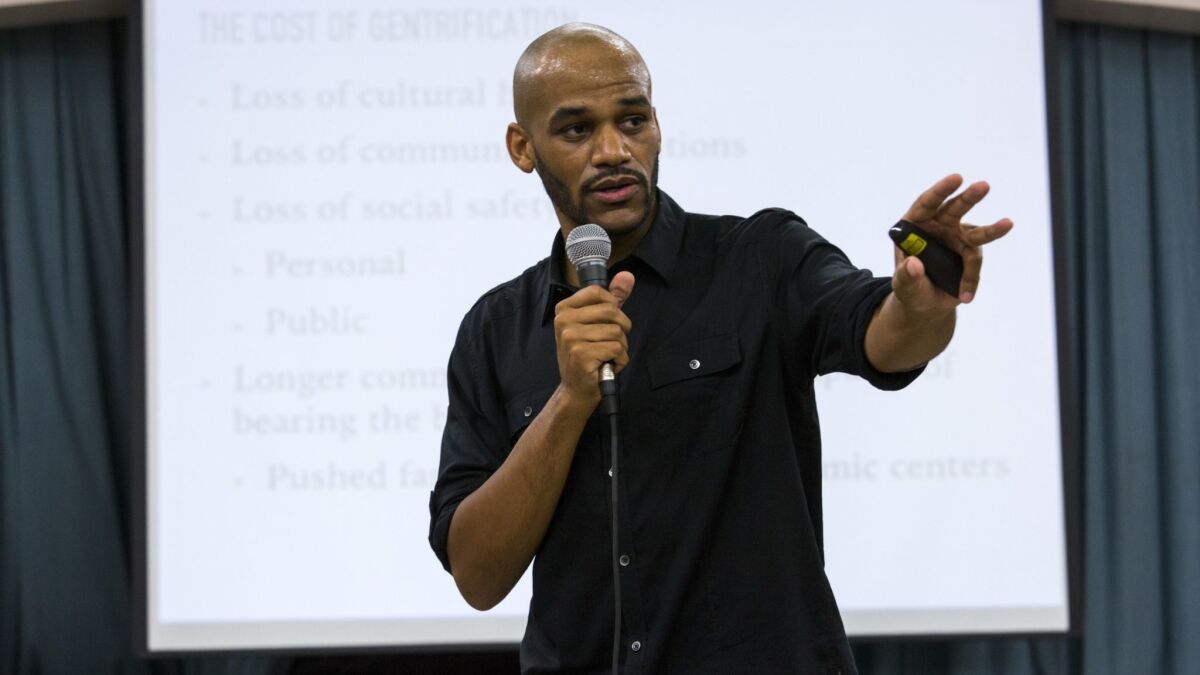 The revamped shopping center, which sits alongside a future Metro station, would include more than 900 units of new housing, a 10-story office building, a new hotel and a walkable "retail village" like the Third Street Promenade in Santa Monica.
Some outbuildings would be torn down, but the enclosed mall and movie theater on the 43-acre site would remain. No housing is being torn down for the project, a fact that the mall developer and supporters have emphasized.
Leimert Park resident Romerol Malveaux said that from the nearby intersection of Crenshaw and Martin Luther King Jr. boulevards, "what I see are acres and acres of vacant land that are underdeveloped or not developed at all."
"This catalytic project represents private investment in a neighborhood that really hasn't had it," Malveaux said, urging council members to support the project.
The South Los Angeles center has been much more than a mall to residents and politicians. Thirty years ago, when a Crenshaw Boulevard shopping center was remade as an enclosed mall and named Baldwin Hills Crenshaw Plaza, then-Mayor Tom Bradley called it "a symbol of perseverance."
The mall has become a focus of community hopes and frustrations as black neighborhoods — even well-to-do areas like the "Black Beverly Hills" of View Park — continue to struggle to attract the same shops and other amenities as other parts of Los Angeles.
"I just don't want to have to go to the Grove to shop, to eat at outdoor restaurants, go to the movies," said Mary Jones-Darks, a longtime resident of the Crenshaw area. "We want to do these things in our own community."
Under an agreement with the city that was also approved Wednesday, the mall developer would have to set aside 10% of the apartments and condos for households with incomes that fall below specific thresholds. The city is also requiring that local residents make up at least 30% of the workforce hired to build and run it.
And the developer has agreed to pay $2 million to Los Angeles Trade Technical College for job training and educational programs and $1.5 million to the council district for tree trimming, among other local investments.
City Councilman Marqueece Harris-Dawson, who represents much of the surrounding neighborhood, backed the plan. At the hearing earlier this month, he praised the activists for their passion, but said that even if no housing was built on the site, rents would continue to rise in the area. Stopping the plan, he said, would not stop gentrification.
In reaction to calls to require more affordable apartments, the councilman said that his South L.A. district already has much more subsidized housing than other parts of the city and needs homes for young people who go to college, establish careers and want to come back and live in the neighborhood where they grew up.
"This project is the biggest investment in housing that South Los Angeles has seen in several generations," Harris-Dawson said after Wednesday's vote.
In an area where business interests frequently want to invest at "a very low level," he added, "it will provide a breath of new life into the community."
The City Council also voted Wednesday to approve a massive project that is part of the transformation of the Fashion District, a downtown hub for garment shops and warehouses that is beginning to see the change that has swept through nearby neighborhoods such as South Park and the Arts District.
The City Market project, which will be built over 20 years on an old produce market site bounded by 9th, San Pedro, 12th and San Julian streets, will include a college campus, more than 900 high-rise apartments and lofts, hotel rooms, a 744-seat cinema and office space. The buildings will display digital signs and supergraphics, which the council allowed over the objections of the city Planning Commission.
Unlike the planned overhaul of Baldwin Hills Crenshaw Plaza, no one lodged an appeal challenging the new project. If the plan is fully realized, developers will provide $1 million to help remake Pershing Square and up to $7.5 million for affordable housing, including units for homeless people, transportation and street beautification projects.
One-tenth of the new units will be designated as "moderate income" housing for those with household earnings between roughly $51,000 and $77,000, according to city officials.
Times staff writer Gale Holland contributed to this report.
Twitter: @AlpertReyes
The stories shaping California
Get up to speed with our Essential California newsletter, sent six days a week.
You may occasionally receive promotional content from the Los Angeles Times.