Newsletter: Essential California: Green card in wallet, he's facing deportation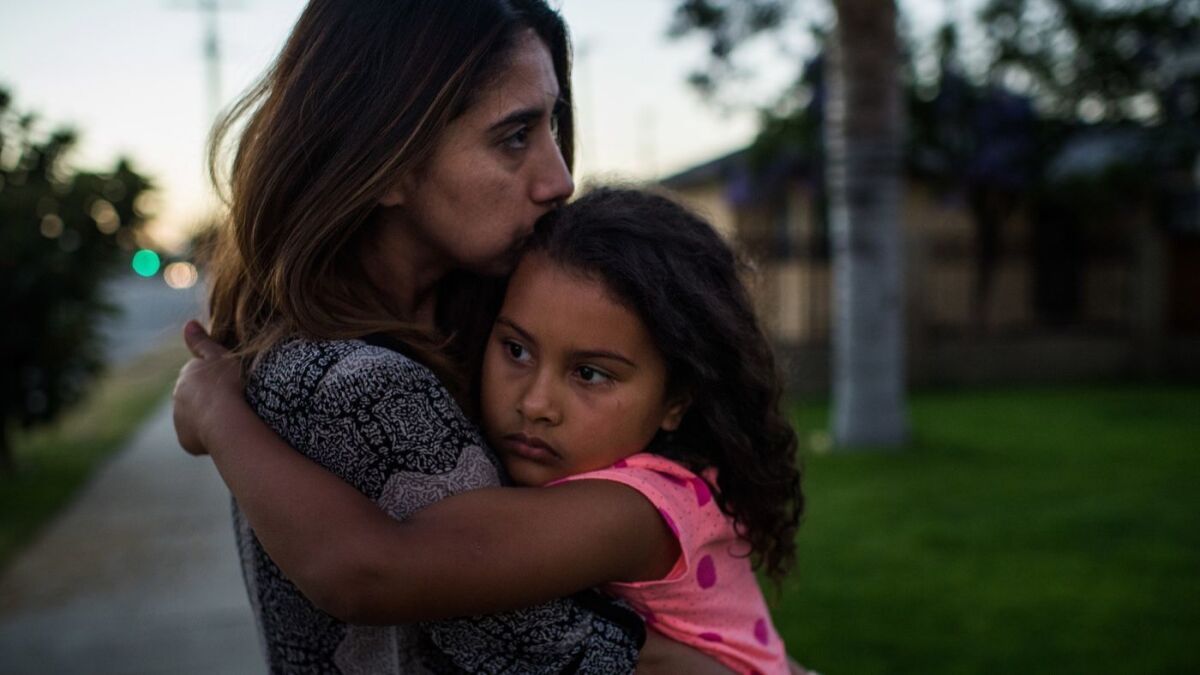 Good morning, and welcome to the Essential California newsletter. It's Friday, June 29, and here's what's happening across California:
TOP STORIES
President Trump has vowed to crack down on immigrants with criminal records, saying they should be deported to their home countries. Immigration and Customs Enforcement agents have carried out a series of sweeps in California this year, detaining hundreds of people. While there has been much emphasis on the arrest of people who don't have criminal records but are here illegally, the arrest of legal immigrants who have convictions deep in their pasts has gotten less attention. Los Angeles Times
-- The share of Americans who would like to see fewer immigrants in the country has continued to decline despite President Trump's push to restrict both legal and illegal migration, a new poll showed Thursday. Los Angeles Times
-- Despite a judge's ruling, there is a difficult road ahead for children to be reunited with parents. Los Angeles Times
-- A confusing web of agencies has been responsible for processing, splitting up and detaining families. Los Angeles Times
-- Trump's crackdown is causing major divisions within ICE. Washington Post
-- The secret doings of Stephen Miller. Politico
Train's a-coming
The East Valley is finally getting its own light rail line, down a street famous for the car. Metro's directors backed a 9.2-mile, 14-station route that would run above ground through the San Fernando Valley along Van Nuys Boulevard and San Fernando Road. The line would connect the Sylmar Metrolink station, the Van Nuys Metrolink station and the Van Nuys Orange Line station. Los Angeles Times
A heartbreaking diagnosis — twice
Their daughter was diagnosed with an aggressive brain tumor. Two weeks later, their son was too. Both have undergone surgery and face additional treatments. Doctors say they've never heard of a case like it. Los Angeles Times
Get the Essential California newsletter »
L.A. STORIES
Plan B: Less than two months after Los Angeles city leaders unveiled plans to shelter dozens of homeless people at a Vermont Avenue parking lot, City Council President Herb Wesson has agreed to examine at least one alternative site in Koreatown after a torrent of protests from residents and businesses. Los Angeles Times
In Chavez Ravine: "No one's forgotten what happened." — Former Dodgers player Yu Darvish on his return to Dodger Stadium. Los Angeles Times
Buongiorno! A section of San Pedro is now officially L.A.'s Historic Little Italy. Daily Breeze
Lede of the day: From Ben Oreskes: "The worst qualities of Los Angeles — endless traffic and shameless self-promotion — collided in exasperating fashion Wednesday on the 110 Freeway in downtown." Los Angeles Times
Sinking feeling: The Port of L.A. could be hit hard by a Trump trade war. Wall Street Journal
CRIME AND COURTS
In Long Beach: A 77-year-old man suspected of shooting and killing a Long Beach Fire Department captain during an emergency call at a high-rise senior living facility had set off an explosive device in an apparent attempt to kill a neighbor, prosecutors allege. Los Angeles Times
Hometown hero: Don't expect retiring Supreme Court Justice Anthony Kennedy to return to Sacramento. Sacramento Bee
Diamond dispute: An ugly legal dispute between a fancy La Jolla jewelry store and a professional football player. San Diego Union-Tribune
First day on the job: Michel Moore, a 36-year veteran of the Los Angeles Police Department, promised "compassion and partnership" while being sworn in as the city's police chief. Los Angeles Times
POLITICS AND GOVERNMENT
Gas tax redux: His clever campaign ploy eight years ago has come back to bite Gov. Jerry Brown as he packs to leave office while fighting to save an unpopular gas tax increase, columnist George Skelton says. Los Angeles Times
Not easy: Democrats face an uphill battle to oust Republican Rep. Dana Rohrabacher in Orange County. Los Angeles Times
Joining the club: Temecula has joined the anti-"sanctuary state" movement. Press-Enterprise
Model for others? Gov. Jerry Brown signed a sweeping new consumer privacy law on Thursday that gives Californians new authority over their personal data, a framework that backers say could be adopted throughout the country. Los Angeles Times
Hate the time change? Voters will get to weigh in on daylight saving time in November. Los Angeles Times
Roll 'em: In a major win for the movie and TV production industries, California has extended the state's film tax incentives to 2025, adding five years to the program that has helped stem the tide of runaway productions to states including Georgia, Louisiana and New York. Los Angeles Times
Drink it in: The battle in California over soda taxes. New York Times
CALIFORNIA CULTURE
Boom and bust: Is what's going on in Silicon Valley the "dark side of prosperity"? Mercury News
San Francisco treat: One of San Francisco's most stately homes is owned by the writer of the Rice-a-Roni jingle. SF Gate
Meet Hannah Gadsby: She's bringing the #MeToo fight to the raunchy world of stand-up comedy. The New Yorker
Plus: The many ways #MeToo has changed lives in Hollywood. New York Times
New again: Carpooling is old school as a form of transportation. But experts say it's an essential part of our future. Wall Street Journal
CALIFORNIA ALMANAC
Los Angeles area: Partly cloudy, 76, Friday and Saturday. San Diego: Partly cloudy, 68, Friday. Partly cloudy, 69, Saturday. San Francisco area: Cloudy, 70, Friday. Sunny, 72, Saturday. Sacramento: Sunny, 99, Friday. Sunny, 103, Saturday. More weather is here.
AND FINALLY
Today's California memory comes from William Hepner:
"I came to California with my grandparents in 1940, from Las Vegas, when I was just a small child. We lived in Inglewood, Hawthorne and Pasadena. My mother had visions of becoming a movie star and had settled in Hollywood. Later she remarried and moved to Riverside. I remember taking Route 66 to Riverside and stopping for Washington State apples and other goodies along the way, which passed by walnut and orange groves. In those days, little traffic but still a three-hour jaunt. I moved to Riverside after my grandfather's death and grew up there. I would take a ride on weekends to Newport. No 99 Freeway but a winding two-lane highway through the canyon and down tree-lined Tustin Avenue. Orange orchards and sugar beets from Santa Ana area to Costa Mesa. Those were great years. Orange County really had oranges!"
If you have a memory or story about the Golden State, share it with us. Send us an email to let us know what you love or fondly remember about our state. (Please keep your story to 100 words.)
Please let us know what we can do to make this newsletter more useful to you. Send comments, complaints and ideas to Benjamin Oreskes and Shelby Grad. Also follow them on Twitter @boreskes and @shelbygrad.