Newsletter: Essential California: How a mysterious notebook is the key to seeking asylum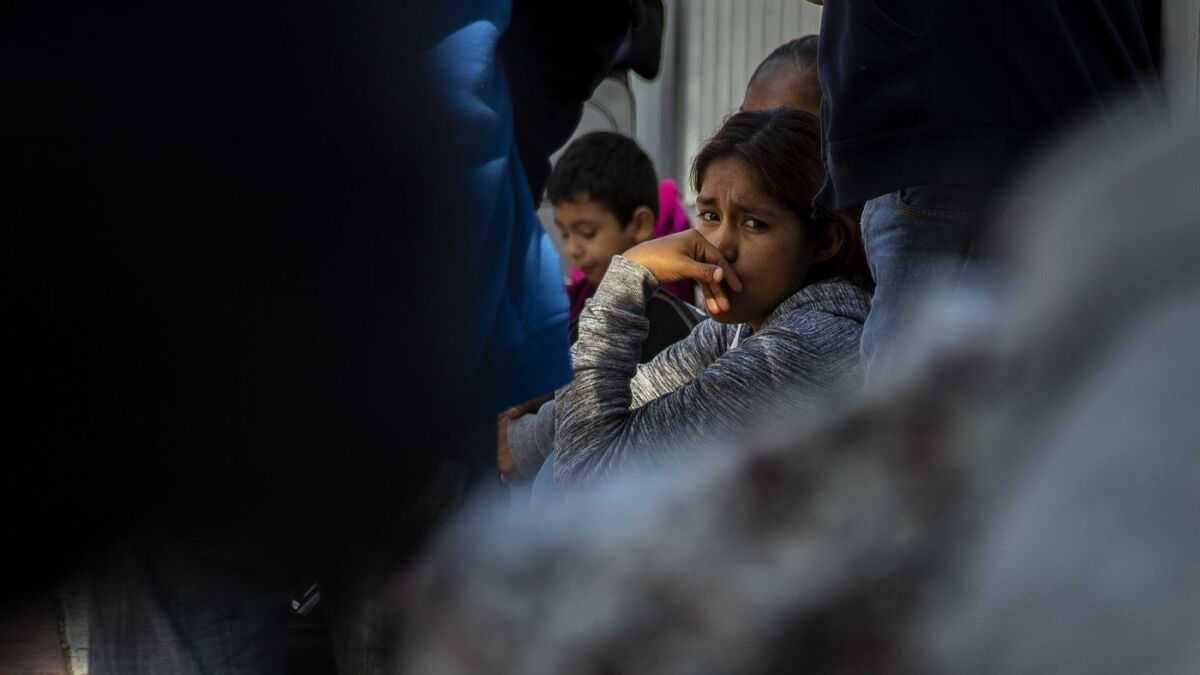 Good morning, and welcome to the Essential California newsletter. It's Friday, July 6, and here's what's happening across California:
TOP STORIES
Nearly 2,000 people seeking asylum in the United States have put their name in a notebook. Its origins are unclear, but it was created after U.S. border officials began to limit the number of asylum seekers allowed to enter the San Ysidro Port of Entry. The notebook became a way for the immigrants to keep track of who is next in line. The book's guardian — always an asylum seeker — scrawls each person's name and country of origin in blue ink. But the book has also become fraught with both symbolism and anger. Los Angeles Times
— A federal judge refused Thursday to block California from restricting local law enforcement cooperation with immigration agents, an early legal victory for the state's "sanctuary" law. It's largely a first-round victory for California in its battle with Trump, but a battle that is likely far from over. Los Angeles Times
— The Trump administration admits that it's holding hundreds more children separated from their parents after being apprehended at the border than officials have previously estimated. Roughly 100 are under the age of 5. None have yet been reunited with their parents. Los Angeles Times
The net neutrality compromise
California Democratic legislators ended a dispute over a proposed net neutrality bill Thursday, agreeing on a measure that would bar internet service providers from blocking, speeding up or slowing down websites and video, as well as charging websites fees for fast lanes. It's another California vs. Trump moment, meant to address a June 11 decision by the Federal Communications Commission to repeal net neutrality rules approved during the Obama administration. Los Angeles Times
Get the Essential California newsletter »
L.A. STORIES
It's too hot: A dangerous heat wave is expected to hit Southern California this weekend, with the warmest temperatures forecast for Friday and Saturday. Los Angeles Times
Those scooters: Broken shoulders, head injuries, concussions, bloody knees. The app-controlled electric scooter business is, essentially, an enterprise built on controlled chaos. Riders disregard the rules, ditch the things all over sidewalks and roadways. People are getting hurt. Very, very hurt. Los Angeles Times
In Lawndale: He is a member of a violent white supremacist group — and has security clearance from Northrop Grumman in Southern California. ProPublica
Coolest ice in town: Executives from Staples Center and the Los Angeles Kings were willing to hear a start-up's pitch about slicing energy costs and improving the quality of the arena's ice sheet, which has never enjoyed a great reputation among professional hockey players. But when they heard they could do all that and more using a machine that pulls water straight from the air, their first reaction was to laugh out loud. Los Angeles Times
Fit for the King: OK, now the real question: Where should LeBron James eat? L.A. Taco
CRIME AND COURTS
Deadly gunfire: Three people were killed and three others injured in a shooting at a Fourth of July house party in Westlake. Los Angeles Times
In Oakland: The fight over Jahi McMath continues, even after her death. San Francisco Chronicle
POLITICS AND GOVERNMENT
Taxed too much? Are the rich really fleeing California? Sacramento Bee
Church or dispensary? Newport Beach officials are asking an Orange County Superior Court judge to block an operation that identifies itself as a church but that the city says is a marijuana dispensary violating local law. San Diego Union-Tribune
Life and death: The wrenching decisions behind California' new right-to-die law. Orange County Register
Don't delay: Sacramento, with its relatively affordable housing prices, has become a mecca for millennials and others who can't afford the Bay Area. But the bargains might not last much longer. SF Gate
CALIFORNIA CULTURE
And there's a backlash: As China's movie business booms, there are concerns about "Hollywoodification:" Studios are chasing after A-list stars with eye-popping salaries to lure idol-struck audiences. Los Angeles Times
Photo-friendly: From Los Angeles to New York, pop-up museums are generating big crowds and even some money. Operators say they are perfect for the Instagram age. Wall Street Journal
On her own terms: Being transgender, but also being one of music's hottest producers. New York Times
Turn that frown: Sarah Silverman on transforming her hatred of Trump into love. LAist
Sing it! The "ghost singer to the stars" is still going strong. Daily Breeze
CALIFORNIA ALMANAC
Los Angeles area: sunny, 104, Friday; sunny, 98, Saturday. San Diego: sunny, 95, Friday; sunny, 83, Saturday. San Francisco area: partly cloudy, 73, Friday; partly cloudy, 68, Saturday. Sacramento: cloudy, 91, Friday; sunny, 96, Saturday. More weather is here.
AND FINALLY
Today's California memory comes from Art Urrutia:
"What I remember about Los Angeles and California overall is the beautiful gardens on the freeways so nicely kept back in the '70s. It's a shame the condition in which they are now."
If you have a memory or story about the Golden State, share it with us. Send us an email to let us know what you love or fondly remember about our state. (Please keep your story to 100 words.)
Please let us know what we can do to make this newsletter more useful to you. Send comments, complaints and ideas to Benjamin Oreskes and Shelby Grad. Also follow them on Twitter @boreskes and @shelbygrad.
---