Newsletter: Essential California: Why the UC system is lowering tuition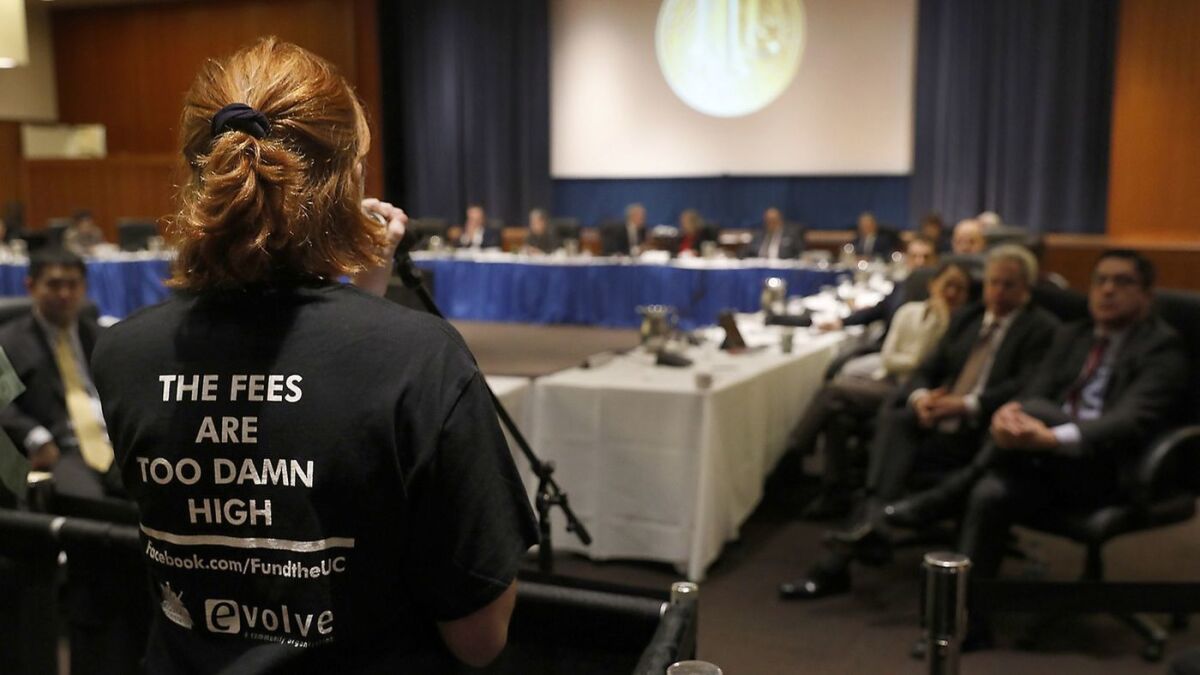 Good morning, and welcome to the Essential California newsletter. It's Friday, July 20, and here's what's happening across California:
TOP STORIES
University of California regents on Thursday approved the first cut in tuition in nearly two decades and decided again to take on the dicey issue of how many nonresident students should be enrolled. Regents approved a $60 decrease in tuition — the result of eliminating a surcharge added in 2007 to pay for legal bills. The action lowered base tuition and fees to $12,570 annually. But deciding how many out-of-state students to allow could get ugly. Los Angeles Times
— Berkeley, UCLA and UC San Diego get the headlines. But when it comes to demographics, the future of the UC system might actually be in Merced. New York Times
An experiment to house the homeless
Public money alone won't come close to solving L.A.'s housing crisis. Can private developers come to the rescue? A new development in South L.A. might answer that question. Its backers, led by a family-owned Westside real estate investment company, hope to replicate it to produce thousands of units financed entirely by people willing to accept a modest return on money invested in a socially beneficial purpose.Los Angeles Times
— On Thursday, the Los Angeles Homeless Services Authority unveiled the Homeless Outreach Portal. At last, there will be one place for every call for help to go and one system to get it into the right hands. It's not a telephone number, but an internet address. Los Angeles Times
— San Francisco might tax companies to help the homeless. CNBC
Good news, bad news
Premiums in California's health insurance exchange will rise by an average of 8.7% next year, marking a return to more modest increases despite ongoing threats to the Affordable Care Act. The average increase in California is smaller than the double-digit hikes expected around the nation, due largely to a healthier mix of enrollees and more competition in its marketplace. Still, health insurance prices keep growing faster than wages and general inflation as a result of rising medical costs overall, squeezing many middle-class families who are struggling to pay their household bills. Los Angeles Times
Get the Essential California newsletter »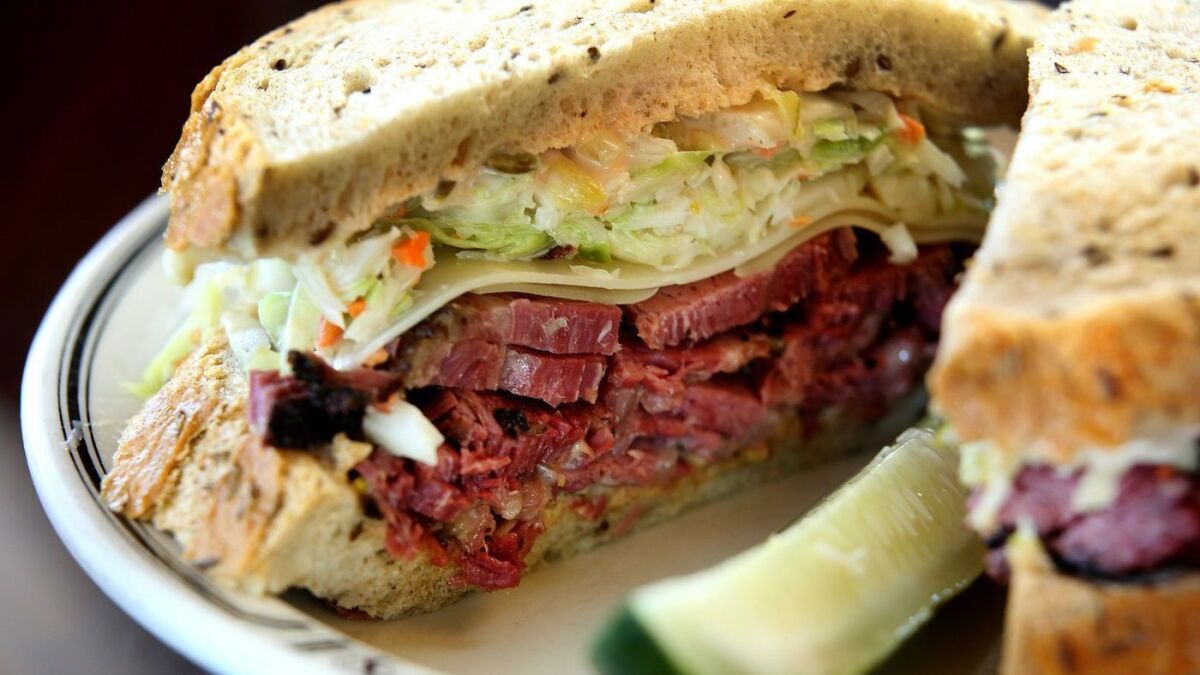 L.A. STORIES
Delish: While deli culture in Los Angeles isn't as robust as in New York City, if you grew up in this city chances are you can trace at least one significant life moment to the Saran-wrap-laden counters of a Jewish deli. Is it a style of food and dining that's fading away into an abyss of small-plates restaurants? Here is a guide to L.A.'s best delis. Los Angeles Times
Retrospective: For a century, professional baseball players were regarded as entertainers: See ball, hit ball, play in whatever city you are assigned, for whatever salary you are assigned, and keep your mouth shut. In 1968, as Americans rose to let their voices be heard, so did the ostensibly privileged subset of baseball players. The Dodgers were no exception. Los Angeles Times
Dude! Meet the surfers who changed Malibu forever. Curbed Los Angeles
L.O.L.? No: The mystery over who is counterfeiting America's most popular doll. An L.A. firm wants to know. Los Angeles Times
CRIME AND COURTS
GSK update: Sacramento County's district attorney risks fumbling the prosecution of the suspected Golden State Killer if she lets the case become consolidated with other homicides in Orange County, a former prosecutor in the Orange County office said in a letter this week. Los Angeles Times
Calls for a probe: There's more pressure on officials to investigate a San Bernardino prosecutor accused of racism and bigotry. San Bernardino Sun
Background checks: The alleged "Rideshare Rapist" is generating deep concerns in the Bay Area. Some say it exposes flaws at Lyft. San Francisco Chronicle
Information needed: A bigger reward is being offered as the mystery over the shooting of a father at Malibu Creek State Park deepens. ABC 7
POLITICS AND GOVERNMENT
Follow the $$$$: California's political watchdog panel deadlocked Thursday over allowing legislative leaders to accept much larger campaign contributions, after several open-government groups said the proposal raises "important concerns" about increasing the influence of special interests. Los Angeles Times
They didn't show: A group of far-right protesters who planned to demonstrate outside Rep. Maxine Waters' district office in South Los Angeles on Thursday afternoon failed to show up, but dozens of counterprotesters did. Los Angeles Times
Mum's the word: Republican gubernatorial candidate John Cox is not that interested in talking about Gov. Jerry Brown's top issue, climate change. East Bay Times
THE ENVIRONMENT
Dangerous blaze: Just days after the death of a Cal Fire bulldozer operator, two firefighters have been injured while battling the Ferguson fire near Yosemite National Park. Los Angeles Times
CALIFORNIA CULTURE
Disney wins out: The high-stakes drama over who would capture much of Rupert Murdoch's media empire came to a close after Comcast Corp. said it was dropping out of the hunt for 21st Century Fox's entertainment assets. The Walt Disney Co. will snap them up for $71 billion. Los Angeles Times
— Many top Fox executives are moving to Disney. Los Angeles Times
What fans want: "Justice League" was a big-budget flop. Now fans are demanding that Warner Bros. remake it with the original director's cut. Wall Street Journal
Being squashed: Disneyland's A Bug's Land, the area in the theme park featuring characters from the 1998 Pixar movie, "A Bug's Life," will officially close Sept. 4 to make way for a new land starring superheroes from Marvel comic books and movies, which is set to open in 2020. Los Angeles Times
Plus: Why Downtown Disney has some vacant storefronts. Orange County Register
Our old home: A bid to gain protected status for three Los Angeles Times buildings moved forward Thursday when the Cultural Heritage Commission agreed to consider an application to make them historic-cultural monuments. Los Angeles Times
New era: At Comic-Con International, there is a lot of buzz about the first female Dr. Who. Los Angeles Times
— And fans in San Diego are ready. San Diego Union-Tribune
Ja oder nein? A $15 trip from Sacramento to Los Angeles? A German bus company says they have a deal for you. Sacramento Bee
Ponder this: What if the Donner Party took the subway to Manhattan instead of climbing into California? The New Yorker
CALIFORNIA ALMANAC
Los Angeles area: sunny, 83, Friday; mostly sunny, 81, Saturday. San Diego: partly cloudy, 76, Friday; partly cloudy, 77, Saturday. San Francisco area: mostly sunny, 70, Friday and Saturday. Sacramento: mostly sunny, 93, Friday; mostly sunny, 94, Saturday. More weather is here.
AND FINALLY
Today's California memory comes from Bob Snider:
"I was 21 in 1974, driving my Beetle from North Dakota en route to a new chapter of life in Los Angeles. But when I got there, I had little money and no place to stay. On Washington Boulevard in Culver City, I stumbled upon a cheap motel whose married managers weren't much older than I was. I must have looked lost, because they urged me to chant. 'Nam myoho renge kyo,' they instructed, repeating it over and over. I realize now that they were practicing Nichiren Buddhism. But then, I knew only that I had truly arrived in California."
If you have a memory or story about the Golden State, share it with us. Send us an email to let us know what you love or fondly remember about our state. (Please keep your story to 100 words.)
Please let us know what we can do to make this newsletter more useful to you. Send comments, complaints and ideas to Benjamin Oreskes and Shelby Grad. Also follow them on Twitter @boreskes and @shelbygrad.
---