Newsletter: Essential California: UCLA getting that $$$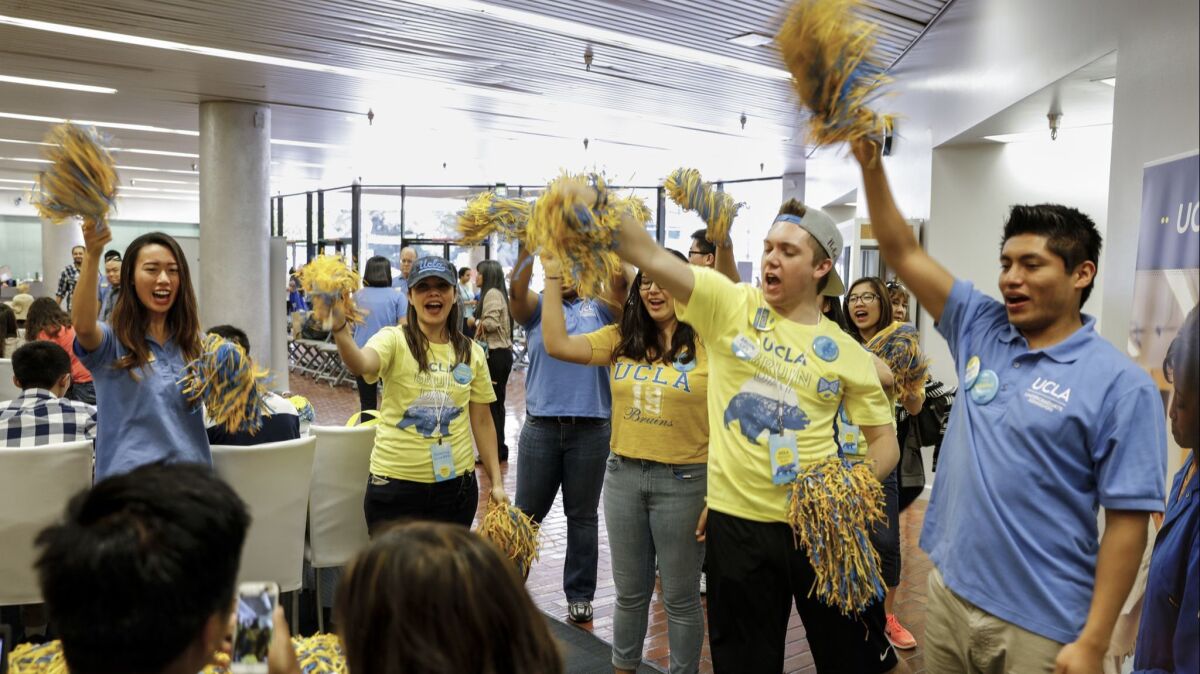 Good morning, and welcome to the Essential California newsletter. It's Thursday, July 26, and here's what's happening across California:
TOP STORIES
UCLA has surpassed its $4.2-billion fundraising goal 18 months ahead of schedule, marking one of the nation's most successful efforts by a public university to woo philanthropic dollars, campus officials announced Wednesday. The Westwood campus will continue to raise money, potentially breaking $5 billion by the time it completes the campaign it launched in 2012 to commemorate UCLA's 100th anniversary next year. Los Angeles Times
Fast-moving fire
Riverside County sheriff's deputies ordered hundreds of homes to evacuate in the mountain communities of Idyllwild, Apple Canyon, Lake Hemet, Mountain Center and Hurkey Creek while firefighters mounted an aggressive attack on the Cranston fire. Authorities said an arsonist set multiple fires Wednesday in southwest Riverside County, including this one. Los Angeles Times
And: Yosemite Valley and other parts of the iconic national park were shut down at least through the weekend as the Ferguson fire continued to rage. Los Angeles Times
The future of stand-up
Netflix is transforming stand-up comedy and making it integral to its future. The company, expected to spend $12 billion this year on overall original content, has streamed scores of stand-up specials, including comedians who speak Italian, Spanish, Portuguese and German. The strategy is to tap emerging comics and headliners, such as Bill Burr and Dave Chappelle, and push its brand to distant capitals. Los Angeles Times
Get the Essential California newsletter »
L.A. STORIES
Trumped: A man who took a pickax to President Trump's star on the Hollywood Walk of Fame early Wednesday turned himself over to police and was booked on suspicion of felony vandalism. Los Angeles Times
Bridge builder: Jonathan Gold's brother remembers his legacy in crossing cultural divides and saving the sharks. Los Angeles Times
Plus: How Gold helped a food-obsessed teen transform into a food-obsessed writer. L.A. Taco
Charter problems: As fiscal problems mount, the Celerity charter network is closing one of its schools in northeast L.A. Los Angeles Times
Goop! "The big business of being Gwyneth Paltrow." New York Times Magazine
IMMIGRATION AND THE BORDER
Family separations: Under an order issued by U.S. District Judge Dana Sabraw in San Diego, Thursday is supposed to be the deadline for reuniting the more than 2,500 children who were taken from parents apprehended while crossing the border. Government lawyers have conceded they will fail to reunite all the families by that deadline. Los Angeles Times
Tragic: "The director of a Mexican news website has been shot dead in the beach resort of Playa del Carmen, the second employee of the publication to have been killed in less than a month." The Guardian
POLITICS AND GOVERNMENT
Bye-bye, birdy: The Beverly Hills City Council banned the use of motorized scooters in the city for six months, citing public safety concerns as the two-wheelers have become more popular. Los Angeles Times
Away from Washington: "The Trump administration on Tuesday announced up to $12 billion in assistance for American farmers hurt by rising foreign tariffs, but it remains unclear how much of it will benefit California's largest agricultural exports, which include several kinds of tree nuts, wine, table grapes and dairy products." Sacramento Bee
Who pays? In Sacramento, lawmakers weighed a series of difficult options to revamp laws designed to lessen the likelihood of catastrophic wildfires, and considered the thorny question of who should foot the bill for blazes sparked by equipment belonging to the state's investor-owned utility companies. Los Angeles Times
CRIME AND COURTS
Rich! After months of demanding transparency from President Trump on his alleged affair with porn star Stormy Daniels, Michael Avenatti convinced a federal judge on Wednesday to block the news media from covering his testimony about his law firm's bankruptcy. Los Angeles Times
Remember this case? A lawyer for former Stanford University swimmer Brock Turner argued that his client's attempted rape conviction should be overturned. Turner never intended to rape an unconscious woman, he said. Los Angeles Times
More on the Golden State Killer: Orange County prosecutors agreed Wednesday to review a decades-old murder investigation after an attorney said she detected similarities to attacks by a notorious California serial killer. Associated Press
THE ENVIRONMENT
Sad: A mountain lion who won fame after he was photographed peering through the sliding glass door of a Westlake Village home has been found dead in the Santa Monica Mountains, the National Park Service announced Wednesday. Los Angeles Times
CALIFORNIA CULTURE
Jealous: A San Jose liquor store has sold the only winning Mega Millions ticket for a $522-million jackpot. Los Angeles Times
"Saving Private Ryan" at 20: How Steven Spielberg's vivid D-Day story changed war movies. Los Angeles Times
A reckoning at Facebook: In a brutally honest note about his departure, Facebook's Chief Security Officer Alex Stamos calls on his colleagues 'to intentionally not collect data where possible' and listen to people when they say a feature is 'creepy.' " Buzzfeed
Yum: "The Philippines and Mexico are thousands of miles apart. But in Chula Vista, both cultures live side-by-side." San Diego Union-Tribune
CALIFORNIA ALMANAC
Los Angeles area: Sunny, 90, Thursday and Friday. San Diego: Partly cloudy, 79, Thursday. Sunny, 81, Friday. San Francisco area: Cloudy, 67, Thursday. Sunny, 67, Friday. San Jose: Sunny, 85, Thursday and Friday. Sacramento: Sunny, 106, Thursday. Sunny, 102, Friday. More weather is here.
AND FINALLY
Today's California memory comes from James Lupo:
"For work, I would often travel between Ventura and LAX. To admire the beauty of the state, the only rational option would be to cruise down the PCH through Malibu. A spectacle enough as the PCH is, one particular moment stands out in my mind — the sun was setting, a full moon was rising, and Herb Albert's 'Rise' had just come on the radio. It was one of those picturesque moments that felt like Sergio Leone was directing my life."
If you have a memory or story about the Golden State, share it with us. Send us an email to let us know what you love or fondly remember about our state. (Please keep your story to 100 words.)
Please let us know what we can do to make this newsletter more useful to you. Send comments, complaints and ideas to Benjamin Oreskes and Shelby Grad. Also follow them on Twitter @boreskes and @shelbygrad.
---