Newsletter: Essential California: Money to help the mentally ill is left unspent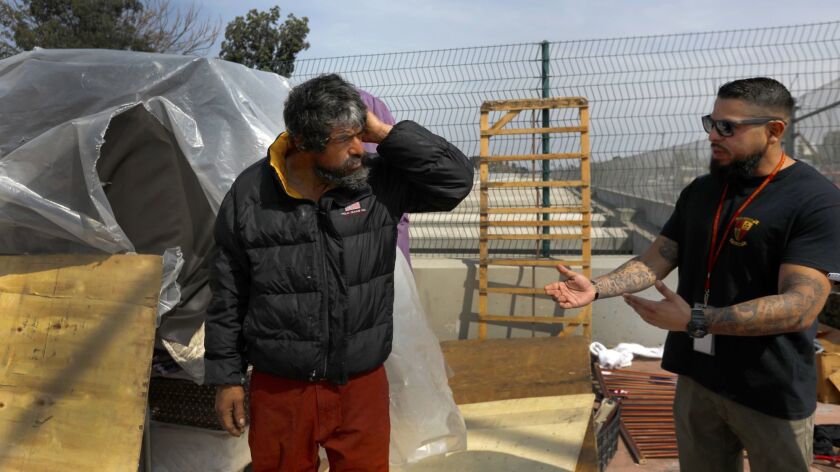 Good morning, and welcome to the Essential California newsletter. It's Monday, Aug. 20, and here's what's happening across California:
TOP STORIES
When California voters passed a tax on high-income residents in 2004, backers said it would make good on the state's "failed promise" to help counties pay for the treatment of the mentally ill. After nearly 15 years, Proposition 63 has steered billions of dollars to the counties across the state. But huge sums remain unspent at a time when mental illness has become an epidemic among the homeless population. The Times found more nearly $1 billion in unspent funds in L.A. County alone. Los Angeles Times
-- NBC devotes an episode of "Dateline" to the L.A. homeless crisis. It hits home for the reporter. NBC News
-- Do the savage inequalities of Los Angeles make you care less? The Guardian
--Trump's homelessness czar visits the filthy streets of San Francisco. San Francisco Chronicle
Fire fallout
California lawmakers have scuttled their high-stakes effort to craft a new liability standard for electric utility companies in the aftermath of a wildfire. Pacific Gas & Electric Co., whose equipment has been blamed for starting several of the deadly blazes in Northern California last year, has warned it faces bankruptcy in the face of what could be $2.5 billion or more in damage awards. Los Angeles Times
-- Meanwhile, San Diego Gas & Electric is not giving up its fight to pass on to ratepayers $379 million in costs related to the deadly wildfires that scorched the San Diego area 11 years ago. Los Angeles Times
-- She lost her housing in a Redding fire but suffers from memory loss. So her son must tell her over and over again. Record Searchlight
#Basta?
Newport Beach attorney Michael Avenatti, who soared to fame as legal counsel for porn star Stormy Daniels and, not incidentally, a ubiquitous tormentor of President Trump, brought his possible White House campaign to the early primary state of New Hampshire in a tableau that seemed to perfectly capture these surreal political times. Los Angeles Times
Get the Essential California newsletter »
L.A. STORIES
Pensions and secrecy: Who will drain the swamp in Los Angeles? A string of scandals has columnist Steve Lopez demanding leadership. Los Angeles Times
Historic landmark? The debate over whether to preserve a former Silver Lake Texaco service station is the latest and starkest example of the competing pressures to save the past and build for the future in Los Angeles. Los Angeles Times
Feeling disenfranchised: 7-Eleven is facing internal struggles following an unpopular new agreement that has led some Southern California franchisees to sell their stores. Los Angeles Times
Golden arches: Big Mac memories as fans flock to the original Downey McDonald's for its 65th anniversary. Press-Enterprise
CRIME AND COURTS
In custody: An immigrant in the U.S. illegally who was detained by federal immigration officers in San Bernardino this week while he was driving his pregnant wife to the hospital had an outstanding warrant for his arrest in Mexico on homicide charges. Los Angeles Times
POLITICS AND GOVERNMENT
Shifting stance: Gavin Newsom supported higher bail before he opposed it. He criticized universal healthcare before he embraced it. Those are just two examples of how the Democrat has shifted on major issues from when he was a San Francisco politician to now as a candidate for governor. Los Angeles Times
One "solution": A retired San Jose Mercury News reporter can't afford the Bay Area's soaring rents. So she's going to live out of a van. Mercury News
Education matters: A little-noticed school funding battle with high stakes. Los Angeles Times
Special relationship: California's history of bipartisan politics and the lessons it might offer in today's divisive times. New York Times
THE ENVIRONMENT
Coalition building: Why San Francisco and Central Valley farmers have become strange bedfellows in California's water fight. Sacramento Bee
New map: Newport Beach has persuaded the Federal Emergency Management Agency to exclude about 2,700 properties in the coastal part of the city from updated flood maps. Los Angeles Times
CALIFORNIA CULTURE
Rocket man: The amazing story about of the people who made Mojave the space exploration capital — and the fight to enter the space even in the wake of unspeakable tragedy. The New Yorker
Trying to help: This Oakland hospital does something very rare: Treat opioid addiction on demand. New York Times
Powerful: Hall of Fame jockey Victor Espinoza was one of horse racing's legends. Then his body was broken by one fateful fall. Now, he's holding on for dear life. Los Angeles Times
Open again: California 1, the nation's premiere scenic highway, closed for nearly two years because of fire, floods and mudslides, can be terrifying as well as stunning, with windswept Monterey cypress trees, brilliant sunsets, giant redwoods and crashing surf. Los Angeles Times
Up next: Jon Chu might be one of the hottest directors in Hollywood with the success of "Crazy Rich Asians." But where does his career go? Los Angeles Times
Plus: "Crazy Rich Asians" dominated the box office this weekend, making history for Asian American representation and becoming the highest-opening romantic comedy in three years. Los Angeles Times
Provocative: L.A. art made for the #MeToo moment. Los Angeles Times
CALIFORNIA ALMANAC
Los Angeles area: Partly cloudy, 84, Monday. Sunny, 85, Tuesday. San Diego: Partly cloudy, 79, Monday. Sunny, 79, Tuesday. San Francisco area: Partly cloudy, 64, Monday. Partly cloudy, 66, Tuesday. San Jose: Sunny, 82, Monday. Mostly sunny, 80, Tuesday. Sacramento: Partly cloudy, 92, Monday. Partly cloudy, 84, Tuesday. More weather is here.
AND FINALLY
This week's birthdays for those who made a mark in California: Google cofounderSergey Brin (Aug. 21, 1973), former Gov. Pete Wilson (Aug. 23, 1933), retired Lakers star Kobe Bryant (Aug. 23, 1978), KISS singer Gene Simmons (Aug. 25, 1949), director Tim Burton (Aug. 25, 1958), Rep. Raul Ruiz (Aug. 25, 1972) and actress Blake Lively (Aug. 25, 1987).
If you have a memory or story about the Golden State, share it with us. Send us an email to let us know what you love or fondly remember about our state. (Please keep your story to 100 words.)
Please let us know what we can do to make this newsletter more useful to you. Send comments, complaints and ideas to Benjamin Oreskes and Shelby Grad. Also follow them on Twitter @boreskes and @shelbygrad.
---