Newsletter: Essential California: Not much left in the wildfire piggy bank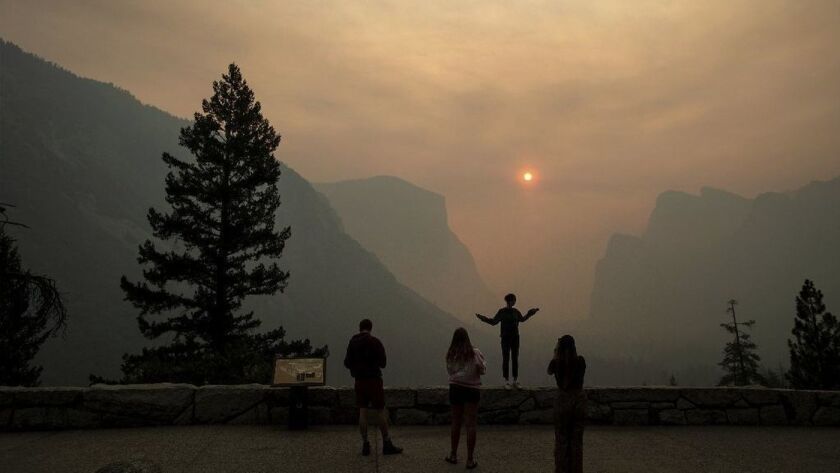 Good morning, and welcome to the Essential California newsletter. It is Saturday, Aug. 25. Here's what you don't want to miss this weekend:
TOP STORIES
This summer's relentless California wildfires have claimed at least a dozen lives and destroyed more than 1,200 homes. But along with the loss of life and property, the blazes have also taken a tremendous toll on taxpayers and the state's huge tourism industry. In less than two months, California has nearly wiped out the emergency wildfire funds set aside for the entire fiscal year, spending about $405 million of the nearly $443 million allocated. Los Angeles Times
Plus: A bipartisan duo of California lawmakers wants to spend climate-change cash on thinning out fire-prone trees and brush. Los Angeles Times
What to do about our taxes?
The Trump administration has delivered another blow to California. The Internal Revenue Service and Treasury Department on Thursday moved to block efforts by lawmakers in California and other Democratic-controlled states to help their residents avoid a new limit on state and local tax deductions. The proposed rule, which is likely to face legal challenges, targets legislation in those states that would allow taxpayers to claim a charitable deduction for state and local tax payments above the $10,000 limit set in the tax cuts passed by Congress last year. Los Angeles Times
A shuttered charter school with a whole lot of problems
Founded in 2001, Guidance Charter School in Palmdale seemed as if it was on stable footing when it issued more than $29.5 million in bonds to construct a brand-new campus last year. The Palmdale School District's board of trustees, which first authorized Guidance 17 years ago, voted in January to close the school, citing concerns about poor academic performance and questionable financial operations. Even though it's been forced to shut down, it's still on the hook for the debt. Los Angeles Times
AROUND CALIFORNIA
Impact! Los Angeles Mayor Eric Garcetti on Friday announced proposed reforms to the city's controversial retirement program that pays veteran police officers and firefighters their salaries and pensions simultaneously for the last five years of their careers. Los Angeles Times
Fiery crash: The 105 Freeway in Hawthorne was closed for hours after a tanker truck collided with another vehicle, triggering an explosion and fire that shut down the freeway in both directions and closed the Metro Green Line. Two people were killed, according to the Los Angeles Fire Department. Los Angeles Times
Plus: Meet the man who started selling burritos from his taco truck on the clogged-up 105. L.A. Taco
Classy: Indicted Rep. Duncan Hunter: My wife handled my finances. CNN
Turning off the spigot: "The FBI has dramatically slowed the pace of security reviews for refugees in recent months, which former Trump administration officials and human rights advocates say is part of an intentional bid by White House hardliners to restrict the number of refugees allowed in the U.S." NBC News
See you in court: A Bel-Air synagogue is suing the city and county of Los Angeles over last year's Skirball fire, saying they failed to clear the homeless encampment where the blaze started, according to court records. Los Angeles Times
Sad and scary: Three people were killed and one was seriously injured Thursday in a fiery wrong-way crash that halted traffic on northbound Interstate 805 near Sorrento Valley in San Diego County, authorities said. Los Angeles Times
More water wars: "The Trump administration is trying a bold new tactic to bring more water to Central Valley farmers — one that could come at the expense of millions of urban Southern Californians." Sacramento Bee
Weighing in: L.A. Unified faces a rocky financial future no matter what happens with its contract talks, writes the Times Editorial Board. Los Angeles Times
Great story: Located in the heart of San Ysidro, the white stucco church that once housed Nuestra Señora de Monte Carmelo — Our Lady of Mount Carmel — stands as a symbol of the border town's rich history and culture. Los Angeles TImes
The gentrification story: As South of Market burgeons, will the boom leave some behind? San Francisco Chronicle
Sweet deal if you can get it: "California might bail out controversial desert hydropower plant that can't get a contract." Desert Sun
Get the Essential California newsletter »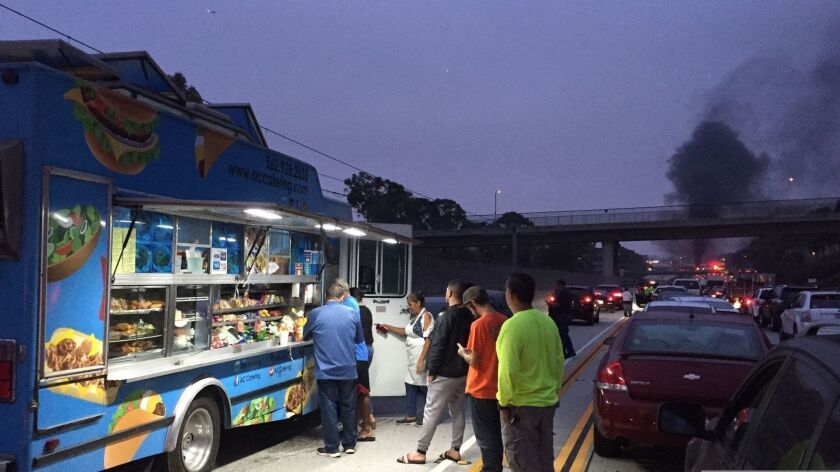 THIS WEEK'S MOST POPULAR STORIES IN ESSENTIAL CALIFORNIA
1. "Half of the top 10 U.S. colleges are in the same state — and four are public schools." Money
2. A Malibu mystery: A string of shootings, a scientist killed and questions detectives can't answer. Los Angeles Times
3. "Kimberly Guilfoyle was once half of a liberal power couple. Now she's basically a Trump." Washington Post
4. "U.S. homeless czar visits S.F., says he's 'impressed' with city's efforts." San Francisco Chronicle
5. Lavish meals, pet airfare, Italy trip: Rep. Duncan Hunter and his wife are accused of misspending $250,000 in campaign funds. Los Angeles Times
ICYMI, HERE ARE THIS WEEK'S GREAT READS
Bernstein at 100: "Please don't kid yourself that you will be able to escape the sweaty reach of Leonard Bernstein this weekend," writes Times classical music critic Mark Swed. "Had he not smoked like a chimney and drank like a fish, not abused his body with uppers and downers, not been a tortured insomniac or tormented spiritual thinker, not been driven and guilt-ridden to distraction, Bernstein might have lived to celebrate his 100th birthday on Saturday." Los Angeles Times
Eeesh: "It took just 80 minutes after racially incendiary emails started flying for the Claremont Institute, a conservative think tank, to shut down an email Listserv connecting hundreds of high-profile conservatives. The emails that sparked the controversy began ricocheting midday Tuesday, in response to a plea from Darren Beattie, a recently fired speechwriter for President Donald Trump, for 'those on this list with media influence' to come to his defense. The White House over the weekend dismissed Beattie after CNN revealed that he had spoken at a conference alongside a racial provocateur." Politico
Hundreds dead, no one charged: The uphill battle against Los Angeles police killings. The Guardian
Important story: Backed by agrochemical companies, the current administration and Congress are moving to curb the role of human health studies in regulation. New York Times
Sign me up: This 140-year-old California weekly newspaper rents out its building on Airbnb. Poynter
Please let us know what we can do to make this newsletter more useful to you. Send comments, complaints and ideas to Benjamin Oreskes and Shelby Grad. Also follow them on Twitter @boreskes and @shelbygrad.
---