Newsletter: Essential California: Christine Blasey Ford's colleagues describe her as honest and rigorous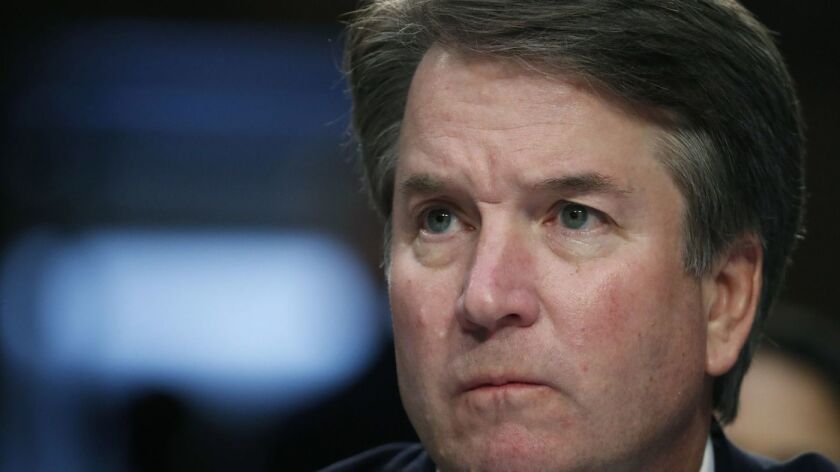 Good morning, and welcome to the Essential California newsletter. It's Thursday, Sept. 20, and here's what's happening across California:
TOP STORIES
Christine Blasey Ford, the Northern California psychology professor who has accused Supreme Court nominee Brett Kavanaugh of sexual assault when they were both teenagers, is described by colleagues as a rigorous statistician who doesn't fudge the data or stray from the facts. One psychiatrist who has collaborated with her on four academic papers told The Times that Ford is "a woman of great integrity"; another who has known her for more than 10 years described her as calm, measured and scrupulously honest. Los Angeles Times
— President Trump said Wednesday that it's "very hard for me to imagine anything happened" between Kavanaugh and Ford. Republicans in the Senate have unified around the idea that his accuser should testify — publicly or privately — by Monday. It's a big political gamble. Los Angeles Times
— Sen. Dianne Feinstein is under fire for her handling of the sexual assault allegations against Kavanaugh. Los Angeles Times
— Friends say Ford struggled with the decision to come forward. Associated Press
More on Feinstein
Back in 1994, Feinstein's election came down to charges that she was soft on immigration because she refused to back Prop. 187. Now, as she faces a challenge from the left, her opponent in the November election, state Sen. Kevin de León, is saying she's too hard on immigration. How receptive will voters be in the age of Trump? Los Angeles Times
Where the train will go
The California bullet train would cut through Sun Valley, San Fernando, Santa Clarita and Aqua Dulce, the state rail authority proposed Wednesday, as it laid out its plans for the complicated route from Burbank to Palmdale — one of its most controversial and costly segments. Compared with alternatives, the route would be the easiest to build and cause the least harm, rail authority officials said, but it is likely to face intense opposition from communities and institutions along the way. Los Angeles Times
Plus: The passenger rail project between Southern California and Las Vegas has a new backer. Los Angeles Times
Get the Essential California newsletter »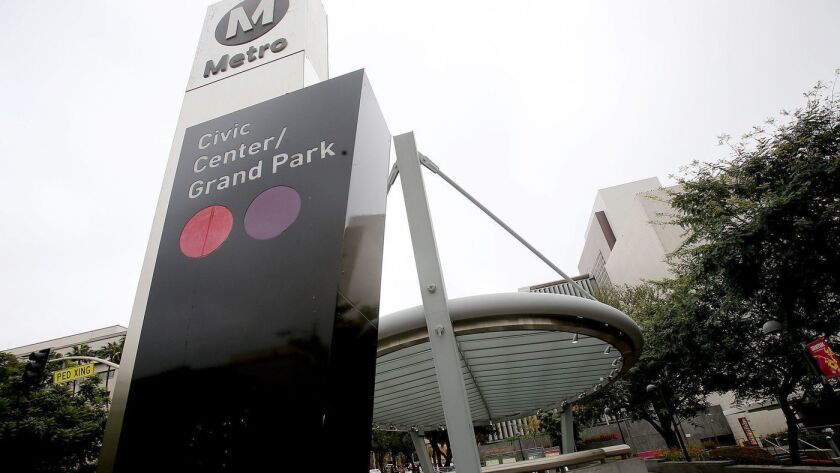 L.A. STORIES
Puig problems: For the Dodgers' Yasiel Puig, a home-run streak is being overshadowed by record run of burglaries at his home. Los Angeles Times
Big, if true! Take the No. 5 train to Santa Monica? The L.A. Metro may rename its rail lines. Los Angeles Times
Take a tour: "Inglewood's multibillion-dollar football stadium is taking shape. We got a look inside." LAist
IMMIGRATION AND THE BORDER
Back at home: Eight years after immigration officials detained Fabian Rebolledo in his Baldwin Park home and deported him to Tijuana, the U.S. Army veteran has returned home. Los Angeles Times
POLITICS AND GOVERNMENT
The rent-control conundrum: Want real rent control? Columnist Gustavo Arellano argues that we should make landlords live alongside their tenants. Los Angeles Times
Midterm madness: Rep. Steve Knight has been falsely claiming that he hasn't taken NRA money recently. Mother Jones
Plus: Meet the Democrats poised to torment Trump. Politico
Fighting fake news: Inside Facebook's election "war room." New York Times
CRIME AND COURTS
Scary stuff: More women have come forward with allegations that they were sexually assaulted by an Orange County surgeon who is facing charges along with his girlfriend for allegedly drugging and raping two other women, law enforcement sources said Wednesday. Los Angeles Times
Peace: L.A. Police Commissioner Matt Johnson, who spearheaded key LAPD reforms, is stepping down. Los Angeles Times
The Drug Llama: A San Diego woman known to her dark-web customers as the "Drug Llama" has been arrested on charges of shipping more than 50,000 fentanyl pills throughout the country, authorities said Tuesday. San Diego Union Tribune
THE ENVIRONMENT
"Humbled to ask for help:" Low-income communities are struggling to recover after a wildfire. NPR
CALIFORNIA CULTURE
Dodger blue: The Dodgers' Clayton Kershaw no longer has supreme skills, but the heart and desire are intact, columnist Dylan Hernandez argues. Los Angeles Times
Yum: This Saturday, Angelenos who have long been waiting for pastry chef Christina Tosi to open her dessert shop Milk Bar will finally get their sugar fix. Los Angeles Times
Very cool: "A garage in California is outfitting vintage cars with state-of-the-art tech, swapping old electronics with Tesla batteries and electric engines." CNN
What to do about those RVs: A small southeast San Francisco street is becoming a battleground on the issue of overnight RV parking. San Francisco Chronicle
Exciting! LeBron James of the Lakers is teaming with Ryan Coogler of "Black Panther" on "Space Jam 2," confirming a rumor that the basketball star will take on the role originated by sports legend Michael Jordan in the original 1996 movie. Los Angeles Times
CALIFORNIA ALMANAC
Los Angeles area: sunny, 82, Thursday; sunny, 81, Friday. San Diego: sunny, 75, Thursday; sunny, 76, Friday. San Francisco area: sunny, 72, Thursday; sunny, 71, Friday. San Jose: sunny, 88, Thursday and Friday. Sacramento: sunny, 93, Thursday; sunny, 94, Friday. More weather is here.
AND FINALLY
Today's California memory comes from James Westfall:
"I grew up in Westchester, just down the street from Loyola Marymount University and above what is now the Playa Vista development. It was a fantastic place to be a kid, I remember the Lakers holding their summer practices at the small Loyola gymnasium, seeing Jerry West, Gail Goodrich and Wilt Chamberlain and thinking it was no big deal, they are our home team, just the local guys. My brother and I would sneak down the cliff to the old Hughes Air field where there were rusted-out fighter jets and ancient biplanes; we could climb in the cockpits and pretend to be breaking the speed of sound. BOOM!"
If you have a memory or story about the Golden State, share it with us. Send us an email to let us know what you love or fondly remember about our state. (Please keep your story to 100 words.)
Please let us know what we can do to make this newsletter more useful to you. Send comments, complaints and ideas to Benjamin Oreskes and Shelby Grad. Also follow them on Twitter @boreskes and @shelbygrad.
---