Newsletter: Essential California: How counterfeits benefit Amazon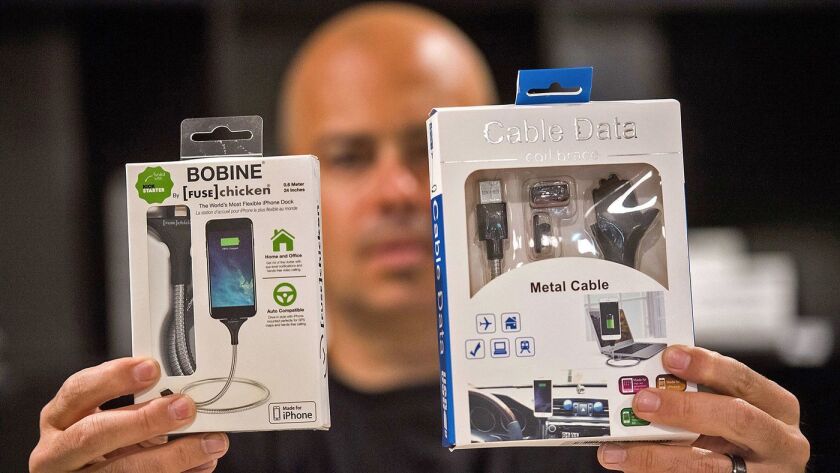 Good morning, and welcome to the Essential California newsletter. It is Saturday, Sept. 29. Here's what you don't want to miss this weekend:
TOP STORIES
Amazon's market dominance gives it the power to influence the future of retail. How it handles counterfeiters could shape the behavior of the entire industry, experts say. The sale of fake goods is at least a $461-billion global industry and expanding, in no small part because of the rise of e-commerce giants like Amazon and China's Alibaba. Customs agents had a fighting chance when pirated goods predominantly arrived in cargo containers. But with the rise of e-commerce, counterfeiters and their middlemen can ship goods in parcels too numerous to catch. Los Angeles Times
Ooooops
Nearly 50 million Facebook accounts have been affected by a security breach that enabled hackers to take over users' Facebook accounts — and in some cases gain access to those users' accounts on third-party sites and apps — the social media giant announced Friday. The new breach comes as Facebook strives to convince its more than 2 billion users that it can be trusted. It is grappling with the fallout from the revelation that British consulting firm Cambridge Analytica harvested the personal data of up to 87 million users, as well as the revelation that it unwittingly played host to a massive Russian misinformation campaign during the 2016 U.S. elections. Los Angeles Times
Tesla fallout
A day after regulators leveled fraud charges against Elon Musk, the Tesla CEO and his board appeared to dig in for a fight. And investors were forced to contemplate a future for the carmaker without its driving force. Musk has hired Chris Clark, a former U.S. attorney who successfully defended Dallas Mavericks owner and "Shark Tank" star Mark Cuban against insider-trading charges filed by the Securities and Exchange Commission. A pretrial hearing has been set for Feb. 1 at U.S. District Court in New York City. Los Angeles Times
Plus: Tesla Inc. stock closed sharply lower Friday as investors worried about a Securities and Exchange Commission lawsuit that seeks to bar Musk from continuing to lead the electric-car maker. Los Angeles Times
And: When the history of the electric car is written, Wan Gang may loom larger than Musk. Chinese drivers buy one of every two EVs sold, and the global auto industry is pivoting to adjust. Los Angeles Times
AROUND CALIFORNIA
More stories coming to light: When the first woman came forward to allege that Supreme Court nominee Brett Kavanaugh had sexually assaulted her decades earlier, Kathy Gosnell decided it was time to share a painful secret of her own. The retired Los Angeles Times copy editor, now living in DeKalb, Ill., made her story known on a private Facebook page popular with current and former employees of the newspaper. Los Angeles Times
C'mon, Jerry! Gov. Jerry Brown has rejected a bill that would have allowed Los Angeles, San Francisco and seven other cities to extend alcohol service at bars and restaurants from 2 a.m. to 4 a.m. Los Angeles Times
On skid row: The LAPD is cracking down on the use of homeless people for ballot-initiative fraud on skid row. Los Angeles Times
Curious: On Friday, Republicans on the House intelligence committee voted to declassify 53 interviews from its Russia probe. Just not all of them, including Rep. Dana Rohrabacher's. Daily Beast
It's a raid! The son of one of Cher's employees was arrested on suspicion of possession of a controlled substance for sale on Thursday, the same day the award-winning actress and singer's Malibu home was searched by law enforcement. Los Angeles Times
In O.C.: A 21-year-old man is in custody on suspicion of attempted murder after an argument with his family in a Stanton home turned violent early Friday. Los Angeles Times
Big story: Workers for the state's largest peach grower have ousted the United Farm Workers union as their representative, the state Agricultural Labor Relations Board confirmed Thursday. Los Angeles Times
More rehab than prison: Why L.A. County's Camp Kilpatrick is at the center of a debate over juvenile justice reform. LAist
Election season: Inglewood Mayor James T. Butts' campaign loaned nearly $160,000 to a political ally. None of it has been paid back. Los Angeles Times
Hollywoodland: "Roman Polanski, who has spent four decades as the accused, will explore one of the most famous miscarriages of justice in his new film, J'Accuse." The Hollywood Reporter
Get the Essential California newsletter »
THIS WEEK'S MOST POPULAR STORIES IN ESSENTIAL CALIFORNIA
1. A Hayward coach was suspended and a game was forfeited after a confrontation on football field. East Bay Times
2. San Francisco restaurant bill surcharges still give some diners heartburn. San Francisco Chronicle
3. Despite repeated deportations, a suspect in a string of homeless beating deaths cut a bloody swath across L.A., police say. Los Angeles Times
4. Do we really want a man consumed with rage, self-pity and hate on the Supreme Court? Los Angeles Times
5. Will there be any space left to sit at Disneyland anymore? Orange County Register
ICYMI, HERE ARE THIS WEEK'S GREAT READS
Historic season with some disappointment: Throughout Shohei Ohtani's debut season in Major League Baseball, his hometown has obsessively followed his extraordinary early success, the injury that took him off the pitching mound and his gutsy return to the lineup as a hitter. The Angels will finish the season Sunday about 20 games out of first place in the American League West, and days later Ohtani, 24, is scheduled to undergo surgery to repair his right elbow. But the admiration and affection people of Oshu have for their favorite native son remain undiminished. Los Angeles Times
Plus: Dodger Stadium became a second home to two native Oklahomans. Here's what happened when they took their newborn to his first game. Los Angeles Times
Fun: The video game "Donut County" is asking big questions about gentrification in Los Angeles. Los Angeles Times
The future: With the Disney-Fox merger speeding toward a close, Rupert Murdoch's younger son is finally stepping out from under his father's shadow. All signs point to a new life as a venture capitalist. Vanity Fair
Great singer: Kurt Vile, indie rock's charming riddle. New York Times
Please let us know what we can do to make this newsletter more useful to you. Send comments, complaints and ideas to Benjamin Oreskes and Shelby Grad. Also follow them on Twitter @boreskes and @shelbygrad.
---