Must Reads: Dodger Stadium became a second home to two Okies. Here's what happened when they took their newborn to his first game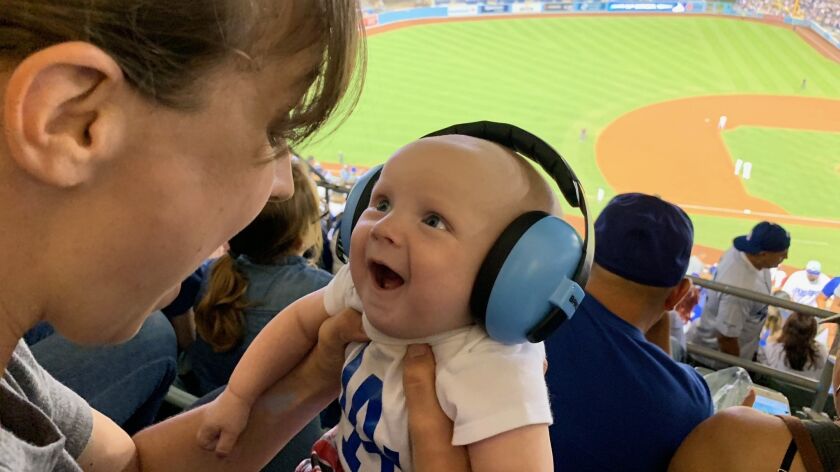 How soon could we bring the baby to a Dodgers game?
It was last fall, we had just learned I was pregnant with our first child, and this was one of the first questions my husband and I asked ourselves.
Four days after my blue-eyed, big-cheeked son, Charlie James, was born in July, he left the hospital in a homemade onesie that declared him the world's "Newest Lil' Dodgers Fan."
Eleven weeks later, we're en route to Dodger Stadium for Charlie's first game. As we crawl through traffic on the 110 Freeway, we spot a dark plume of smoke rising up from somewhere beyond the San Gabriel Mountains. It's a wildfire burning in Castaic. It is named the Charlie fire.
Welcome to California, kiddo.
We turn onto Vin Scully Avenue. Charlie starts screaming.
But as soon as I see the ballpark, my eyes well with happy tears. In bringing our son to Dodger Stadium, we are, in so many ways, bringing him home.
As native Oklahomans, my husband, Mark, and I are part of a long tradition of people — of Okies — uprooting their lives and moving west to California.
I grew up in a farm town of 5,000 people and had never stepped foot in the Golden State before we moved to Los Angeles in 2011 so I could start working at the Los Angeles Times.
We were in our early 20s then, and broke. When we arrived in L.A., it wasn't love at first sight. We landed in a run-down Koreatown apartment with a cockroach infestation that hit its peak when the critters crawled out of the electric sockets.
When people asked where I was from, I clung to Oklahoma like a baby to its mother.
One of the first places we turned to as we tried to get to know L.A. was Dodger Stadium, where tickets in the upper deck were then less than $10.
We found ourselves going back. And back again.
We soon moved to Echo Park, blocks from the stadium, and walked there summer night after summer night. Our little apartment started filling with bobbleheads and Vin Scully's voice from the living room radio. We explained to the neighbors that if they heard us yelling, we most likely weren't fighting — we were just coaching from the couch.
When Dodgers' triple-A minor league team moved to Oklahoma City to become the Oklahoma City Dodgers in 2015, we felt the baseball gods smiling down on us. We bought hats with the OK-LA logo and celebrated this union of both parts of our lives.
On that Saturday night, Charlie arrives at the stadium dressed in a white onesie with the interlocking LA logo in Dodger blue. Plaid shorts. A bucket cap with sharks on it.
He's my own little Californian, and this is his baptism by baseball.
We walk through the crowded stadium corridors that smell of garlic fries and sweat and are filled with jerseys reading "Kershaw" and "Bellinger" and "Muncy."
We make it to our seats on the reserved level, and everything just feels right. It's the first night of fall, a perfect 76 degrees, with the San Gabriels a purple hue in the setting sun. The Dodgers are playing the San Diego Padres. My son is in my arms.
But we have so much stuff. Mark is trying to adjust the diaper bag beneath his seat when he drops a whole bucket of fries on a woman in the row in front of us. Charlie sleeps in my arms as his father cleans ketchup out of a stranger's hair with a diaper wipe.
Charlie was big, and he was breeched. He was born via caesarean section to Billy Joel's "My Life" playing in the operating room: Closed the shop, sold the house, bought a ticket to the West Coast. Now he gives them a stand-up routine in L.A.
The first time I met my 9-pound, 2-ounce boy, I whispered: "We're going to have so much fun."
Charlie spent his first few nights in the neonatal intensive care unit with low blood sugar, fluid in his lungs and rapid breathing. His fragility terrified me. His first night at home, I sat awake next to his bassinet all night, watching his chest rise and fall.
Within a few weeks, I was consumed by postpartum anxiety, so scared of something awful happening to him that I couldn't leave the room without him in my arms. My husband would come home from work and find me Googling "baby illnesses" with a knot in my chest.
I ended up in therapy, crying over my biggest fear: that I could never love that sweet boy as much as he deserved.
I thought so often of my own mom, a nurse who worked ungodly hours but never missed a baseball game — or even a practice — when my little brother was on the field. Our childhood summers were spent at the ballpark, my brother on first base and me working in the concession stand, hawking Frito chili pies and Pixy Stix.
In the evenings those first weeks after Charlie's birth, Mark and I went for long neighborhood walks, talking about taking our son to a place that felt like a second home: Dodger Stadium. Even on my darkest days, the thought made me smile.
For the game, Charlie wears a pair of blue, noise-canceling headphones, and, just before the national anthem, a woman sitting behind us declares him "a little Vin Scully in the making."
Joc Pederson is the first Dodger to swing a bat that night, but just before he gets to the plate, I feel Charlie's diaper rumble, see his face turning red with anger and rush off toward the bathroom.
We're just out of the stands when I hear the crowd erupt behind me. Pederson hit a home run. I see Pederson round the bases on the televisions hanging from the stadium taqueria. My baby stinks.
By the bottom of the third inning, with Chris Taylor at bat, Charlie closes his eyes, sound asleep. Mark and I congratulate ourselves on his good behavior. His sleep lasts 26 glorious minutes before he wakes up and starts banging his head, with his new-found neck strength, against my collar bone.
Charlie is all wiggles. He wants to be stood up and bounced.
I'm holding him up as the stadium announcers declare it's Tommy Lasorda's 91st birthday. As the lights flash and the video screens show Lasorda waving to the crowd, Charlie's face breaks into a full-on, all-gums smile. He is throwing his head back, giggling, and my heart is bursting.
During the seventh-inning stretch, Mark and I stand with our arms around each other. I've got Charlie in a carrier on my chest as Dodgers organist Dieter Ruehle starts playing "Take Me Out to the Ballgame."
We lift one side of Charlie's soundproofing headphones so he can hear a verse: Buy me some peanuts and Cracker Jack. I don't care if I never get back.
Dodgers Dugout newsletter: It all comes down to Dodgers vs. Giants »
Full coverage of the L.A. Dodgers »
Twitter: @haileybranson
---
Life is stressful. Our weekly mental wellness newsletter can help.
You may occasionally receive promotional content from the Los Angeles Times.