Newsletter: Essential California: Justice for communities harmed in the war on drugs?
Good morning, and welcome to the Essential California newsletter. It's Wednesday, Oct. 10, and here's what's happening across California:
TOP STORIES
As more states consider legalizing pot, lawmakers and activists are looking to California, which is trying to right past wrongs by clearing the records of low-level marijuana offenders and setting aside dispensary licenses for residents targeted by discriminatory enforcement of drug laws. It started here in 2016 when voters approved Proposition 64, which not only legalized recreational marijuana but also made it easier for people with pot convictions to expunge their records. New Jersey, North Dakota and Michigan may soon follow suit. Los Angeles Times
Gadfly police?
The Los Angeles City Council voted unanimously Tuesday to crack down on people who repeatedly disrupt their meetings at City Hall, defying attorneys and activists who charge that the new rules trample on free speech rights. Beginning in January, people who are repeatedly ejected from City Council or committee meetings for shouting from the audience or other "disruptive acts" can be banned from attending other meetings that day and for up to six additional meeting days. Los Angeles Times
DMV difficulties
California Secretary of State Alex Padilla criticized the California Department of Motor Vehicles on Tuesday for incorrectly registering 1,500 individuals to vote, saying he was "hugely concerned" that the agency did not uncover the errors until The Times revealed them to the public. The registration errors might have been caused by the motor voter program, which requires Californians to opt out if they do not want to be registered to vote when they get a driver's license. Padilla said that a freeze of the program was on the table and has also called for an independent audit of the DMV's technology and procedures. Los Angeles Times
Plus: Here's the story that got people talking about this voter registration program. Los Angeles Times
Get the Essential California newsletter »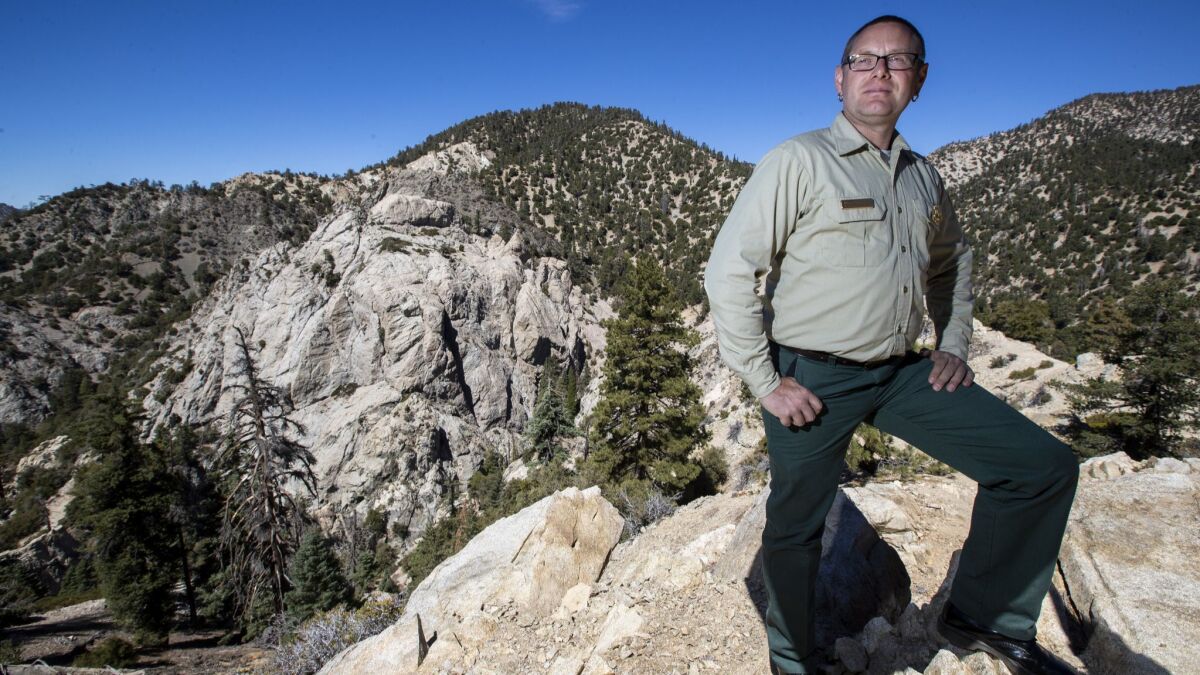 L.A. STORIES
Climbers vs. hoppers: Rock climbers are stepping up efforts to reopen Williamson Rock, a granite face in the San Gabriel Mountains National Monument that had been a beacon for the growing sport before it was closed to protect a rare species of frog. Los Angeles Times
Thanks but no thanks: Disney head honcho Robert Iger said yet again that he wouldn't be running for president in 2020. Los Angeles Times
A new yum spot: With Locol on his mind, chef Daniel Patterson opens a restaurant and coffee shop in West Adams. Los Angeles Times
Dive in! How clean is the water at Echo Park Lake? The Eastsider
Such a cool history lesson: Sylvester James grew up singing in a Pentecostal church in the Watts neighborhood of Los Angeles. He went on to sing some of the most popular disco songs that transcended the genre. NPR
IMMIGRATION AND THE BORDER
Trial alert: Who will testify against Joaquin "El Chapo" Guzman at his trial? New York Times
Plus: Thirteen suspected members of a notorious Mexican drug cartel are behind bars, and more than $10 million worth of illicit drugs have been seized as part of a months-long investigation in Ventura County, authorities announced Tuesday. Los Angeles Times
And: An unfinished tunnel with a rail system has been found under the Mexico-California border. San Diego Union-Tribune
Shocking story: An Associated Press investigation has found that deported parents can still lose their kids to adoption. Associated Press
POLITICS AND GOVERNMENT
Less than a month out: With the midterm election a month away, President Trump seeks to keep Republican anger high. Los Angeles Times
Up by the Bay: Oakland's woes may not be enough to spoil Mayor Libby Schaaf's quest for a second term. San Francisco Chronicle
Take 2: "State Sen. Scott Wiener says he intends to introduce a new version of Senate Bill 827, a hotly contested transit density bill, next year in the legislature." Curbed LA
CRIME AND COURTS
Big haul: Law enforcement officials have seized 111 firearms and more than 27,000 rounds of ammunition from Californians under a new effort to confiscate weapons from people who have been barred from owning them, authorities announced Tuesday. Los Angeles Times
Deputy abuse allegations: "A former inmate who said four sheriff's deputies orchestrated 'terrorizing' acts against him in jail, including the throwing of urine and fecal matter, announced a lawsuit on Tuesday." East Bay Times
Important discussion: "Sacramento's police chief said Monday that California needs to rethink strict laws that keep officer disciplinary records private if law enforcement wants to rebuild trust with communities of color after officer-involved shootings." Sacramento Bee
THE ENVIRONMENT
Taking stock: An electrical arc between two Pacific Gas & Electric conductors caused the Cascade fire in Yuba County last year that killed four people and destroyed hundreds of homes during California's deadliest wildfire outbreak in modern history, state officials announced Tuesday. Los Angeles Times
Big oops: "Nearly 1,900 gallons of crude oil leaked from a ruptured pipe over the weekend at the Torrance Refinery, though none of it left the site, fire department officials said Monday." Daily Breeze
CALIFORNIA CULTURE
Exciting times in Dodger-land: "It's the first time in franchise history they have advanced to the National League Championship Series for three consecutive seasons. It's their third postgame party in 10 days. They've been there. They've done that," writes columnist Bill Plaschke. "Now it's time for the real work." Los Angeles Times
Sad: Longtime Chargers owner Alex Spanos died Tuesday morning, the franchise announced. He was 95. Los Angeles Times
From the archives: Here's how Spanos' son Dean decided to move the team from San Diego to Los Angeles. Los Angeles Times
Cool: Get a first look at Ruby Rose as Batwoman. Los Angeles Times
Even cooler: After several months of hard work, a Sacramento girl is helping wild turkeys in her neighborhood. Stella was instrumental in getting turkey crossing signs installed near her school, the Front Street Animal Shelter said Monday. KCRA
CALIFORNIA ALMANAC
Los Angeles area: partly cloudy, 72, Wednesday; partly cloudy, 71, Thursday. San Diego: partly cloudy, 70, Wednesday and Thursday. San Francisco area: partly cloudy, 63, Wednesday; sunny, 64, Thursday. San Jose: partly cloudy, 71, Wednesday; sunny, 73, Thursday. Sacramento: sunny, 77, Wednesday; sunny, 79, Thursday. More weather is here.
AND FINALLY
Today's California memory comes from Amy Goldin:
"My first step onto California soil was when we landed in San Diego in 1993, as I was chaperoning my child-actor son in the national tour of a Broadway show. Emerging from the terminal, we all blinked a bit, startled by the sunlight. There was something different about this light. Maybe because unlike in my home state (New York), the sun in California's coastal cities bounces off the omnipresent Pacific? San Diego felt exotic to us, with all the Spanish street names, clay roofs, whitewashed and color-washed stucco houses. After a week we headed to L.A. for the show's three-month run at the Pantages. I insisted that we listen to historically authentic music during our drive up the 5, and placed Rodrigo's Concierto de Aranjuez into the car's cassette player (that's right: cassette player — 1993, remember?) as we passed the palm-tree-dotted hillsides and the mountains to our right. As we settled into our corporate apartment in L.A., the sunlight took on a gray tinge. In addition to the changed air I became nervous about finding my way around, the Thomas Guide (no MapQuest, GPS, Waze or Siri – 1993!) firmly rooted between the car's front cushions. Traveling down the 101 from Barham Boulvard to the Vine Street exit was a quick trip but it was only after three days of riding that route that the smog lifted, replaced by that almost-ever-present brilliant sun, revealing the startling, enormous city beyond. Wherever I've traveled since then, I've never quite been able to find that same kind of golden sheen that sets on (what is to me) the wrong side of the coast."
If you have a memory or story about the Golden State, share it with us. Send us an email to let us know what you love or fondly remember about our state. (Please keep your story to 100 words.)
Please let us know what we can do to make this newsletter more useful to you. Send comments, complaints and ideas to Benjamin Oreskes and Shelby Grad. Also follow them on Twitter @boreskes and @shelbygrad.
---