Newsletter: Essential California: Can the Dodgers turn it around?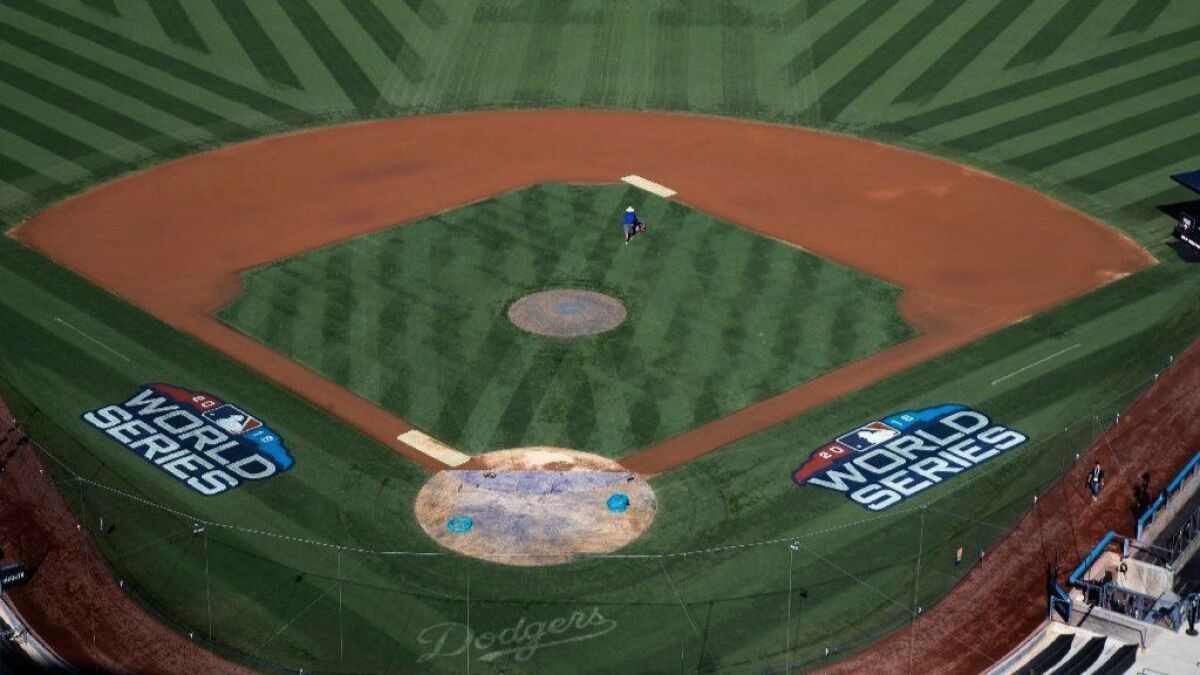 Good morning, and welcome to the Essential California newsletter. It's Friday, Oct. 26, and here's what's happening across California:
TOP STORIES
It's do or die for the Los Angeles Dodgers as the World Series picks up this evening back in the friendlier (and warmer) environs of Chavez Ravine. The boys in blue are down by two, and columnist Bill Plaschke is not hopeful that the team can make up that deficit. Los Angeles Times
— At two critical moments, analytics failed the Dodgers. Now they face an 0-2 World Series deficit. Los Angeles Times
— Boston Market, a Beantown-founded restaurant that proudly bears its name in red, white and black letters, is going blue for the World Series — at least in Los Angeles. Los Angeles Times
— The Red Sox have dismantled the Dodgers' right-handed lineup through two games. Los Angeles Times
— On their picture-perfect wall, the Red Sox still have room for more. Los Angeles Times
— Relax, Dodgers fans: Joe Buck is not the problem. Los Angeles Times
Election 2018
San Francisco in November will become the largest city in the nation to allow noncitizens the chance to vote in a local election, making the city once again a flashpoint in the debate about immigration. The noncitizens, including those without legal status, will be allowed to vote only in a school board race. Just a little more than 40 have registered to vote so far. Still, the decision carries major symbolic force and has become the latest punching bag for conservatives who already use California's efforts to protect people in this country illegally from President Trump's immigration crackdown as a political issue in the midterm election. Los Angeles Times
— In an effort to boost Los Angeles County's historically poor voter turnout, Metropolitan Transportation Authority officials agreed Thursday to offer free fares on the sprawling bus and rail system on election day. Los Angeles Times
— Michael Bloomberg's political action committee has launched a major ad campaign aimed at unseating Republican Reps. Dana Rohrabacher of Costa Mesa and Steve Knight of Palmdale. Los Angeles Times
Get more election coverage on our Decision California page.
Following up
Los Angeles County Sheriff Jim McDonnell has launched a pair of internal reviews into a team of deputies who have pulled over thousands of innocent Latino drivers on the 5 Freeway in a search for drugs. Sheriff's officials told the department's civilian oversight commission on Thursday that auditors were examining data on the traffic stops and the department's constitutional policing advisor is reviewing the team's practices amid concern that deputies engaged in racial profiling along the highway. Los Angeles Times
Get the Essential California newsletter »
L.A. STORIES
It's about Time's Up: Nearly one year and $22 million later, an organization that was started with big goals in the wake of the Weinstein scandal is at a crossroads. Los Angeles Times
On the ballot: Can a measure to raise property taxes in L.A. County for stormwater capture and cleanup clear the two-thirds bar for passage? Los Angeles Times
Accused: A Los Angeles rapper has been arrested in connection with a series of sexual assaults dating back to 2016, authorities said. Los Angeles Times
IMMIGRATION AND THE BORDER
That caravan: A migrant caravan from Central America, its numbers thinning, is slowly moving north in Mexico. It's still about 1,000 miles from the U.S. border. Los Angeles Times
Shutting the border? Fixated on the migrant caravan, President Trump is weighing a plan to shut the U.S. border to Central Americans and deny them the opportunity to seek asylum. Washington Post
Sending the troops: The Pentagon is sending 800 or more additional troops to the Southwest border in response to Trump's vow to use the military to block the caravan from entering the United States, a U.S. official said. Los Angeles Times
POLITICS AND GOVERNMENT
Bailed out and on the ballot: What happens if Rep. Duncan Hunter wins reelection and is convicted? It could depend on who's in charge. Los Angeles Times
Great story: For years, Trump advisor Roger Stone loved notoriety. Now he insists on his innocence. Los Angeles Times
Looking to what's next: Demanding action on nuclear threats, Gov. Jerry Brown will help lead the group behind the Doomsday Clock. Los Angeles Times
2020 watch: California lawyer Michael Avenatti's past won't stop him from running. Time
CRIME AND COURTS
So ordered: A judge said Thursday that Los Angeles County Sheriff's Department officials must reveal whether they know the names of deputies who have matching skull tattoos at the Compton Station. Los Angeles Times
Standing trial: A judge on Thursday ruled that there is enough evidence for New York real estate scion Robert Durst to stand trial for the 2000 slaying of his best friend, in a case that drew national intrigue after an HBO series chronicled Durst's life. Los Angeles Times
Wild! "A Northern California sheriff has apparently largely abandoned his job and moved to another state while still collecting his salary." Sacramento Bee
THE ENVIRONMENT
Another thing to worry about: Three of California's volcanoes are still considered to be a very high threat. Los Angeles Times
The future? Sacramento is the staging ground for a fight to make drivers spend less time on the road. Curbed
CALIFORNIA CULTURE
Reality check: Tesla's Elon Musk made five big assertions — with asterisks. Los Angeles Times
Cash quest: SpaceX is said to be seeking $500 million in loans via Goldman Sachs. Los Angeles Times
In Silicon Valley: How Google protected Andy Rubin, the "Father of Android." New York Times
Netflix and get fired? At Netflix, radical transparency and blunt firings unsettle the ranks. Wall Street Journal
Exciting: BART's flashy new trains finally crossed the bay into San Francisco this week, rolling their electric-blue seats and maternal, computerized station announcements from Warm Springs to Daly City. San Francisco Chronicle
CALIFORNIA ALMANAC
Los Angeles area: sunny, 86, Friday; sunny, 84, Saturday. San Diego: sunny, 78, Friday; sunny, 77, Saturday. San Francisco area: partly cloudy, 69, Friday; partly cloudy, 66, Saturday. San Jose: partly cloudy, 77, Friday and Saturday. Sacramento: partly cloudy, 82, Friday; partly cloudy, 83, Saturday. More weather is here.
AND FINALLY
Today's California memory comes from David Woods:
"I have many wonderful memories of 40 years in California. But the first, and one that often comes to mind, is from my first week here. In the final days of February 1978, a good friend and I loaded up a Ford Pinto wagon and headed west to escape a brutal upstate New York winter. We had an AAA triptych map to L.A. with no specifics except to meet the Pacific. Arriving about three weeks later during a downpour was not what we had envisioned by any means. The rain seemed to continue for a week — though it was likely just a day or two. Still, we tired of the gray drizzle in L.A. quickly, so we drove north on the 101 and stopped one night at a motel, somewhere on Harbor Boulevard, above the Ventura Pier. We woke on a brilliant, sunny St. Patrick's Day morning to the greenest hills I had ever seen. They seemed to be rolling just above the beach. And then turning to see the Channel Islands, just off the coast, and just as green, I decided right then that I was home. At least that's how I remember it. Home has moved from Ventura County to Alameda County to Santa Clara County to Santa Cruz over the years, but I haven't spent more than a couple of weeks in a row away from California since I arrived."
If you have a memory or story about the Golden State, share it with us. Send us an email to let us know what you love or fondly remember about our state. (Please keep your story to 100 words.)
Please let us know what we can do to make this newsletter more useful to you. Send comments, complaints and ideas to Benjamin Oreskes and Shelby Grad. Also follow them on Twitter @boreskes and @shelbygrad.
---