Newsletter: Essential California: The scoop on Huizar
Good morning, and welcome to the Essential California newsletter. It is Saturday, Dec. 1. Here's what you don't want to miss this weekend:
TOP STORIES
L.A. City Councilman Jose Huizar personally asked companies that do business at City Hall to donate to a private school where his wife was working as a professional fundraiser and also assigned his staff to help with the effort, according to interviews and documents reviewed by The Times. Huizar instructed staffers to work on a yearly fundraiser for Bishop Mora Salesian High School in Boyle Heights, and the assignment was considered part of their job duties, according to interviews with former aides and a lawsuit filed by one. Los Angeles Times
Flaws in the system
Emergency phone calls telling Paradise residents to flee the massive Camp fire failed to reach more than a third of even the minority who had signed up for the warnings, according to a data review by The Times on Friday. The data underscore major flaws in a phone-based warning system that authorities have frequently relied upon in major disasters, including a string of catastrophic fires that have plagued California in the last two years. Los Angeles Times
Plus: Crews tasked with cleaning up Paradise and surrounding Butte County towns will remove up to 8 million tons of wildfire debris and complete the job by summer, according to officials. Los Angeles Times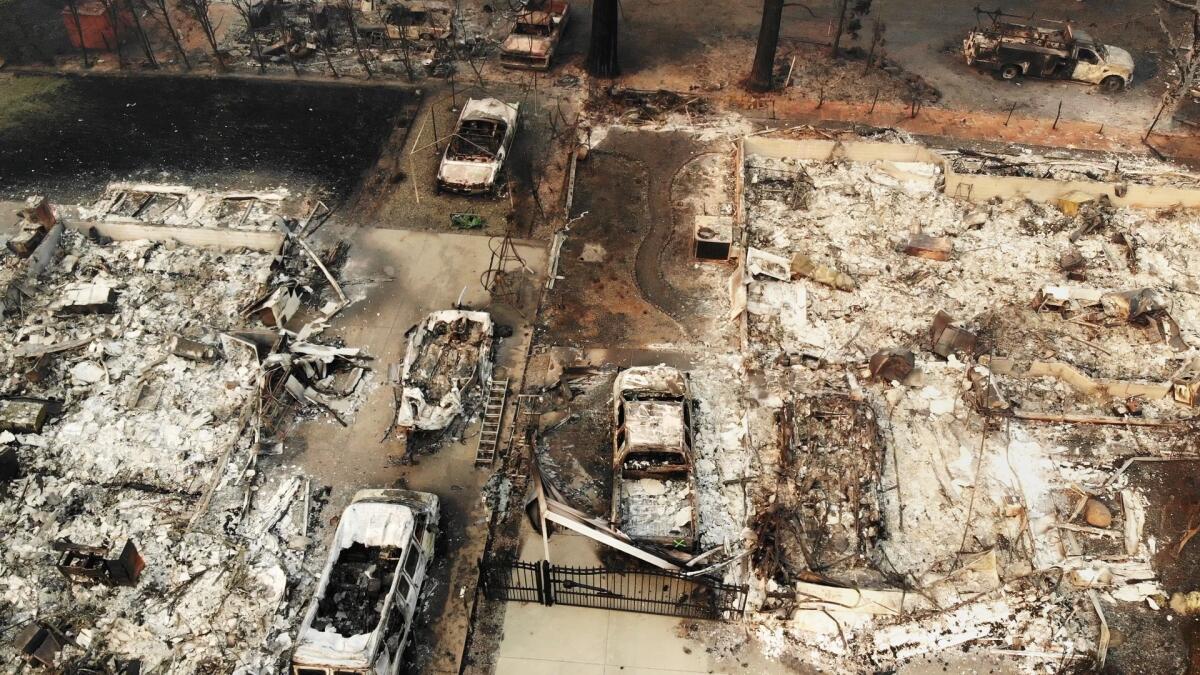 South of the border
Mexico will embark on an era of high expectations and profound uncertainty Saturday under the leadership of one of the country's most enigmatic political figures — Andres Manuel Lopez Obrador. Lopez Obrador, who rode populist rhetoric and a vow of a national transformation to a landslide election in July's balloting, is set to begin a six-year term as Mexico's 57th president. The inauguration will mark the stunning revival of a twice-defeated presidential aspirant who ran under the leftist banner of his own party — and who represents a stark departure from Mexico's recent run of mostly drab, technocratic leaders. Los Angeles Times
A former president dies
George Herbert Walker Bush, the linchpin of an American political dynasty and 41st president of the United States, who rode foreign policy triumphs to high popularity at the end of the Cold War only to suffer a revolt in his own party and a painful defeat for reelection, has died. He was 94. Los Angeles Times
Plus: Did you know Bush lived in Compton in 1949? In 1992, The Times revisited his old address. Los Angeles Times
AROUND CALIFORNIA
An agreement amid discord: President Trump and the leaders of Canada and Mexico signed a revision of the quarter-century-old North American Free Trade Agreement, but their ceremony did not disguise the tensions remaining or lessen the doubts of whether a new Congress would approve the pact. Los Angeles Times
The sun sets for Sunset mag: Created by Southern Pacific Railroad to promote westward travel, Sunset magazine has long been a tastemaker for the masses, popularizing backyard barbecues, hot tubs, mid-century architecture, weekend getaways, California wines and food culture, including a boom in avocados. The pioneering publication survived the 1906 San Francisco earthquake, the Great Depression and ownership changes. But there are dark clouds on Sunset's horizon. Los Angeles Times
Great new book: Los Angeles is refracted in all its irreducible, unexplainable glory in "Dear Los Angeles." Los Angeles Times
Shred! Southern California's ski resorts got their first snowfall from Thursday's storm, with some spots in the San Bernardino Mountains receiving up to 8 inches. More snow may be on the way Saturday evening. Los Angeles Times
Plaschke on purple and gold: The Lakers are still on the hunt for their identity in this unusual season. Los Angeles Times
More personnel to the border? "Homeland Security Secretary Kirstjen Nielsen has requested the deployment of civilian law enforcement officers from several other Cabinet departments to the U.S.-Mexico border as early as next week." Politico
Follow the money: "A married military couple who had to pay thousands of dollars to boot their tenants in order to move back into their Oakland home say the city law requiring the fee violates their rights." San Francisco Chronicle
Fun data: Where state props succeeded and failed across California. CalMatters
Out and about in K-town: Two former officials in California's liquor agency pleaded guilty Thursday to running a bribery scheme that for years targeted karaoke bar owners in Los Angeles' Koreatown. Los Angeles Times
Rebuild mode: These men want to lead California's Republican Party, or what's left of it. Press Enterprise
MLB's next big thing: What the Oakland A's plan for a stadium says about new ballparks. ESPN
A film critic's view: "What the movies taught me about being a woman." New York Times
Get the Essential California newsletter »
THIS WEEK'S MOST POPULAR STORIES IN ESSENTIAL CALIFORNIA
1. From adding lactation stations to considering child care needs, Congress is rushing to adapt to a record number of women. Politico
2. Hidden in L.A. suburbia, wrenching poverty preys on children and destroys dreams. Los Angeles Times
3. How to order In-N-Out fries that don't totally suck. LAist
4. In a stunner, this new city is trying to muscle in to buy the 2,500-acre Tres Hermanos Ranch. Orange County Register
5. The Butte County sheriff lists 475 people still missing in the Camp fire. Are they really? Sacramento Bee
ICYMI, HERE ARE THIS WEEK'S GREAT READS
Where the romaine roams: For some romaine farmers on California's Central Coast, the E. coli scare is a maddening mystery. Los Angeles Times
Fascinating: How artist Sandy Rodriguez tells today's fraught immigration story with pre-Columbian painting tools. Los Angeles Times
Toxic workplace: Many black workers at Tesla say they faced racism, including being assigned menial tasks and confronted with slurs and swastikas. New York Times
Who knew? "Could this obscure California agency derail Jerry Brown's Delta tunnels?" Sacramento Bee
Yum! A mini Filipino food tour in Daly City with a pro. SF Gate
Your long read: The genius neuroscientist who might hold the key to artificial intelligence. Wired
Please let us know what we can do to make this newsletter more useful to you. Send comments, complaints and ideas to Benjamin Oreskes and Shelby Grad. Also follow them on Twitter @boreskes and @shelbygrad.
Sign up for Essential California for news, features and recommendations from the L.A. Times and beyond in your inbox six days a week.
You may occasionally receive promotional content from the Los Angeles Times.