Newsletter: Essential California: A year of reporting on the homeless
Good morning, and welcome to the Essential California newsletter. It's Thursday, Jan. 3, and here's what's happening across California:
When people think of the homeless, their mind often takes them to standard images of who they are and where they supposedly live. Splayed out on the concrete of skid row; inside tents lining major boulevards or underpasses; scrunched in a fetal position with a thin blanket in the doorway of a business late at night or early in the dewy morning. But such is the diversity of Southern California's landscapes that there is a scarcely a corner of the region that homeless men and women have not adapted to. They take pride in their creations, however dystopian or unfortunate.
There's the man who dug a bunker in the middle of the desert or the one who, far from the Pacific Ocean, lives under the hulls of two boats that have been flipped over. There's the couple in a treehouse in the Sepulveda Basin; the clan of people who live on a sandbar in the center of the Los Angeles River.
No matter how ingenious these makeshift homes are, however, they are inhabited by people who bear the scars of an unsettled, hardscrabble life. Here are some of their stories. Los Angeles Times
This aforementioned piece capped off a year of reporting from the Los Angeles Times about the effect homelessness has on our community. The past year was significant because local tax money to tackle the crisis began to flow in earnest: $442 million for housing, and $177 million for services, with $400 million more due by the middle of next year. Catch up with our coverage from the past 12 months below. Los Angeles Times
— Many people work hard to avoid the homeless. These volunteers embrace them. Los Angeles Times
— Living in a beat-up Jeep after mounting hardship, a homeless veteran and his wife cling to hope, waiting for a place to call home. Los Angeles Times
— That same couple would later finally get a home. Los Angeles Times
— L.A.'s homelessness surged 75% in six years. Here's why the crisis has been decades in the making. Los Angeles Times
— As waves of homeless descend onto trains, L.A. tries a new strategy: social workers on the subway. Los Angeles Times
— There was a huge increase in arrests of homeless in L.A., but mostly for minor offenses. Los Angeles Times
— "Castaways" in motor homes feel stranded on society's fringe. Los Angeles Times
FROM AROUND THE INTERNET
— The path from Division Street: For some, hope after homelessness. San Francisco Chronicle
— Homeless in California — what the data reveal. CALmatters
— San Diego has gotten hundreds of people off the streets. Now for the really hard part. Mother Jones
— Here's a first-person account of what it's like to be a grad student and live in an RV in the Berkeley Marina. KQED
— What does a city do when homeless people die? City Lab
— A "bright light," dimmed in the shadows of homelessness. New York Times
— L.A. "sterilized" its streets for the 1984 Olympics. How will it treat the homeless when the Games return in 2028? Curbed LA
MORE TOP STORIES
An agenda taking shape
Seeking to frame his new administration as one with a firm focus on closing the gap between children from affluent and poor families, Gov.-elect Gavin Newsom will propose spending some $1.8 billion on an array of programs designed to boost California's enrollment in early education and child-care programs. Newsom's plan, which he hinted at in a Fresno event last month, will be a key element in the state budget proposal he submits to the Legislature shortly after taking office Monday, a source close to the governor-elect's transition team says. Los Angeles Times
More problems from the shutdown
The National Park Service is restricting access to more parkland in California as the partial government shutdown drags on. The south entrance to Yosemite National Park will be closed to anyone without a camping reservation. Los Angeles Times
Get the Essential California newsletter »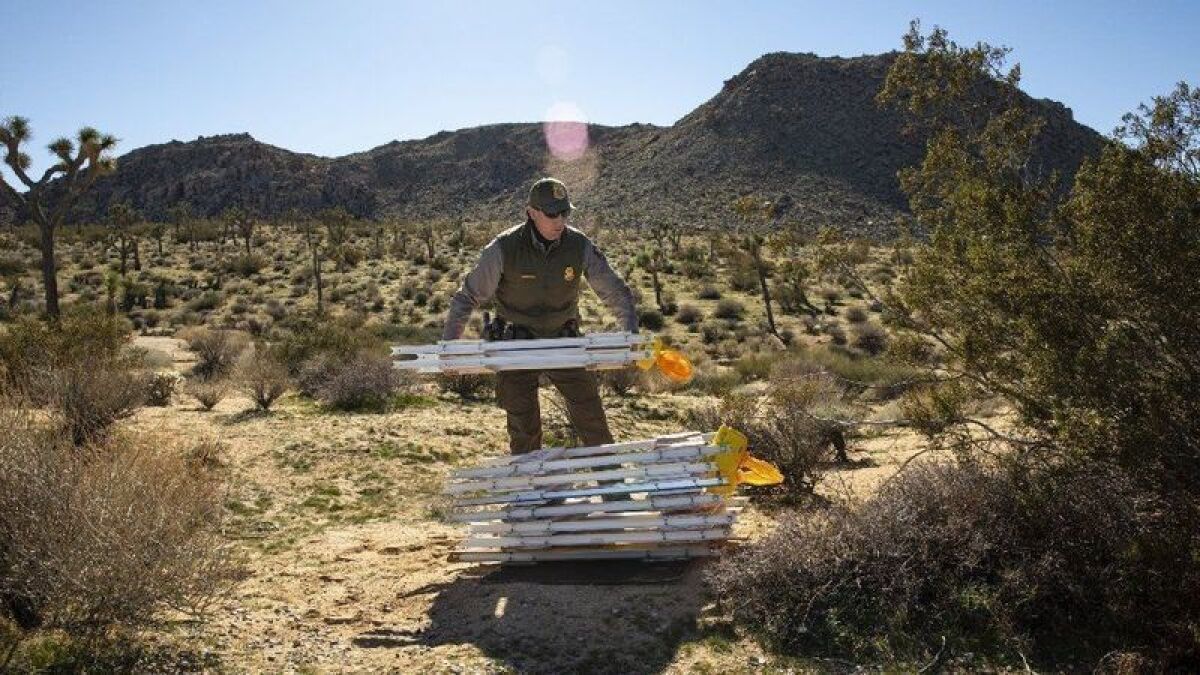 L.A. STORIES
There's an app for that! Los Angeles has unveiled its long-anticipated earthquake early warning app for Android and Apple smartphones. It's now available for download. Los Angeles Times
Blacked out: Nearly three dozen Tribune Media television stations, including KTLA Channel 5 in Los Angeles, went dark Wednesday afternoon on Charter Communications' Spectrum pay-TV service after the two companies failed to reach agreement on a new distribution deal. Los Angeles Times
Whoops: The creators of a Rose Parade float that caught fire and caused a delay in the parade on New Year's Day could face a fine, Tournament of Roses officials said Wednesday. Los Angeles Times
Who will end up here? Why the baseball world is waiting on Manny Machado and Bryce Harper. ESPN
IMMIGRATION AND THE BORDER
See you in court: A group of young immigrants who suffered abuse have sued the Trump administration over changes to a special protection program. Los Angeles Times
POLITICS AND GOVERNMENT
Fire follow-up: The city of Malibu and the county of Los Angeles will begin examining the response to and recovery from the Woolsey fire, the most destructive wildfire in recent Southern California history. Los Angeles Times
What Newsom's staff means: "Gavin Newsom might not be able to accomplish his ambitious campaign goal of bringing government-funded universal healthcare to California, but his first hires suggest he's planning something big." Sacramento Bee
Leveling the playing field: "The path to give California 12 senators, and Vermont just one." The Atlantic
CRIME AND COURTS
Big rebuke: A federal appeals court decided that the U.S. government must pay millions of dollars to lawyers for a Muslim woman who was mistakenly classified as a potential terrorist and placed on a "no-fly" list. Los Angeles Times
At the airport: Dozens of LAX passengers try to sneak guns past security. Few face serious punishment. Los Angeles Times
Guilty plea: Former USC associate head coach Tony Bland pleaded guilty to a felony count of conspiracy to commit bribery Wednesday as part of a deal with prosecutors in the college basketball bribery and corruption investigation. Los Angeles Times
Celebrity thefts: Los Angeles detectives have arrested at least one person and say they recovered a cache of boosted items tied to a string of celebrity break-ins that have targeted actors, musicians and athletes in recent years. Los Angeles Times
Sprung from San Quentin: For Walter "Earlonne" Woods, the path to freedom was podcasting. Associated Press
THE ENVIRONMENT
Weighing in: L.A.'s trees are more essential than ever. The city needs to start treating them that way. Los Angeles Times
The Camp fire: Through a photographer's lens. Chico Enterprise-Record
CALIFORNIA CULTURE
Out in the desert: Childish Gambino, Tame Impala and Ariana Grande will anchor the annual Coachella Valley Music and Arts Festival, set to run April 12-14 and again April 19-21 at Indio's Empire Polo Club. Others at the top of bill include Janelle Monae, Solange and Khalid. Los Angeles Times
Hollywoodland: How do you make a sex scene sexy? (And keep the actors safe?) Five intimacy coordinators explain their craft. Los Angeles Times
Tumbling Tesla: The car company said Wednesday that it delivered more than 245,000 electric cars and SUVs last year — nearly as many as all previous years combined — but the company's stock still plunged after its fourth-quarter deliveries did not reach analysts' estimates. Los Angeles Times
Plus: Apple Inc. announced that it would miss its revenue estimate for the quarter that included the holiday season. The company blamed it on unexpected challenges in the Chinese economy and the trade war between the United States and China. Washington Post
More about the newest member of the royal family: Inside the Markle Family breakdown, a truly Los Angeles story. Vanity Fair
Yum: Kimchi Jjigae, the "volcanic Korean stew that can kill colds." LAist
CALIFORNIA ALMANAC
Los Angeles area: sunny, 67, Thursday and Friday. San Diego: sunny, 64, Thursday; sunny, 63, Friday. San Francisco area: partly cloudy, 55, Thursday and Friday. San Jose: partly cloudy, 59, Thursday and Friday. Sacramento: partly cloudy, 55, Thursday; partly cloudy, 56, Friday. More weather is here.
AND FINALLY
Today's California memory comes from Lee Ockey:
"We grew up in the Central Valley on a small farm near Oakdale in the '50s. I was the only girl among six children. A pickup truck was our only transportation. More than once we barely missed trains. No warning signs at that time and lots of trains! On Christmas morning we would all pile in the pickup, my younger brother in the front with me and my parents. I was so envious of my brothers in the back with blankets.
"We would go to my grandparents' lovely old home in West Modesto for a formal Christmas dinner. There would be what seemed to be an army of aunts and uncles — some childless, so we were important to them, I now realize.
"The home had a big roaring fire, glass doors to dining room, a tree with bubbling candle lights and a ton of presents. We were in heaven! I remember hugging a teddy bear with a big red bow and feeling so content with life. Grandmother's home was made into a small private school, and the neighborhood has changed. Our small farm is barely in the country, and a mall is a few miles down the road."
If you have a memory or story about the Golden State, share it with us. Send us an email to let us know what you love or fondly remember about our state. (Please keep your story to 100 words.)
Please let us know what we can do to make this newsletter more useful to you. Send comments, complaints and ideas to Benjamin Oreskes and Shelby Grad. Also follow them on Twitter @boreskes and @shelbygrad.
---