Newsletter: Essential California: What PG&E's bankruptcy filing may bring
Good morning, and welcome to the Essential California newsletter. It's Tuesday, Jan. 29, and here's what's happening across California:
TOP STORIES
Pacific Gas & Electric Corp., the state's largest power company, filed for bankruptcy protection for the second time in two decades on Tuesday, starting an unpredictable process that could take years to resolve and is likely to result in higher rates for millions of people in Northern and Central California. The company said it filed requests for authorization to continue paying employee wages and existing customer programs, and that electricity and natural gas service will continue uninterrupted. PG&E had already lined up the money to fund its operations during what it expects to be a two-year bankruptcy process, intended to deal with billions of dollars in potential liabilities from a series of deadly wildfires. But there are many questions about what will happen. Los Angeles Times
Under review
Mayor Eric Garcetti on Monday called for an audit of stops by the Los Angeles Police Department's elite Metropolitan Division in response to a Times investigation showing the unit pulled over black drivers at disproportionately high rates. Garcetti said the report, which found that Metro officers stop black drivers at a rate more than five times their share of the population, is "something that troubles me and is deeply concerning." He added: "Trust is essential to our public safety, and every Angeleno deserves to be offered dignity and respect." Los Angeles Times
A sense of loss in St. Louis
"Three years after the Rams uprooted for Los Angeles, three years after Stan Kroenke became an epithet in [St. Louis], three years after a twister of hurt feelings and litigation was kicked up, the outbursts of rage have morphed into pangs of melancholy. Former Rams fans harbor more emptiness than anger. They hide the hurt well. In order to find remnants of their wounded hearts, you have to search a little deeper than the stadium situated a few blocks from the Mississippi River." Los Angeles Times
A family affair: Hall of Famer Jackie Slater has given the Rams his heart, but the Patriots have his DNA. Los Angeles Times
In the spirit: Randy's Donuts is sporting a blue-and-gold makeover in support of the Rams. Los Angeles Times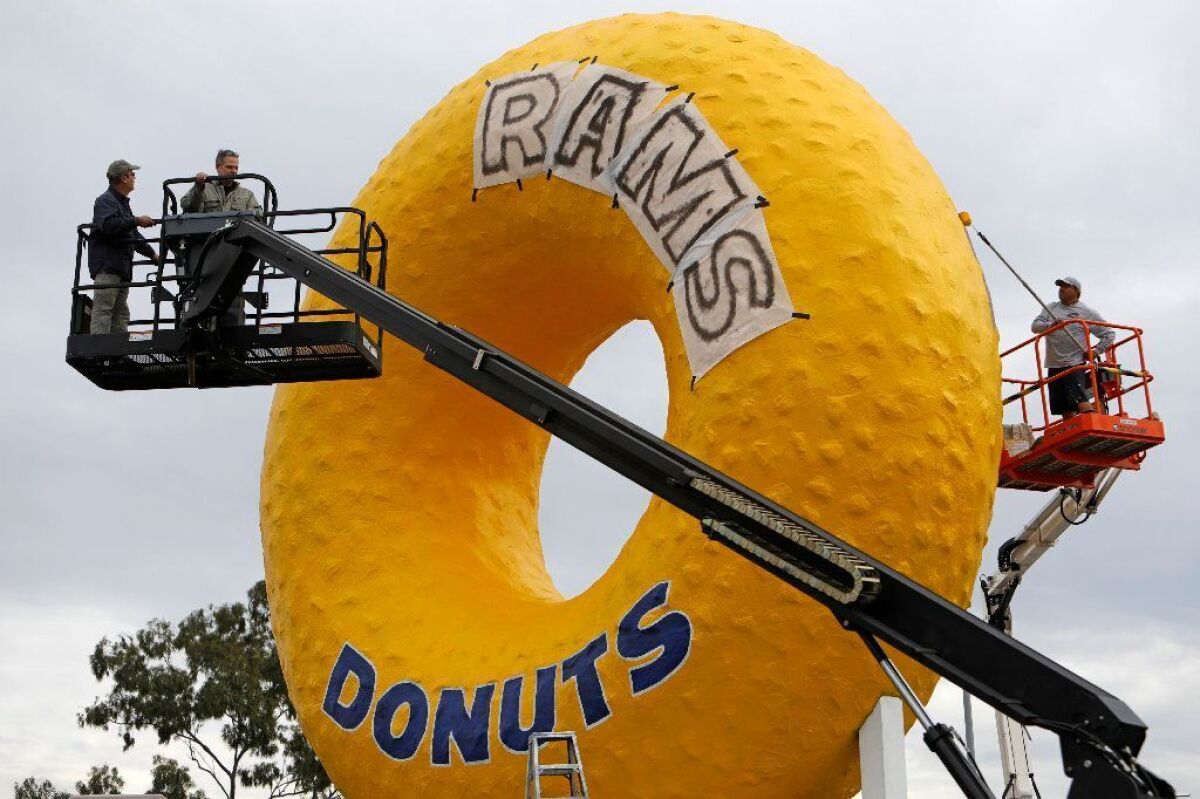 Ojai's dark side
When junior high school students lay down on a field and formed a swastika in December, it caused many Ojai residents to reflect on a hidden side of their progressive town. Authorities say few hate incidents are reported in this liberal valley town known as a haven for spiritual seekers, health enthusiasts and celebrities — a place with wine-tasting rooms and art galleries along the main drag, where a banner recently touted the Martin Luther King Jr. Day celebration. Still, said Sgt. Shane Matthews of the Ventura County Sheriff's Department, "it's very possible things go on that we're not aware of." Los Angeles Times
Get the Essential California newsletter »
L.A. STORIES
More harassment allegations in the LAPD: A Los Angeles police captain alleged in a lawsuit against the department that she was the victim of sexual harassment and a hostile work environment after a "deeply humiliating" photo of a nude woman was passed around the force that some falsely claimed was her. Los Angeles Times
Acquitted: A federal jury has acquitted two Pomona police officers charged with using excessive force and lying in the arrest of a teenager at the Los Angeles County Fair. Los Angeles Times
Blockbuster brewing: Five-time NBA All-Star Anthony Davis is asking to leave New Orleans, but a trade would cost the Lakers Lonzo Ball, Kyle Kuzma and more. Los Angeles Times
Plus: Columnist Bill Plaschke says the Lakers need to pull out all the stops to get the big man to Los Angeles, Los Angeles Times
IMMIGRATION AND THE BORDER
Lasting effect: Immigrants affected by the government shutdown could wait years for a new day in court. Los Angeles Times
In Huntington Beach: Federal authorities detained 10 Chinese nationals who were smuggled into the U.S. on a panga-style boat, officials said. Los Angeles Times
POLITICS AND GOVERNMENT
Building boom on the way? California developers and construction workers have long been fighting over wages for carpenters, plumbers, electricians and others who build homes. Now, statewide business and labor groups are working on a deal that both sides hope could lead to a flood of new building. Los Angeles Times
Performance under pressure: Gov. Gavin Newsom has been tested right out of the gate with a teachers' strike and PG&E's crisis. Los Angeles Times
But wait, there's more? Stay tuned for sequels. The Los Angeles teachers' strike looks an awful lot like Episode One in a statewide series. Los Angeles Times
43 teens, 1 adult: Los Angeles teachers describe a typical day in a crowded classroom. New York Times
Check this out: It's an interactive called "Gavin: getting things done?" Cal Matters
CRIME AND COURTS
A rare rebuke: In a rare public confrontation with Los Angeles County's elected sheriff, the county's governing body is expected to vote Tuesday on a motion that would challenge the recent reinstatement of a deputy sheriff who was fired in connection with allegations of domestic abuse and stalking. Los Angeles Times
He did what? A 59-year-old man suspected of trying to carjack a woman's car at a Fresno gas station and then jumping onto a moving big rig to flee is facing a felony charge. Los Angeles Times
THE ENVIRONMENT
Aren't we all! Burrowing owls find their own way to stay cool in the California desert. The Desert Sun
CALIFORNIA CULTURE
Fighting back: Michael Jackson's family is speaking out about the new docu-series "Leaving Neverland," which sent shock waves through the Sundance Film Festival over the weekend — and ignited a furor online from fans who have yet to see the film. Los Angeles Times
A new twist: Drivers might have to pay a fee to go down San Francisco's crooked Lombard Street. Los Angeles Times
RIP: "Few team owners have had as dramatic an impact on a city's landscape and image as Peter Magowan had on San Francisco. Magowan, who died Sunday at age 76, accomplished what was once considered absolutely impossible." San Francisco Chronicle
CALIFORNIA ALMANAC
Los Angeles area: Partly cloudy, 73, Tuesday. Partly cloudy, 70, Wednesday. San Diego: Partly cloudy, 67, Tuesday. Partly cloudy, 64, Wednesday. San Francisco area: Partly cloudy, 59, Tuesday. Showers, 60, Wednesday. San Jose: Partly cloudy, 65, Tuesday. Partly cloudy, 67, Wednesday. Sacramento: Partly cloudy, 65, Tuesday. Partly cloudy, 63, Wednesday. More weather is here.
AND FINALLY
Today's California memory comes from Jonathan Mee:
"My grandmother was born in 1896 and came to California in 1918. Due to health issues with her husband, she became a single working mom to my mother during much of the 1920s and 1930s. She worked a variety of jobs, and at the end of her working career in the 1960s she got a job working for the state of California in Sacramento. This also coincided with the introduction of computers in the accounting division where she worked, and she was forced to adapt. Although she was a mild-mannered lady, I recall her telling me with disgust that 'someday, computers will be telling us when to go to the bathroom!' I was reminded of her statement when my own first grandchild received a 'potty training' watch from her parents. My grandmother's prophecy had come true!"
If you have a memory or story about the Golden State, share it with us. Send us an email to let us know what you love or fondly remember about our state. (Please keep your story to 100 words.)
Please let us know what we can do to make this newsletter more useful to you. Send comments, complaints and ideas to Benjamin Oreskes and Shelby Grad. Also follow them on Twitter @boreskes and @shelbygrad.
---