Newsletter: Essential California: Down and out (and hopeful) in Imperial County
Good morning, and welcome to the Essential California newsletter. It's Tuesday, Feb. 5, and here's what's happening across California:
TOP STORIES
Parked outside a Calexico job center, Jonathan Lopez leaned against his worn SUV and took a drag from a cigarette. He was waiting, yet again, for word on his unemployment application. "A well-paying, full-time job is impossible to find," the 39-year-old lamented as his son played nearby. "I have a family with four children and we struggle. It is a daily battle to make ends meet." As California has rebounded from the Great Recession, the Imperial Valley has largely defied attempts to expand its economy beyond seasonal farming and government work, and the county continues to suffer the highest unemployment rates in the state. According to the U.S. Census Bureau's latest five-year estimate, Imperial County's unemployment rate stands at 16% — four times greater than the state's overall jobless rate of 4.2%. In recent years, locals have pinned hopes of economic salvation on a variety of new industries, such as geothermal energy, lithium extraction and the growing of industrial hemp. Los Angeles Times
In Sacramento
For women whose sexual harassment complaints against California lawmakers were substantiated by formal investigations over the last year, few thought that a politician's resignation would keep him out of the state Capitol for long. That's because when a career in elected office ends, another often begins: lobbying. Former Assemblyman Sebastian Ridley-Thomas (D-Los Angeles) registered as a lobbyist in January, just weeks after an Assembly investigation supported claims that he had sexually harassed two legislative staffers in 2016. The allegations were made public Jan. 16, prompting Ridley-Thomas' first client, the Los Angeles Unified School District, to cancel his four-week, $15,000 contract for work in Sacramento. Los Angeles Times
The Libertarians are here
The Libertarian Party's reputation for attracting exotics is infamous in political circles. There's the candidate in San Francisco who has run for multiple local offices under the name Starchild. The 2016 presidential hopeful who wanted marijuana taxes to fund "galactic expansion for generations." The aspirant with purple-blue skin borne from his constant consumption of colloidal silver, a putative cure for cancer. But recently elected Riverside County Supervisor Jeff Hewitt just might be the strangest Libertarian of them all: a politician capable of winning elections who could move the party from the fringes into the mainstream. Los Angeles Times
Get the Essential California newsletter »
L.A. STORIES
It's only a drill: A series of loud booms that rocked downtown Los Angeles on Monday night startled some people, but Los Angeles police said there's no reason to be alarmed. The noises were part of a U.S. Army training exercise involving aircraft and weapon simulations in urban settings. The training is set to run through Saturday in Los Angeles and Long Beach. Los Angeles Times
More rain? Wet weather is expected in Southern California through Tuesday. Los Angeles Times
Tragic: Authorities identified the pilot whose plane crashed into a Yorba Linda home Sunday, killing four people inside, as 75-year-old Antonio Pastini. Los Angeles Times
New play: Actor Dulé Hill channels Nat King Cole, who met a racist world with songs of love, joy and grace. Los Angeles Times
Trade deadline Thursday: The Lakers' trade offer for Anthony Davis now includes six veterans and two first-round picks. Los Angeles Times
IMMIGRATION AND THE BORDER
More welcoming: San Diego Mayor Kevin Faulconer, a Republican, announced on Monday a new position in his office to carry out a five-year plan to make the city more welcoming to immigrants. San Diego Union-Tribune
In court: Jurors in the trial of Joaquin "El Chapo" Guzman face a long-term threat: PTSD. Los Angeles Times
Plus: "As El Chapo's trial draws to an end, one thing is clear: Drug kingpins reign as long as they make their partners money. When they stop, they end up in jail." Vanity Fair
POLITICS AND GOVERNMENT
Off to D.C.: The wife of an Orange County man imprisoned in Vietnam has been invited to President Trump's State of the Union speech. Los Angeles Times
Real-world effects: Patients suffer when healthcare behemoths quarrel over contracts. Kaiser Health News
Where's the money going? "Los Angeles' chief accountant isn't convinced the city is spending voter-approved funds to house the homeless effectively, so he's preparing an audit to find out." LAist
No go! Appearing in New Hampshire, Rep. Adam Schiff says he is not running for president. Washington Post
Trouble, trouble: With lawsuits and overspending, another L.A. Community College bond measure has sparked controversy. Los Angeles Times
Plus: Columnist George Skelton writes that spending on free community college for Californians would pay off big for the state. Los Angeles Times
CRIME AND COURTS
Big decision: The California Supreme Court decided unanimously to overturn the death sentence of a man convicted of killing a Long Beach woman, ruling that prospective jurors were improperly excused for expressing ambivalence about the death penalty. Los Angeles Times
Sad but true: All too often, California's default mental institutions are now jails and prisons. CALmatters
Prison-industrial complex: Is California closer to closing private prisons with Gov. Gavin Newsom at the helm? Mercury News
THE ENVIRONMENT
The photo! A colony of elephant seals that took over a beach at Point Reyes National Seashore while the federal government was shut down are not giving up their new digs, and visitors are getting an, ahem, intimate view of the giant mammals. Los Angeles Times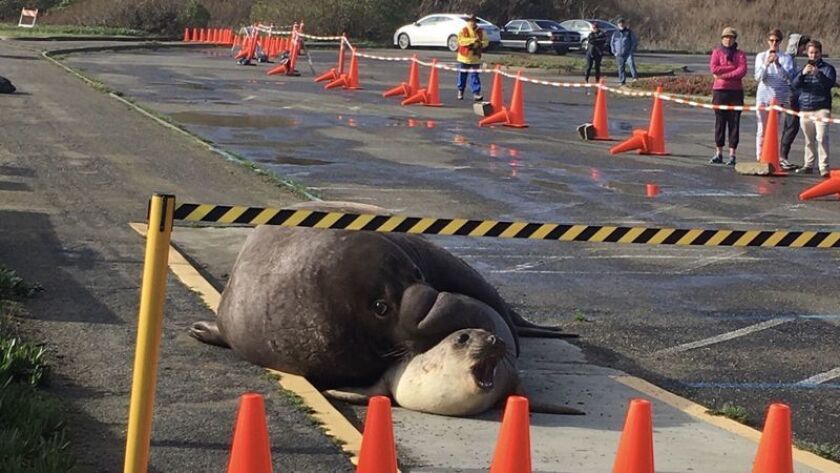 Scary stuff: "The 3,000-person town of Arbuckle, known mainly for its almond orchards, has sunk more than two feet in the last nine years." Business Insider
CALIFORNIA CULTURE
Big purchase: Tesla Inc. has agreed to acquire battery-technology company Maxwell Technologies Inc. for about $218 million in stock, as Tesla chief Elon Musk adds expertise in capacitors that could speed up electric-car charging. Los Angeles Times
Beautiful story: Among the many things destroyed by the Camp Fire was Trudi Angel's ballet school in Paradise — and its holiday production of "The Nutcracker." Then her phone started ringing. San Francisco Chronicle
Plus: A ballet rises from the ashes. San Francisco Chronicle
A great sportswriter speaks: The world according to Ray Ratto. The Ringer
Building toward the stars: Once flat and wide, western cityscapes are becoming tall and sleek, changing the character of the cities. Washington Post
Excitement, but ...: J.D. Salinger's unseen work to be published; reaction from literary community is mixed. Los Angeles Times
Throwing it back: Fifteen moments that defined Facebook's first 15 years. Wired
CALIFORNIA ALMANAC
Los Angeles area: Showers, 55, Tuesday. Partly cloudy, 59, Wednesday. San Diego: Showers, 58, Tuesday. Sunny, 57, Wednesday. San Francisco area: Partly cloudy, 52, Tuesday. Partly cloudy. 53. Wednesday. San Jose: Showers, 51, Tuesday. Partly cloudy, 55, Wednesday. Sacramento: Partly cloudy, 49, Tuesday. Partly cloudy, 53, Wednesday. More weather is here.
AND FINALLY
Today's California memory comes from Larry Hoffman:
"As a small boy, I remember the road vacations we took, and one that stands out in my mind was when we drove through a Redwood tree with a carved-out tunnel in Yosemite. I had a picture of us standing in front of the tree, and it was shortly after that time no cars were allowed to drive through. Several years later it fell down, and I was lucky enough to have seen it when it was standing tall .And now more than ever I realize, conservation and care of our planet is essential to all our survival, even a tree."
If you have a memory or story about the Golden State, share it with us. Send us an email to let us know what you love or fondly remember about our state. (Please keep your story to 100 words.)
Please let us know what we can do to make this newsletter more useful to you. Send comments, complaints and ideas to Benjamin Oreskes and Shelby Grad. Also follow them on Twitter @boreskes and @shelbygrad.
---