Sebastian Ridley-Thomas' work as a lobbyist in Sacramento sparks criticism following sexual harassment allegations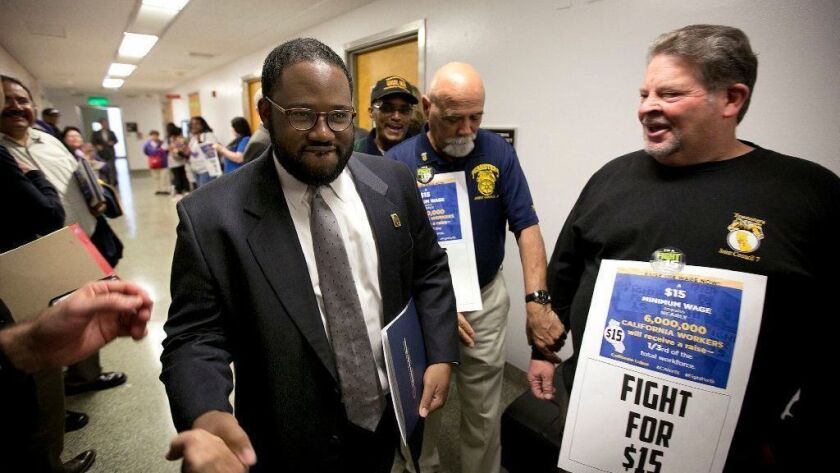 Reporting from Sacramento —
For women whose sexual harassment complaints against California lawmakers were substantiated by formal investigations over the last year, few thought that a politician's resignation would keep him out of the state Capitol for long.
That's because when a career in elected office ends, another often begins: lobbying.
Former Assemblyman Sebastian Ridley-Thomas (D-Los Angeles) registered as a lobbyist in January, just weeks after an Assembly investigation supported claims that he sexually harassed two legislative staffers in 2016. The allegations were made public Jan. 16, prompting Ridley-Thomas' first client, the Los Angeles Unified School District, to cancel his four-week, $15,000 contract for work in Sacramento.
While the Legislature spent much of the past year creating new sexual harassment policies and procedures for lawmakers and its employees, the conduct of lobbyists was largely unaddressed.
If a lawmaker or staffer harasses a lobbyist, that person could face disciplinary action, said Assemblywoman Laura Friedman (D-Glendale), who led hearings for the Assembly to craft the new policies. Meanwhile, a lobbyist found to have sexually harassed a legislative staffer or lawmaker might be restricted from going to certain parts of the Capitol, Friedman said, but the Legislature's power is limited beyond that.
The Legislature does not field complaints by one lobbyist against another.
"When it comes to so-called lobbyist-on-lobbyist behavior, we don't at this point have a way to intervene in that," Friedman said. "The lobbying corps could ask for help with that, but I think it is best for the lobbying community to have this conversation among themselves to respond to sexual harassment allegations as a community."
The "lobbyist loophole," as some have called it, drew new attention last month after Ridley-Thomas visited the state Capitol with Los Angeles Unified Supt. Austin Beutner as the district was engaged in contract negotiations and a teachers' strike was imminent.
Ridley-Thomas called Los Angeles-area lawmakers asking that they attend a private Jan. 9 meeting with Beutner about the negotiations and hear the district's pitch for additional school funding in future years.
The former legislator had abruptly resigned from the Assembly in December 2017, citing health problems, and a few months later became a professor of social work and public policy at USC. He was fired in July 2018 from USC amid questions about his appointment and a $100,000 donation to the school from the campaign account of his father, Los Angeles County Supervisor Mark Ridley-Thomas.
Before LAUSD hired him, The Times reported that Ridley-Thomas was being investigated by the state Assembly for sexual harassment. He was notified by the Assembly in December that the allegations had been substantiated, but the Assembly does not make the reports public until after a 30-day period in which someone accused of improper behavior can appeal the finding.
A Los Angeles Unified spokeswoman could not confirm whether the district knew of the sexual harassment investigation. She said the contract with Ridley-Thomas was terminated the day that the Assembly released its report, which found the former assemblyman "more likely than not" attempted to forcibly kiss one staffer and made another staffer feel uncomfortable by saying he had "taken a liking" to her and winking at her.
Attempts by The Times to reach Ridley-Thomas and his attorneys, Lance Olsen and Nancy Sheehan, for this report were unsuccessful. Ridley-Thomas has previously denied the allegations against him.
Ridley-Thomas' return to the Capitol took many by surprise, including lawmakers who called it "curious" and high-level staffers who said they would advise legislators not to meet with him due to the "optics." The lawmakers and staffers asked not to be named in order to speak freely about the matter.
"I expect that I'm not the only one floored by this," said Pamela Lopez, a lobbyist who accused former Assemblyman Matt Dababneh (D-Woodland Hills) of exposing himself to her in a hotel bathroom during a party. Dababneh denied the accusation, which an Assembly investigation substantiated, and subsequently filed a defamation lawsuit against Lopez that remains pending.
Lopez said she was concerned for those who risked their careers to come forward and could now see the lawmakers and staffers they accused working in the Capitol as lobbyists.
"That seems really scary," said Lopez, who founded Work Equity, a statewide organization that helps workers experiencing sexual harassment.
One of the women whose complaint against Ridley-Thomas was substantiated said she knew there was a strong possibility he would become a lobbyist. The woman, who spoke to The Times on condition of anonymity due to what she said was a fear of retaliation, said his return to Sacramento creates the potential for an uncomfortable work environment because of the possibility that she could encounter him.
Samantha Corbin, executive director of We Said Enough, a nonprofit group formed last year to address misconduct in the Capitol, said Ridley-Thomas' return underscores the need for oversight of lobbyists' conduct.
"At the end of the day, all of [the abuse victims'] sacrifice will end with them having to be lobbied by the person they have a substantiated claim against," Corbin said. "We need to move swiftly on this. This issue will come up again. It's not a matter of if, but when."
Over the 15 months since women in and around California politics came forward to report a pervasive culture of sexual harassment and abuse, three lawmakers resigned due to allegations and one, Ridley-Thomas, resigned citing health concerns. At the time of their resignations, the state required that they wait a year before they could register as lobbyists.
Corbin said she doesn't believe the industry should shut out a person because of a sexual harassment allegation, even a substantiated one. But without oversight, she said, the industry will ostracize some and accept others.
"We need something that could curb bad behavior and allows for people to be redeemed," Corbin said. "We've never been asking — except for egregious incidents — for people to be kicked off 'Survivor Island.' But it shouldn't be a popularity contest. If people like you, do you get to be a lobbyist? We need a system that is objective."
Corbin said it's possible for the state to create a system similar to how the State Bar of California oversees complaints against attorneys. The state of Illinois requires lobbying firms to implement sexual harassment policies that identify where or to whom complaints can be reported. That state's inspector general has jurisdiction to review allegations of sexual harassment against a lobbyist.
"There will have to be a balance between an individual's ability to make a living with the protection of claimants who have come forward," said attorney Micha Star Liberty, who has represented several women in the Capitol in sexual harassment and retaliation lawsuits.
The questions are likely to persist, given how many lobbyists come from the ranks of the Legislature or its top staff. Two former chiefs of staff to Democratic lawmakers, both of whom were the subject of investigations with substantiated allegations in the past year, have subsequently served as lobbyists. In one case, the Senate threatened to restrict the ex-staffer's access to the Capitol.
Lobbyists working in California politics can participate in a voluntary trade association, the Institute of Governmental Advocates, which asks its members to abide by a code of conduct. But the group has no mechanism for dealing with complaints about lobbyists, IGA president Dominic DiMare said. Its main mission is to preserve lobbyists' right to access in order to advocate on their clients' behalf in the Legislature.
DiMare said his group has been meeting with legislative leaders about how sexual harassment allegations against lobbyists should be handled but expressed concerns about singling out one profession.
"What about the person who owns the shipping store on the corner?" he said. "We want to address this. How can we be responsive to the needs of the people who have been sexually harassed and raise awareness in the community to eliminate this from the workplace?"
Coverage of California politics »
Follow @MelodyGutierrez on Twitter and sign up for our Essential Politics newsletter.
---
Life is stressful. Our weekly mental wellness newsletter can help.
You may occasionally receive promotional content from the Los Angeles Times.