Newsletter: Essential California: Weed war in the San Gabriel Valley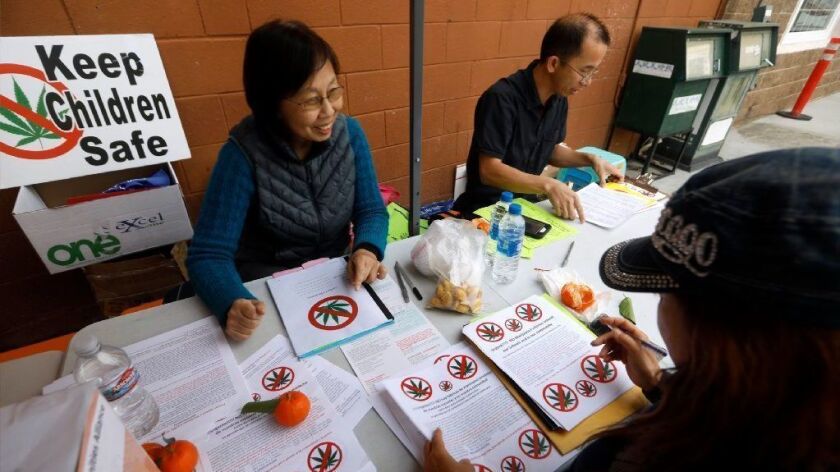 Good morning, and welcome to the Essential California newsletter. It's Thursday, Feb. 7, and here's what's happening across California:
TOP STORIES
Residents and politicians in Temple City and Rosemead have been waging a war against El Monte over the city's embrace of the marijuana industry. Recall petitions have been signed, protests have been unleashed and a lawsuit has been filed. But beyond the debate over weed, the fight has exposed the fissures in a San Gabriel Valley where poor cities like El Monte are close neighbors to cities that are more affluent and financially solvent. For El Monte, marijuana offers a path for economic stability. For other cities, it means crime and social malaise. Los Angeles Times
A big donation just before a big vote
A real estate company seeking to tear down a portion of the former Los Angeles Times headquarters and replace it with two high-rise towers gave $50,000 to a campaign committee with ties to Councilman Jose Huizar before a crucial vote on the property, according to recently filed contribution records. Onni Contracting (California) Inc. made the donation to Families for a Better Los Angeles, which held at least two fundraisers featuring Huizar last year. Records show the donation was received by the committee on Sept. 26, just as Onni was working to defeat a proposal to designate the 1973 Times office building, designed by renowned modern architect William Pereira, as a historic landmark. Los Angeles Times
An interview with Trump
A month after tweeting that he might order the Federal Emergency Management Agency to cut federal disaster funding to California fire victims, President Trump declined to renew that threat and indicated that talks with state officials were going well. Speaking to The Times and several regional newspapers in the Oval Office, Trump said Wednesday that he and Gov. Gavin Newsom spoke by phone about two weeks ago, after his Jan. 9 tweet that he had ordered the FEMA not to send more disaster funding to state officials "unless they get their act together, which is unlikely." Los Angeles Times
Get the Essential California newsletter »
L.A. STORIES
Impact: Mayor Eric Garcetti has ordered Los Angeles police to scale back on vehicle stops in response to an investigation by the Los Angeles Times showing that an elite unit was pulling over a disproportionate number of African Americans. Los Angeles Times
A tragic story: The mystery of the plane crash in Yorba Linda on Super Bowl Sunday that killed five people. Los Angeles Times
Serious resilience: This typewriter repairman was told computers were king. Twenty years later, he's still in business. Los Angeles Times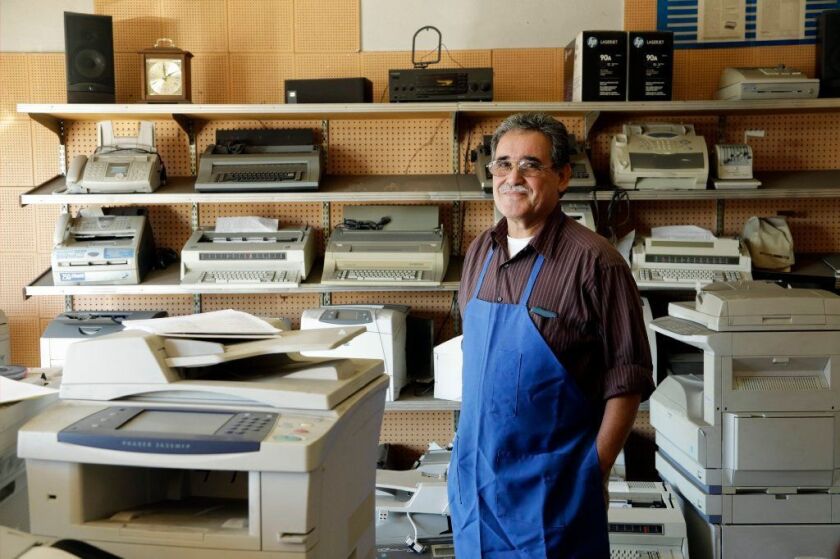 Who will prevail?! Steve Lopez is at war with rats — whom he respects greatly. Los Angeles Times
Click: "A polar-bear killer, a Sputnik-inspired scientist, a man who uses the past to see the future and seismologist Lucy Jones. What do they all have in common? Without them, we wouldn't understand the what, when, why and how of the big one." KPCC
POLITICS AND GOVERNMENT
Op-ed: Former Times city editor Bill Boyarsky writes that, to overcome its housing crisis, California needs YIMBY to become the new NIMBY. Los Angeles Times
The polls: "Forty percent of voters in overwhelmingly Democratic California say Sen. Kamala Harris would make a good president, and 38 percent say she would not, according to a Quinnipiac University poll released Wednesday." Politico
In trouble: "In the last five weeks of 2018, Rep. Duncan Hunter's campaign reported spending hundreds of dollars at a local amusement park and made $2,000 in charges — now disputed — to a technology company that flies drones." San Diego Union-Tribune
Just joking? Cupertino's mayor says the city will build a wall and San Jose will pay for it. Mercury News
Quite the trend: Los Angeles is one of several major American cities to be plagued by a mushrooming FBI investigation. New York Times
In West Hollywood: Two gay black men are dead, but Ed Buck is still home. The Advocate
CRIME AND COURTS
Large settlement: A man choked unconscious by an off-duty Los Angeles firefighter convicted of assault but never jailed will receive a $7.4-million settlement in connection with the attack, his attorney said. Los Angeles Times
Reform needed? As the use of pepper spray surges, auditors advise a ban at L.A. County juvenile facilities. Los Angeles Times
The real robocop: "Dozens of cities including several in California have secretly experimented with predictive policing software." Motherboard
Dang: Ferraris and Corvettes seized in an L.A. parking lot bribery case are up for auction. Los Angeles Daily News
THE ENVIRONMENT
Heating up: All five of the hottest years on record have occurred in the last five years, according to global temperature data released Wednesday by NASA and the National Oceanic and Atmospheric Administration. Los Angeles Times
CALIFORNIA CULTURE
Trade carousel: The Clippers could be ready to enter the Anthony Davis sweepstakes after a trade with the 76ers. Los Angeles Times
Podcast: What'll it take for L.A. to become Ramstown? "Hardcore" is a ways away, columnist Arash Markazi says. Los Angeles Times
Plus: How the stabbing death of his transgender sibling shaped newest Laker Reggie Bullock, writes Markazi. Los Angeles Times
Yum: A very American mango pie, inspired by Indian aunties. New York Times Magazine
At UC Berkeley: Amazon works hard to keep secrets. East Bay Express
Get the pig: Northern California is suddenly awash in locally grown black truffles. San Francisco Chronicle
Shocking discovery: A Fresno priest found a Nazi swastika and Hitler photo printed on a pillow he ordered from Walmart. Fresno Bee
CALIFORNIA ALMANAC
Los Angeles area: sunny, 63, Thursday; sunny, 62, Friday. San Diego: sunny, 62, Thursday; partly cloudy, 62, Friday. San Francisco area: partly cloudy, 52, Thursday; showers, 50, Friday. San Jose: party cloudy, 57, Thursday; showers, 51, Friday. Sacramento: partly cloudy, 53, Thursday; showers, 49, Friday. More weather is here.
AND FINALLY
Today's California memory comes from Sonia Gottesman:
"Toward the end of World War II, my family was living in a tract home in Westchester. A wartime requirement was that some of those homes had to be rentals; I believe the end of the war and that requirement caused our next move, which was to Manhattan Beach. I remember two things about that time. My brother and I would play in the neighborhood while my father worked on building our house. One time we returned to the site and Father wasn't there! I figured he had gone home without us, so I walked with my little brother toward our home in Westchester. We almost got there. On our way was a lady selling watermelons on Sepulveda Boulevard. She persuaded us to stick around, and soon my rather upset father came to collect us. The new homesite was on a hill. In those days, when it was windy, the waving grass in fields looked like the waves on the sea!"
If you have a memory or story about the Golden State, share it with us. Send us an email to let us know what you love or fondly remember about our state. (Please keep your story to 100 words.)
Please let us know what we can do to make this newsletter more useful to you. Send comments, complaints and ideas to Benjamin Oreskes and Shelby Grad. Also follow them on Twitter @boreskes and @shelbygrad.
---