Newsletter: Essential California: Big news by the beach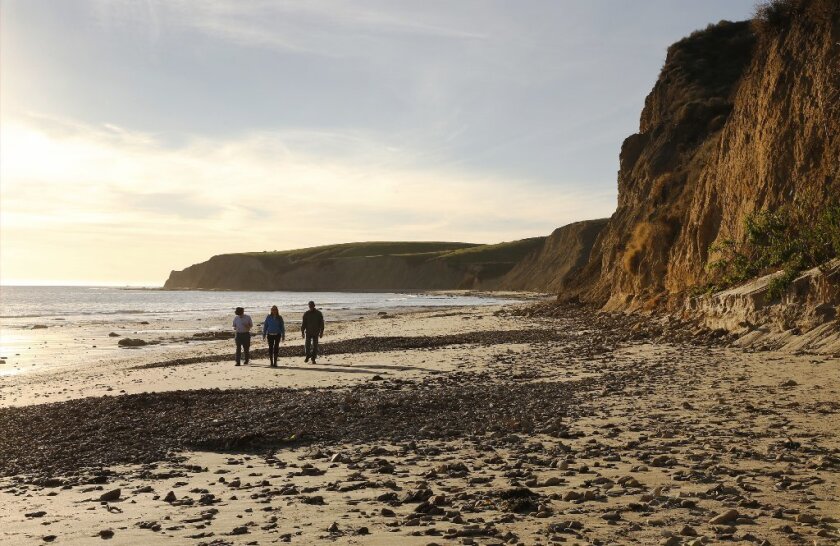 Good morning, and welcome to the Essential California newsletter. It's Tuesday, Feb. 12, and here's what's happening across California:
TOP STORIES
In a major victory for coastal advocates, a Santa Barbara judge refused to approve a deal that would have allowed access to Hollister Ranch's coastline only to landowners, their guests, visitors with guides, and those who could boat or paddle in from two miles away. The settlement agreement, struck between the ranch and coastal officials behind closed doors, sparked public outrage last year after The Times published the terms of the deal. The outcry became a flashpoint in the mounting pressure on state officials to ensure that California's beaches are open to everyone — not just to those fortunate enough to own oceanfront property. Los Angeles Times
Baca's conviction is upheld
An appeals court upheld the conviction of former Los Angeles County Sheriff Lee Baca on Monday, clearing the way for the once powerful but now ailing law enforcement figure to spend years in prison for obstructing justice and lying to federal authorities. Baca, 76, was sentenced in 2017 to three years behind bars after a jury found he had helped orchestrate a scheme to interfere with an FBI investigation into abuses in county jails and later lied to prosecutors about his role. With only a few longshot options remaining, Baca's attorney said he plans to ask for another hearing in front of a larger panel of judges from the 9th Circuit. Los Angeles Times
Let the theatrics … continue
Gov. Gavin Newsom hasn't shied away from fights with President Trump, calling the administration's proclamations of a crisis at the border "pure political theater" and escalating the state versus federal battle on Monday with the withdrawal of California troops from the southern border. State Atty. Gen. Xavier Becerra isn't backing down either and has filed some 45 lawsuits against the Trump administration, challenging attempts to limit access to birth control, curb immigration and roll back environmental protections. Somewhere among the caustic tweets and court fights, outside observers see the potential for the state's high-profile chief executive and top cop to combine forces into a powerful duo that amplifies California's position as the leader of the "resistance." Los Angeles Times
Get the Essential California newsletter »
L.A. STORIES
Jumping in: Former state Sen. Kevin de León is looking to shift his political base of operations to Los Angeles City Hall, by seeking the Eastside council seat being vacated by Councilman Jose Huizar. De León, who waged an unsuccessful bid to unseat Sen. Dianne Feinstein in November, said he intends to continue on his "path of public service" by running to replace Huizar, who is being forced out by term limits. Los Angeles Times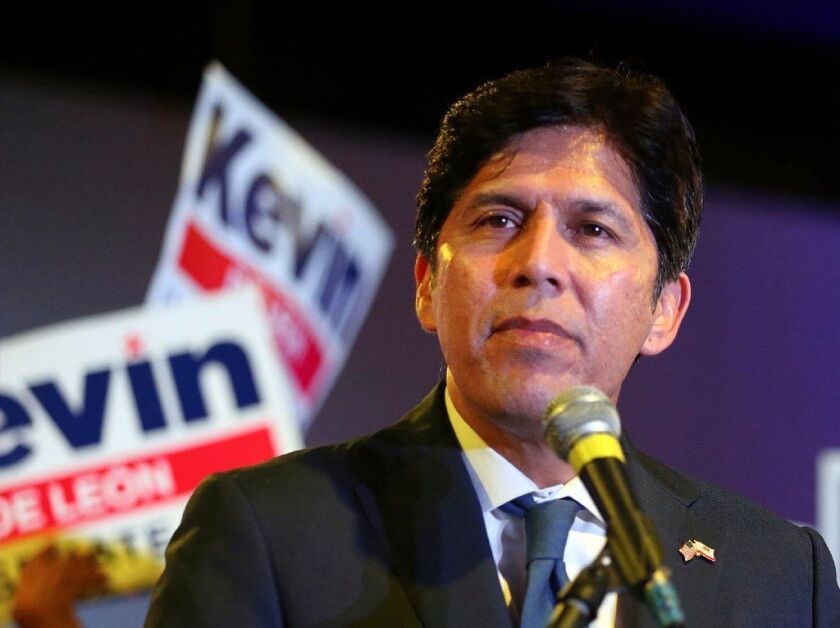 Busted: In the largest wage-theft case ever brought by the state of California against a private company, the labor commissioner has cited a City of Industry drywall subcontractor for cheating more than 1,000 workers out of minimum wage, overtime and rest breaks on 35 construction sites across Los Angeles. Los Angeles Times
Skelton says: Should California bail out Pacific Gas & Electric? Los Angeles Times
Great story: "The fast-food diner is L.A.'s true regional specialty restaurant, and it's all thanks to pastrami." Eater LA
Sold: The Apple Pan, which opened in April 1947, has new owners: entertainment mogul Irving Azoff and his wife, Shelli. They apparently plan to keep the burger joint just the way it is. LAist
IMMIGRATION AND THE BORDER
Wall talk: President Trump falsely told a raucous rally in El Paso on Monday night that he is already building a wall on the adjacent border with Mexico, as a potential Democratic challenger assailed him at a large protest nearby and, in Washington, congressional negotiators announced a tentative funding deal without the billions he demanded for a wall. Los Angeles Times
Behold New Mexico's ultimate pork fiesta: 43 pigs, 300 gallons of chile and 22,000 tortillas. Los Angeles Times
From the border: In Sonora, hunting means big business and conservation. Fronteras
A country in crisis: Even in barrios once devoted to Hugo Chavez, murmurs of opposition grow in Venezuela. Los Angeles Times
No new applicants: "The Border Patrol's recruiting crisis." Politico
POLITICS AND GOVERNMENT
From the retirement home: Colusa didn't always embrace Jerry Brown, but his new neighbors just may give him a chance. Los Angeles Times
Amazing story: Devastated by one shutdown, dreading the next. Washington Post
Amazing story, Part 2: Inside a plot to influence American elections, starting with a race in Tulare County. The New Yorker
"Progressive prosecutor": Can Sen. Kamala Harris Square the Circle? New York Times
Plus: "Harris supported a 2008 San Francisco policy that reported arrested undocumented juveniles to ICE." CNN
CRIME AND COURTS
Fatal shooting: Relatives of a man fatally shot by police in a Bay Area Taco Bell drive-through over the weekend say he was asleep and was not threatening anyone when officers opened fire on him. Los Angeles Times
Unholstered: A former Cypress police officer was arrested Saturday after authorities said he shot a shoplifting suspect in the parking lot of a Home Depot in Riverside. Los Angeles Times
THE ENVIRONMENT
Sad: 18 million trees died in California last year. Officials say that's an improvement. Los Angeles Times
Change of course: Los Angeles is abandoning a plan to spend billions of dollars rebuilding three natural gas power plants along the coast, Mayor Eric Garcetti said Monday, in a move to get the city closer to its goal of 100% renewable energy and improve air quality in highly polluted communities. Los Angeles Times
Way to go: "It survived horrible burns and fishy bandages. Now this bobcat is back in the wild." Sacramento Bee
CALIFORNIA CULTURE
Academy Awards advice: Columnist Mary McNamara on why the Oscar for best picture is often less about the picture and more about how academy voters define "best." Los Angeles Times
New study: Why opioids hit white areas harder: Doctors there prescribe more readily. Los Angeles Times
Tell me a secret: What it's like to work inside Apple's "black site." Bloomberg Businessweek
Plus: "Apple and Google have been accused of helping to 'enforce gender apartheid' in Saudi Arabia, by offering a sinister app which allows men to track women and stop them from leaving the country." Business Insider
Chill out: Stress is hurting kids' health. California's new surgeon general has a plan to help. Quartz
CALIFORNIA ALMANAC
Los Angeles area: Cloudy, 68, Tuesday. Showers, 56, Wednesday. San Diego: Cloudy, 67, Tuesday. Showers, 62, Wednesday. San Francisco area: Cloudy, 55, Tuesday. Showers, 58, Wednesday. San Jose: Cloudy, 57, Tuesday. Showers, 61, Wednesday. Sacramento: Cloudy, 53, Tuesday. Showers, 55, Wednesday. More weather is here.
AND FINALLY
Today's California memory comes from Margot Smith:
"When I was 5 years old, I was in kindergarten at Hawthorne School in Beverly Hills, and my father was supposed to pick me up at 3 p.m. I waited and waited, and finally decided to walk home by myself, crossing and walking along Sunset Boulevard. At that time Sunset had a bridle path for horses down the middle of it. I thought it was a bridal path, and wondered how and why brides would want to walk down this dirt path to the altar. Years later, I learned the difference between bridle and bridal. (My parents were very upset that I had walked home down that busy street by myself.)"
If you have a memory or story about the Golden State, share it with us. Send us an email to let us know what you love or fondly remember about our state. (Please keep your story to 100 words.)
Please let us know what we can do to make this newsletter more useful to you. Send comments, complaints and ideas to Benjamin Oreskes and Shelby Grad. Also follow them on Twitter @boreskes and @shelbygrad.
---